One Ingredient, Many Ways: Walnuts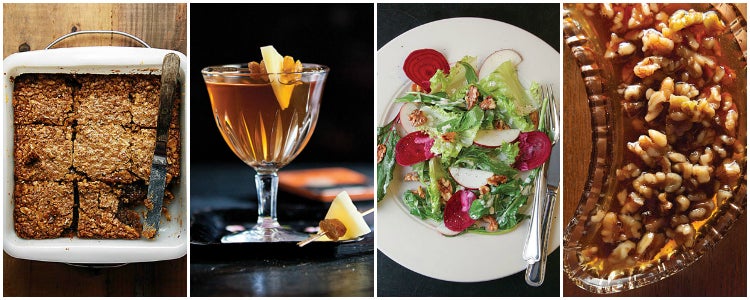 Stored in the fridge or freezer (to keep their high oil content from spoiling), walnuts last for months, making them available for anytime snacking or cooking. But while high-quality walnuts are accessible year-round, they are at their peak during the fall harvest season. During this time, farmers around the world harvest their trees, shaking loose and gathering the fresh nuts, which then get dehydrated into the pebbly brown globes we find in the store. Some producers, particularly in France and Italy, also press their crop into slick, toasty-scented walnut oil, or pleasingly bitter walnut liqueur.
In the kitchen, walnuts are an eminently useful and versatile staple. Halved and chopped, they add fat and depth to baked goods like sweet maple bars, spice cakes and tarts, and can be finely ground and stirred into cookie batter as a full-flavored thickener. They are equally delicious in savory recipes, topping crunchy winter salads or pasta dishes, folded into stuffing, or processed into creamy pestos and other dips. Filled with omega-3 fats, protein and antioxidants, they are the perfect, seasonal health food to indulge in right now.
SWEET
Black Walnut Pumpkin Pie
Traditional pumpkin pie gets topped with finely chopped black walnuts
Maple Squares with Walnuts
These gooey maple bars are studded with walnuts
Walnut Torte
Top this rich walnut torte with a pile of freshly whipped cream.
Wet Nuts
Crown your next ice cream sundae with homemade wet nuts.
Walnut Cookies
These sandwich cookies come with a double dose of walnut flavor – there are ground walnuts in the cookies, and the rich filling.
Pear and Walnut Tart
Softened pear and crunchy walnuts combine for a simple tart.
Romanian Walnut Panettone
Serve this walnut-studded, rum-spiked sweet bread with tea.
Walnut Spice Cake
Two full cups of walnuts are sandwiched in a sweet layer cake.
Walnut Carrot Cake with Coconut Cream Cheese Frosting
A naturally gluten-free cake batter gets its lift from egg whites, its rich stability from walnut flour, and its moistness from grated carrot and pineapple.
Rugelach (Cinnamon Apricot and Walnut Cookies)
These crescent-shaped cookies roll lots of nuts and fruit into each pastry.
Vanilla Crescents with Walnuts
These powdered sugar-dusted cookies have ground walnuts in the batter.
Yuanxiao Dumplings (Walnut and Almond Filled Sweet Rice Dumplings)
These sweet Chinese dumplings are filled with walnuts and almonds.
SAVORY
Linguine with Walnuts and Swiss Chard
An earthy and warming pasta dish full of greens and nuts is perfect for a cold winter weeknight.
Winter Salad with Walnuts and Buttermilk Dressing
Mixed greens get topped with crisp apple, toasted walnuts, beets and a rich buttermilk dressing.
Bulgur Wheat and Walnut Salad
A summery grain salad gets added heft from walnuts.
Pesto di Noce (Walnut Pesto)
Walnuts replace pine nuts in this version of pesto.
Roquefort and Walnut Canapes
Plain white bread gets gussied up with creamy blue cheese, parsley and walnuts.
Beet and Walnut Salad
Serve this vinegar and walnut-flavored beet salad with a wedge of blue cheese.
Bar Nuts
Rosemary, cayenne, and brown sugar flavor these toasty mixed nuts.
Broiled Spaghetti Squash with Walnut Miso Glaze
A rich and nutty glaze tops these blistered squash pieces.
Apricot and Walnut Stuffing
Spice up your stuffing with orange zest, dried apricots, and chopped walnuts.
Chicken Salad Sandwich with Walnuts, Roasted Tomatoes, Pickled Red Onions and Frisee on Multigrain Bread
'Wichcraft's innovative flavor combination updates a traditional chicken salad sandwich.
Muhammara (Red Pepper Dip with Walnuts and Pomegranate)
The classic Middle Eastern red pepper spread gets its sweetness from pomegranate molasses and its thickness from walnuts.
Stuffed Chiles in Walnut Sauce
Spicy poblanos get filled with ground meat, sour cream, cinnamon and walnuts.
DRINK
Andalucia
Walnut liqueur and cream sherry combine with a golden raisin and a manchego cheese garnish in an unusual, but delicious cocktail.
Leah Koenig is a freelance writer and author of The Hadassah Everyday Cookbook: Daily Meals for the Contemporary Jewish Kitchen