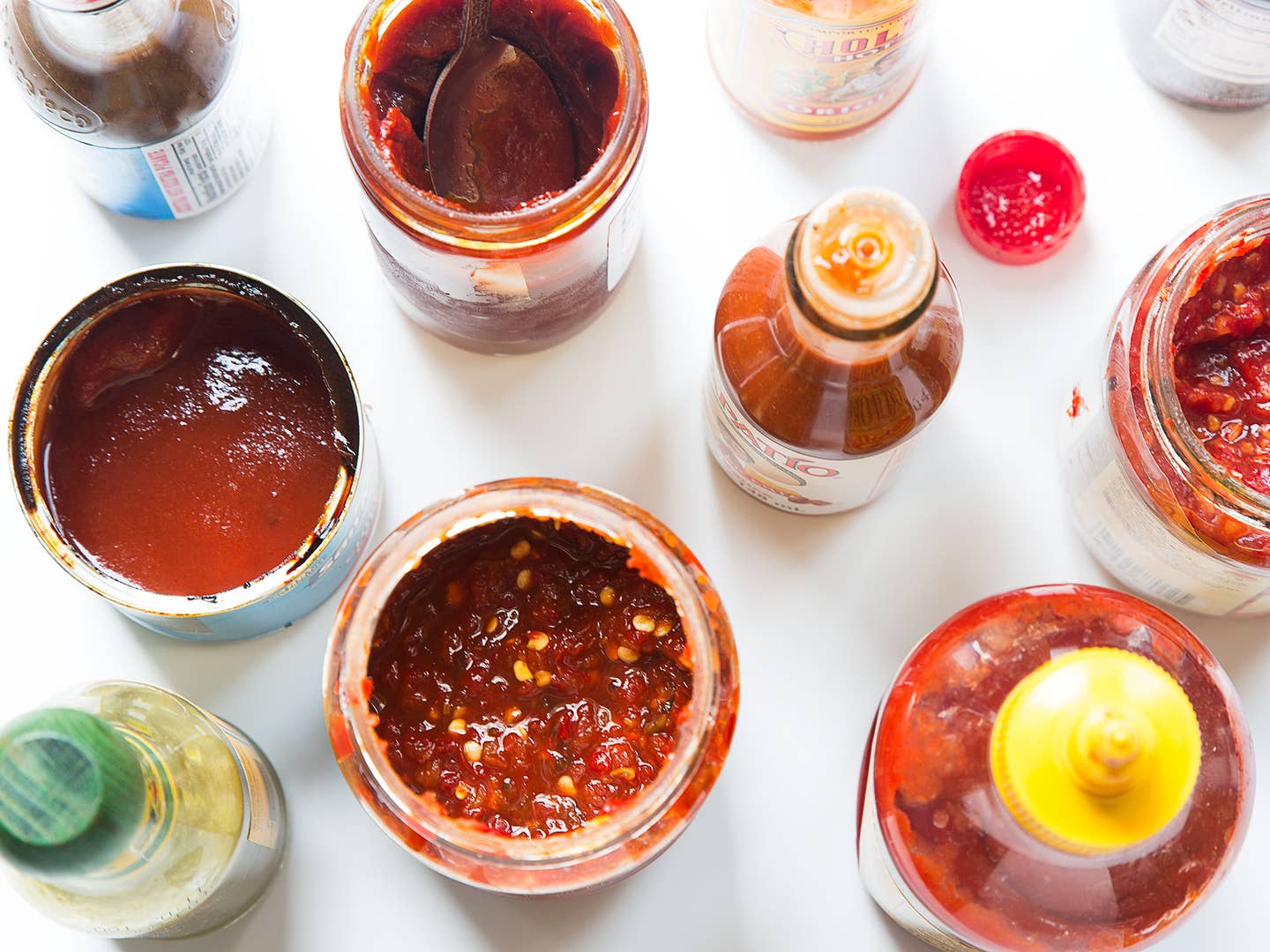 Shopping & Reviews
The Hot List: 13 Hot Sauces From Around the World That Deserve a Spot in Your Pantry
Must-have spicy condiments from Belize to China and everywhere in between
You cannot have just one hot sauce.
Even the most mad devotees of a particular hot sauce brand keep more than one bottle around. There are simply too many good hot sauces out there. Hot sauce is meant to be shared. Hot sauce wishes to be free.
Here at SAVEUR, one of our unofficial mottos is this: If you can have one great thing, why not have five versions of that great thing, each perfect in their own way for one job or another, each worth obsessing over. We really do take it to heart; step into our test kitchen and you'll find dozens of spicy condiments: hot sauces, chile pastes, chile oils, fiery chutneys, and then some, from every corner of the world.
Some of these we keep around because a recipe required them and we don't want to ditch the bottle. Some we like to keep around because we can. And some we adore so much you'll have to pry them from our cold, chile-scorched fingers.
These hot sauces are in that final category. Seek them out, make them yours, and use them on everything you can find.
Crystal: Apologies, Tabasco, but SAVEUR is a Crystal household. This Louisiana-born hot sauce has a brighter, fresher kick, and it's less pungent than other American-style fermented hot sauces. Just the thing for gumbo.
Cholula: When it comes to spicing up our tacos and huevos rancheros, nothing beats this Mexican standby. Valentina's great for an extra-bright, vinegary touch, but Cholula's blend of arbol and piquin chiles have the perfect balance of heat, sweetness, and ruddy sunny flavors, plus a full-bodied chile warmth.
Just Chili: If you're set on sriracha but prefer a sauce less sweet and garlic-heavy than the now-ubiquitous rooster, Shark is the bottle for you. But we're honestly far more into the chile sauce from this California brand. It's less sweet than Thai-style sauces and has a more robust punch and sustained heat that's potent but never overwhelming. The garlic verve is also much more settled. Perfect for pad Thai.
Sambal Oelek: In many ways this Southeast Asian chile paste is the exact opposite of sriracha—chunky, not smooth; brash and vinegary, not sweet; fresh-tasting where sriracha is more simmered and mellow—but it brings the same light touch and big heat to all sorts of dishes from Southeast Asia. Also great for stirring into dumpling dipping sauces.
Marie Sharp's Green Habanero: This Belizean brand hasn't received the same fame in the U.S. as some of its Mexican cousins, which is a particular shame for its not-too-hot but full-flavored green hot sauce. It's fresh, a touch herbal, and full of green chile flavor without a blast heat. It's ideal for quesadillas and a pot of beans.
Piri Piri Molho: The tiny-yet-fierce African piri piri chile has long been a staple of Portuguese cooking, ideal for pork and clams and the like. It's also a great hot sauce to expand your heat tolerance, since the fire is potent but short-lived; it won't linger long on your tongue. This brand, our go-to, has a mild tarragon flavor that pairs well with herb-rubbed meat and roast chicken.
Yucateca Green Habanero: Do you love crying through your nachos? Good! This green style hot sauce is pure delicious pain with a blast of grassy, herbal freshness and a burn that hangs around your mouth for a while. We like slipping some into this guacamole; the color keeps the guac pure and the blast of green heat imbues every micron of avocado with some spice.
Queen Majesty Scotch Bonnet & Ginger: This sauce is super spicy, and just a few drops will do ya', but it's also so much more than just heat. The ginger and vinegar are just as vibrant as the habanero, and the sauce as a whole adds complexity and an exhilarating heat to everything it touches.
Melinda's XXXXtra Reserve: We love the bright, clean flavor of this habanero sauce—and how it's rounded with a gentle citrus finish.
Crema de Naga Morich: Calabria is famous for its fiery chiles, often mixed into pastes with olive oil and salt. This creamy paste comes from Calabria but is actually made with the even-hotter naga morich chile, a relative of the famous scorching-hot but fruit-tasting South Asian ghost chile. Just the slightest edge of a spoon dipped into the paste then stirred through a soup or marinara sauce is enough to feel its burn in the back of your throat.
The Crunchy (For When You Need More Texture)
Lao Gan Ma Chili Crisp: This Chinese oil-based chile paste has, in a word, everything. Warm, tongue-tingly chile oil. Crunchy bits of fried chile flake and nutty-crisp soy beans. Mouth-numbing Sichuan peppercorns. Little bits of sweet onion. And granules of salt and MSG for a punch of pungency and umami. It's a condiment with a cult following, and it's so complex we sometimes sneak spoonfuls of it straight from the jar, but it's also fantastic with steamed fish, poached or grilled chicken, and pretty much every noodle dish out there. It brings heat, crunch, and meaty flavor all in one drop.
Chile Crunch: Like Lao Gan Ma, Chile Crunch is an oil-based condiment full of bits of crunchy fried chile, onion, and salt. But this brainchild of a Mexican cook who moved to America skips the MSG and soy beans in favor of a deeper, smokier chile flavor and subtler layers of spice. We'd say its warmer character is better attuned to Western-style dishes: think mac and cheese or the easiest pizza ever.
Thai Pickled Chiles: It's stretching to call this a hot sauce, but these bird chiles in vinegar brine are really two spicy condiments in one. The fiery, unmistakably tart chiles are best minced or ground into a paste, perfect for perking up som tum or a bowl of boat noodles. The vinegar brine takes on plenty of heat too, and while it'd be at home slipped into any Southeast Asian dipping sauce, its highest use is clear: a Bloody Mary.
More Hot Stuff: How to Dice a Chile