Our Best New Year's Dinner Recipes To Welcome 2022 With A Bang
Treat yourself to a feast before those resolutions kick in.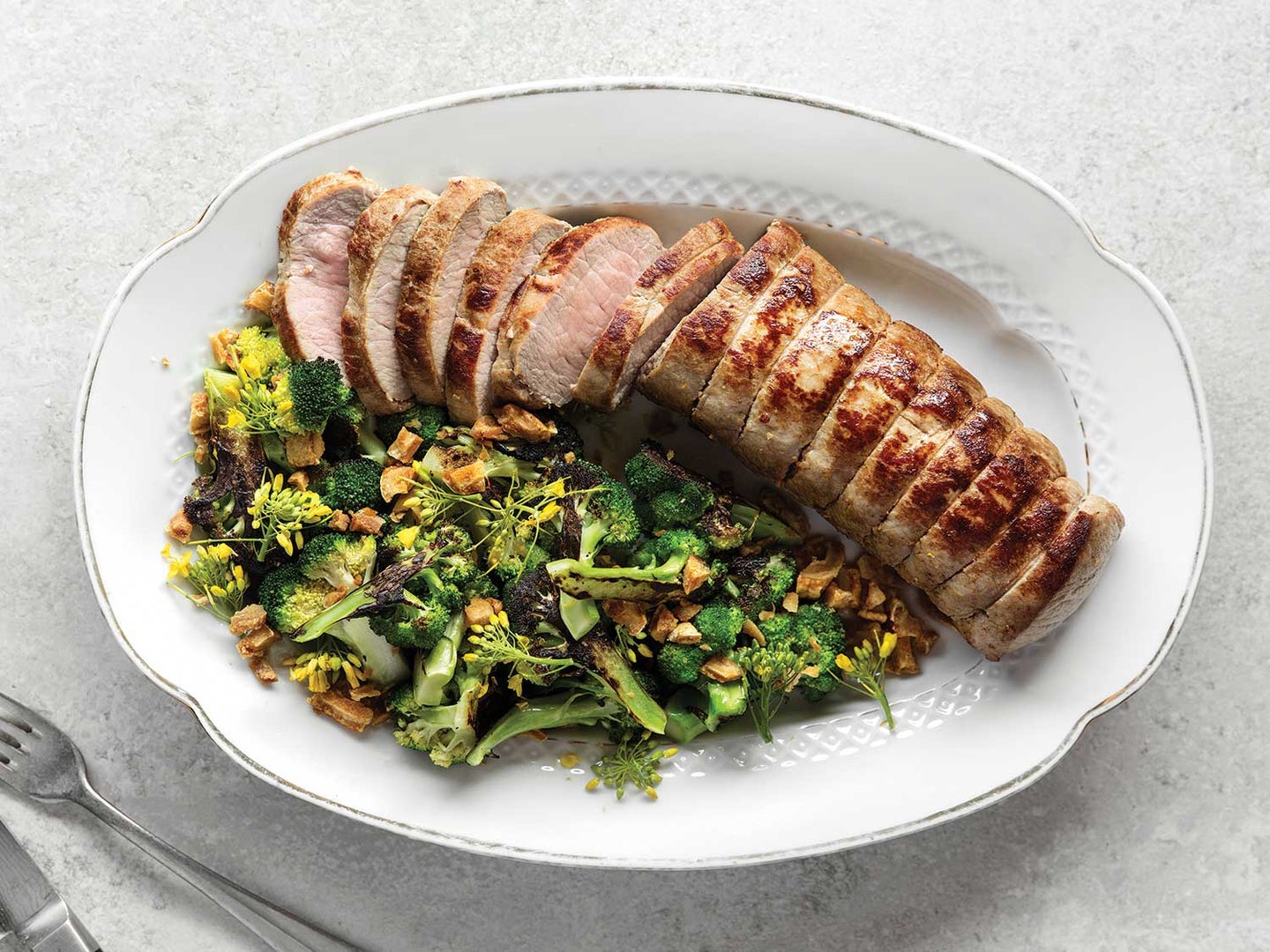 Of course, we have cocktails to toast 2022, but one of the best parts about New Year's Eve is the feast that accompanies all that booze, so go all out one last time before your resolutions (or your hangover) kick in. Shuck some oysters for an easy, briny appetizer or try a cheesy, Chilean crab dip to start. Fire off a tender, crackly pork loin or a juicy standing rib roast, then balance out your meaty main course with a winter root vegetable gratin, creamy mashed potatoes, or fire-roasted cauliflower. And when it comes time for something sweet, pull out all the stops with an opulent dessert course like a rum-spiked ice cream pie or double chocolate mousse. Whether you're searching for an easy side dish, festive seafood, an epic holiday roast, or a lavish dessert, our best New Year's Eve dinner recipes have you covered.
Keep it simple for New Year's Eve. Excellent quality meat requires little more than salt and pepper and takes the guesswork out of prepping for dinner. Get the recipe >
Denmark is one of the world's largest producers of pork. Danes often opt for the pork fillet, a part of the loin just below the neck that has a fatty skin cape on top. "It can be difficult to cook the skin until crispy without overcooking and drying out the meat," says Copenhagen chef Niclas Grønhøj Møller, whose restaurant, Spisehuset, is located in the city's Meatpacking District. His quick and easy technique for cooking the two separately yields high-crunch cracklings and tender, juicy pork that's lightly pink in the center. If you can't find a skin-on loin, purchase about 10 ounces of pork skin (with the fat intact) separately from your butcher. Get the recipe >
During the winter holidays, Paul Cunningham of Denmark's Henne Kirkeby Kro likes a comforting gratin. This version is simple but satisfying: Root vegetables are seasoned with thyme and fresh bay leaves, and then simmered in cream before getting baked under a layer of bubbling Gruyère and bread crumbs. Get the recipe >
Danes have always loved white fish like pike and perch, which are abundant locally and are often simply breaded and fried. They're now warming up to their coastal bounty of mussels, which are increasing in popularity on menus, according to Møller. This preparation incorporates the best of old and new, with a lightly briny and delicately foamy cream sauce, crispy seared fish, and robust cabbage shoots (another local favorite) infused with the fresh juice of the mussels. Get the recipe >
The bold flavors of blue cheese, anchovies, and Worcestershire sauce—plus a little kiss from the flame—make otherwise mild-flavored leeks just the thing for a cold night by the fire. Roasting them under sealed parchment paper allows the leeks to steam, tenderizing them before they char. Get the recipe >
Known as chupe de centolla, this Chilean crab gratin borders on a cheesy crab dip. While similar South Americanchupe are always prepared with milk-soaked bread and any combination of shrimp, scallops, shellfish, meats, and cheeses, Patagonia's version relies solely on the massive local king crabs, the hallmark of fishermen's kitchens along Chile's southernmost coast. Get the recipe >
This recipe makes gougères that are custardy in the center, with a little nuttiness and crunch from optional walnuts. If you prefer a firmer puff, use four eggs instead of five. Feel free to scoop out and freeze the dough in advance of New Year's, then bake gougères directly from the freezer, adding a few minutes to the baking time. Get the recipe >
Make sure to keep veggies in the mix for your New Year's dinner recipe rotation. Whole cauliflower is quartered and roasted with paprika, turmeric, and jalapeño in this dish from Miznon restaurant in Tel Aviv. Michael Solomonov of Zahav drizzles the crispy roasted cauliflower with raw tahini as a creamy dressing to balance the fiery chiles. Get the recipe >
Instead of using clarified butter in his hollandaise, as is traditional, Global Village chef Martin Bealin browns butter, rendering it nutty in flavor. Choose briny—not creamy—oysters (ask your fishmonger), and be sure to make the mignonette: The salinity of the oysters in combination with the pungent shallots and vinegar are a welcome contrast to the richness of the hollandaise. Get the recipe >
This crowd-pleasing glazed rib roast was inspired by former Saveur Test Kitchen director Kellie Evans' days as a film and television caterer—a job that required feeding many hungry people. Get the recipe >
A juicy, tender bird shines alongside this richly spiced walnut gravy in this simple New Year's dinner recipe. Get the recipe >
This celebratory pie is only as good as the quality of your ingredients: look for a premium ice cream and top-shelf liquor. English-style digestive biscuits have a distinctive wholemeal texture with a buttery richness and an undertone of brown sugar. Get the recipe >
This dessert—a fudgy, frozen or semifrozen chocolate mousse that's sometimes coated in ganache, then sliced—likely came from the 17th or 18th century, when royal pastry chefs lived large. Get the recipe >