Artichoke Recipes That Get to the Heart of Spring
Say goodbye to fibrous leaves and bland flavors with these 10 show-stopping dishes you can whip up on a weeknight.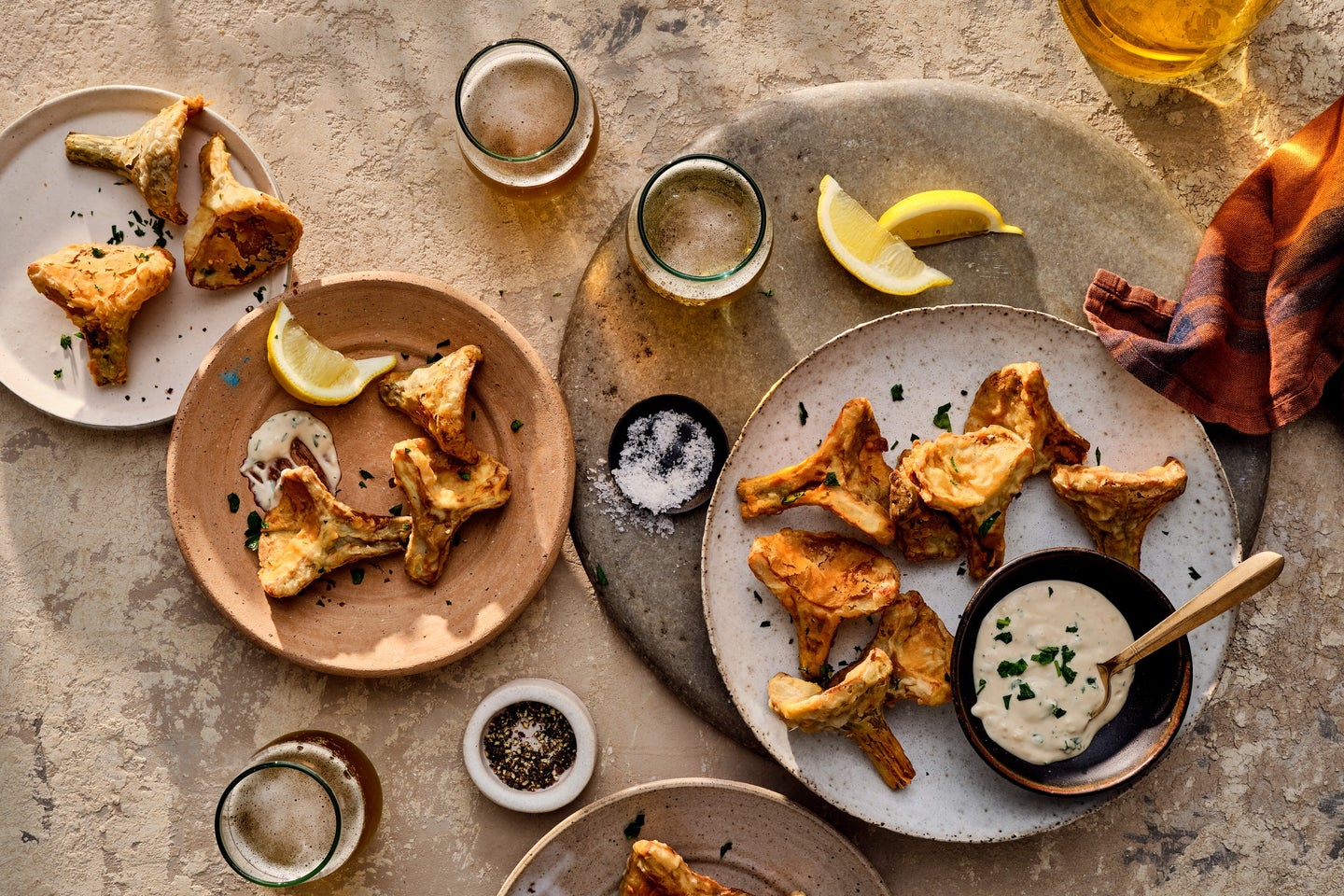 "Girded for battle, burnished as a grenade" is how poet Pablo Neruda described the artichoke in his famous ode to the vegetable, but don't be intimidated by its spiky appearance—with a few strategic snips and slices, this edible thistle is ready for the skillet, stockpot, grill, or oven in no time. And on nights when we don't feel like busting out the chef's knife and rubber gloves (lest the natural pigment blacken our fingers), we invariably reach for a bag of frozen hearts, which add texture and pizzazz to risottos, braises, and dips. Trust us, none of your kin will be the wiser.
Artichokes were prized in Ancient Rome, where nobles devoured them with gusto, and they have long thrived in the Mediterranean basin. Generations-old artichoke dishes run the gamut from scraggly carciofi alla giudia (fried Jewish-style artichokes from Italy) to soupy Spanish menestra (spring vegetable medley) and fried baby artichoke hearts dunked in Middle Eastern taratur sauce. 
Today some 50 types of artichoke grow worldwide, the most prolific of which is the globe, a hardy, mellow-tasting variety whose peak season runs from March to May.  Globes are available year round in many sizes—choose small ones for salads and frying and large ones for stuffing and steaming—but you can have even more fun with heirloom artichokes like chianti, poivrade, or fiesole. Whichever is available to you, seek out buds with tight, compact leaves and as little browning as possible. 
The artichoke recipes that follow—our favorites, hailing from near and far—celebrate spring, the perfect time, according to Neruda, to "undress this delight [and] munch the peaceful paste of its green heart."
At Masseria Moroseta in Puglia, rice bubbles away in a purée of vegetable stock and braised artichokes before getting crowned with capocollo, pecorino, and more artichoke hearts. Get the recipe >
Don't be fooled by the singed edges—these artichokes are tender, and beguilingly smoky, through and through. Get the recipe >
Faintly bitter baby artichoke hearts, thinly sliced with a mandoline, are tossed with mint and nutty Parmesan in this delicate salad. Get the recipe >
Refreshingly tart and herbaceous, this recipe can be a DIY (dip it yourself) appetizer or elegant plated first course—whichever suits your mood. Get the recipe >
It doesn't get more classic than these pull-apart artichokes braised with white wine and a dozen cloves of garlic. Get the recipe >
We fell in love with these artichokes blanketed in taratur (garlicky tahini sauce) at a mom-and-pop restaurant in Damascus, and have been whipping them up on the regular ever since. Get the recipe >
In this aromatic dish, based on one from Marseille restaurant Le Grain de Sel, shell-shape pasta is dressed in a light tomato and clam sauce with artichoke hearts. Get the recipe >
Any gently simmered mixture of vegetables is truly greater than the sum of its parts. It's important to cut the ingredients to the proper size and cook them sequentially, starting with the ones that need longer cooking. Get the recipe >
Spanish menestra is not your grandmother's peas-and-carrots vegetable medley—it's studded with crisp nubbins of jamón and stars breaded and fried artichoke hearts. Get the recipe >
Soft, gently braised artichokes pepped up with fresh lemon juice round out this restaurant-worthy (yet low-effort) French main. Get the recipe >