50 Onion Recipes
Full of sweet, ripe flavor, onions are extremely versatile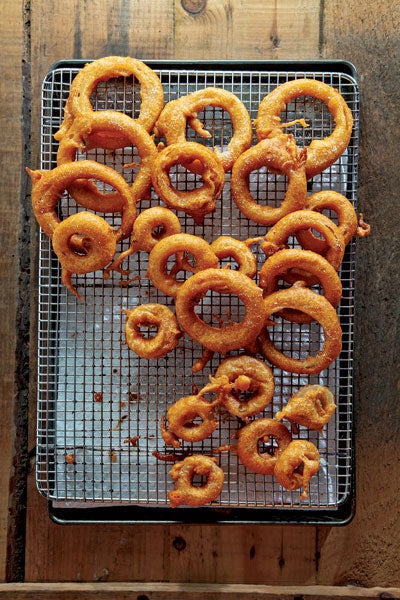 The humble onion is often treated as an afterthought—a flavoring that you throw into a dish just because that's you think you're supposed to. That's a shame, though. With flavor that can range from sweet to spicy and texture that can range from crunchy to melt-in-your-mouth tender, onions are an incredibly valuable tool in any cook's arsenal.
When it comes to highlighting the onion, few dishes are as classic as the onion ring. Crispy batter perfectly complements the onion, which should be tender enough to separate cut cleanly with each bite.
You know you want to serve those onions with a burger. To make Sid's onion burger, patties are pressed onto the griddle with paper-thin slices of onion and seared until crisp around the edges. Vegetarian don't need to feel left out—our ultra-savory portobello patties flavored with garlic and steak sauce are umami-packed and delicious.
Onions are great starring in creamy dishes. Try our roasted onion and chestnut compote, rich with bacon and cognac. Or how about a classic French onion soup, or its cousin the French onion dip?
Cooking down onions until they caramelize creates a wonderfully sweet-savory topping for tarts and pizzas, like our onion and bacon tart and pizza with onions, sweet ham, mozzarella, and rosemary.
Onions pair wonderfully with chicken. Djej besla is a satisfying tagine flavored with saffron, turmeric, lemon, and olives, and a thick, sweet onion jam complements the herbs in our grilled chicken.
Check out 50 of our favorite onion recipes!