38 Ramadan Recipes for Your Eid Feast
Go all out with kebabs and biryani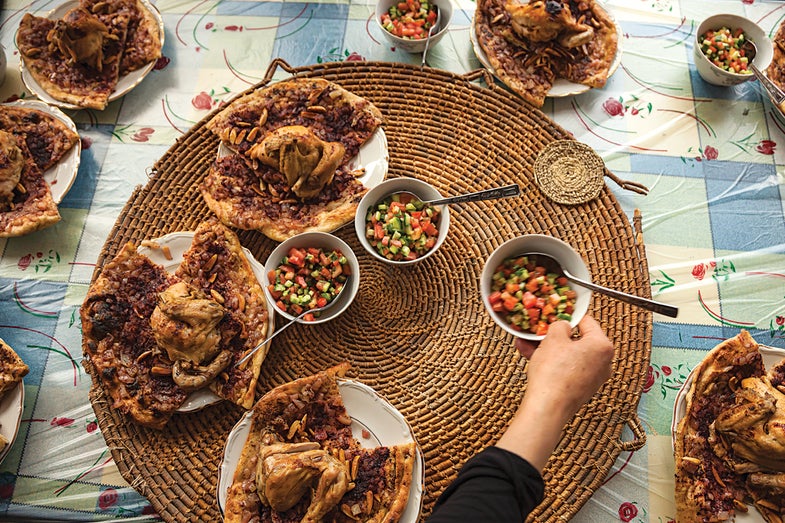 During the holy month of Ramadan, Muslims fast from sunrise to sunset, not even consuming water. Food takes on a special significance during this fast. Before morning prayers Muslims eat suhoor, a heavy breakfast big enough to to get them through the day. Hearty meat dishes are popular during Ramadan as a way to fill up before or after fasting. Skewered meat and vegetable dishes called kebabs are common in the Middle East and curry recipes are a mainstay in Southeast Asia.
After dark comes iftar, or the breaking of the fast. This meal is often a festive, communal affair. No iftar would be complete without rice. Dessert is an important part of iftar and in the Bengali household, mishti is king. In the Middle East, desserts often lean towards the syrupy side and yogurts are a common way to help aid digestion and cool the stomach. We've rounded up our favorite Ramadan recipes for suhoor and iftar, as well as for your big Eid-al-Fitr feasts afterward.
Get seasonal recipes, methods and techniques sent right to your inbox—sign up here to receive Saveur newsletters. And don't forget to follow us on Instagram at @SaveurMag.
Shish Kebabs
Lentil Stew with Coconut (Dalma)
Indian Samosas
Spiced Ground Beef Patties (Shami Kebabs)
Indian Fish and Potato Croquettes
Fried Chickpea-Battered Potatoes (Bhajiya)
Persian Tamarind-Stuffed Fish
Persian Rice
Roast Chicken with Onion and Sumac Flatbread (M'sakhan)
Romano Beans with Tomatoes (Loubieh bil Zeit)
Baklava
Lamb and Cauliflower Stew with Harissa
Man'oushé bil Za'atar (Flatbread with Za'atar)
Tabbouleh
Pakistani Slow-Cooked Lamb Stew (Dumbay ki Nihari)
Mashed Eggplant Dip (Baba Ghannouj)
Chickpeas with Pita and Spiced Yogurt (Fattet Hummus)
Lebanese Lamb-Stuffed Eggplant (Batenjen Mehchi)
Spiced Lamb Patties with Tomato and Onion (Kefta bil Sayniyeh)
Shirazi Salad
Labaneh
Iraqi Stuffed Onions (Dolma Mahshi)
Spiced Chicken and Tomato Kebabs (Jujeh Kabab)
Emirati Grilled Prawns (Rubyan Meshwi)
Pumpkin Halvah (Assidat al-Boubar)
Upside-Down Rice with Cauliflower, Eggplant, and Lamb (Maqloubeh)
Iraqi Yellow Spice-Rubbed Chicken (Djaj Bil-Bahar Il-Asfar)
Charred Eggplant with Chile Sauce & Tahini
Saffron-Flavored Fritters (Lgeimat)
Ground Lamb, Bulgur, and Pistachio Kebabs (Simit Kebap)
Emirati Lamb Stew (Tharid)
Veal and Kidney Bean Stew (Ghormeh Sabzi)
Persian Ground Meat and Onion Kebabs
Spiced Goat and Rice Pilaf (Sindhi Biryani)
Red Lentil and Squash Soup (Shorabit Jarjir)
Honey-Braised Lamb Shanks (Mrouzia)
Pigeon Pea Fritters with Yogurt-Tomato Sauce (Vadai Pachadi)
Syrup-Soaked Cheese Pastry (Knafeh)