One Ingredient, Many Ways: Mushrooms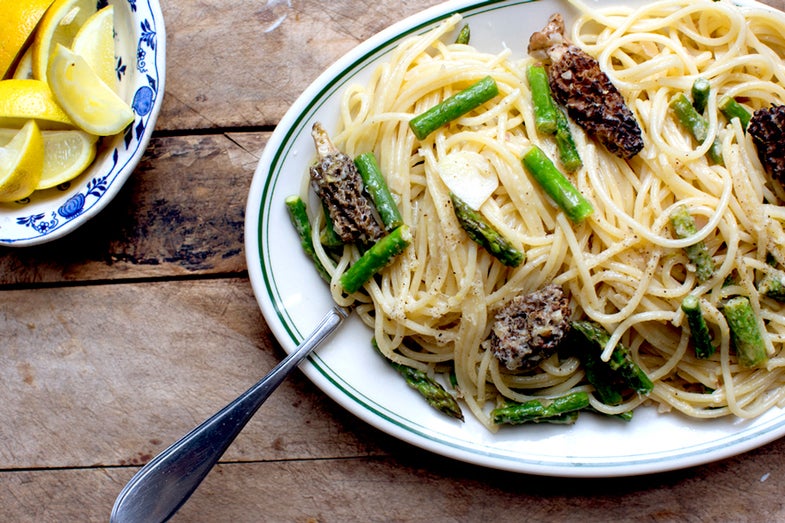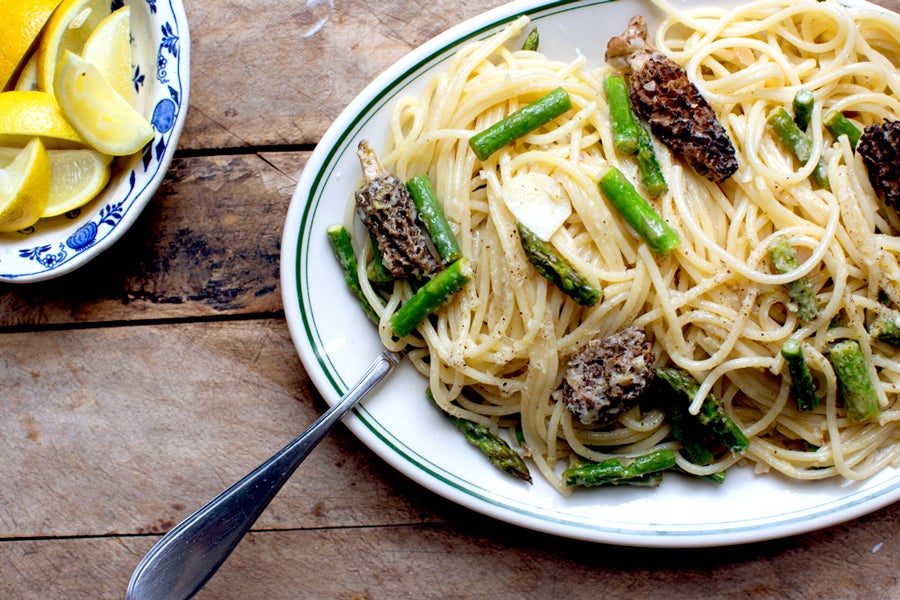 This past autumn, my husband and I went mushroom hunting in the woods in Nyack, New York, about 30 miles north of our Brooklyn home. Being utter novices—the wildest place I had foraged for mushrooms previously was the produce section of Whole Foods—I didn't trust our ability to safely harvest edible species. So we invited Paul Sadowski, secretary of the New York Mycological Society, to guide us. Paul (who got turned onto mushrooming two decades ago by his former employer, the late composer and mycophile John Cage) was a more than reliable leader, and we rode home giddy with our day's haul of oyster and brick top mushrooms.
While Sadowski spoke like a walking encyclopedia of Northeastern mushrooms, he admitted to us that he is not the most enthusiastic cook. For that part of the equation, he pointed me towards his friend and fellow NYMS member, Eugenia Bone—a food writer, Saveur contributor, and author of Mycophilia: Revelations from the Weird World of Mushrooms (Rodale, 2011). "Her cooking is sublime," Sadowski told me.
Flash forward a few months from our foraging trip, and we are currently in the midst of mushrooming's off-season. Many beloved varieties—such as chanterelles and shiitakes—prefer warm and wet weather, making mid-summer and early autumn the best time for picking wild mushrooms. But, as I learned from Bone, for those who cannot wait, there are morels—the craggy, dome-shaped fungi that appear in early spring and add delicate, savory flavor to countless dishes. In some parts of the country, like Oregon, morel season starts as early as March. In New York the season begins in May—"when the new oak leaves are the size of a squirrel's ear," Bone said—and lasts for about a month. Fleeting, in other words.
Luckily, morels' earthy flavor grows even more concentrated when dried, making them delicious and accessible year-round. (Other varieties of mushrooms, like porcini and black trumpet, can be found dried during the off-season too.) When cooking with dried mushrooms, Bone favors long-simmering dishes like hearty braises where the mushrooms soften during the cooking process. But these days I have pasta on the brain (as I nearly always do), and a hankering to make something that tastes like spring. I've found my answer in morel and asparagus spaghetti: I rehydrate the morels in boiling water, which is the typical method, but save the fragrant soaking liquid and use it to cook the pasta. All of that delicious mushroomy flavor gets recycled and infuses the noodles as they boil, lending depth to the finished dish. Tossed with the plumped morels, bright green asparagus, and fresh, grassy heavy cream, the dish tastes like a promise of good things (and great mushrooms) to come.
See the recipe for Morel and Asparagus Spaghetti »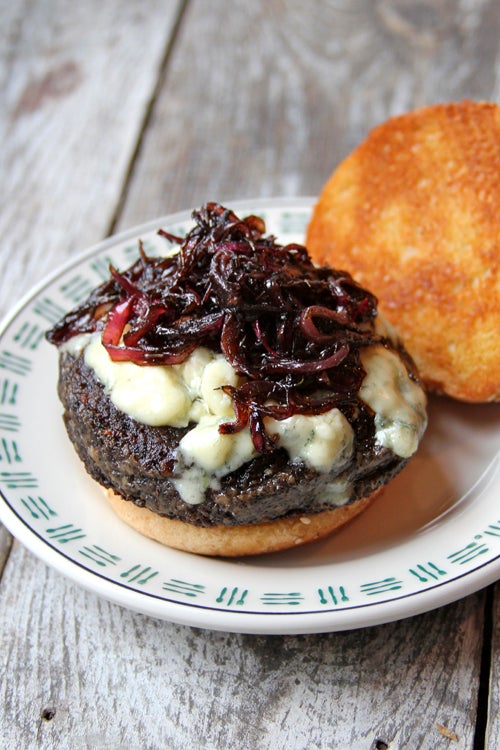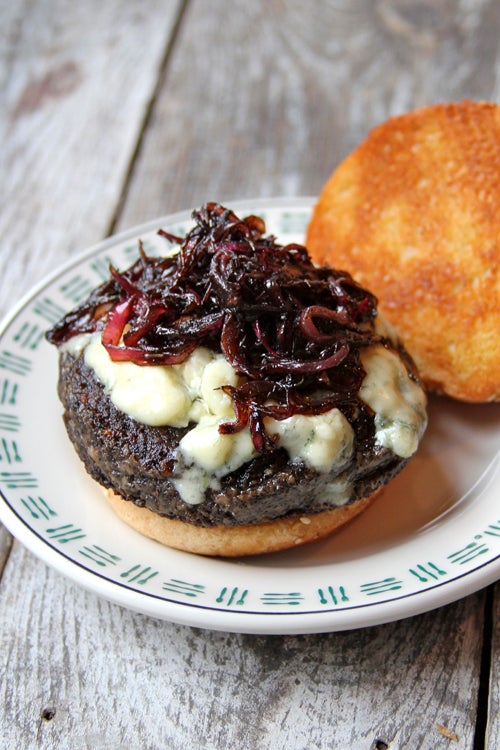 Portobello Burger with Blue Cheese and Sauteed Red Onions
A far cry from the standard grilled-mushroom-cap-as-burger, these ultra-savory portobello patties get a further umami boost from garlic and steak sauce—a perfect match for a flavorful topping of melted blue cheese and tangy caramelized red onions.
Credit: Helen Rosner
SIDE DISHES
Ragout of Peas and Morels
This mix of earthy morels, pearl onions, carrots and peas comes swimming in a savory morel-broth.
Bok Choy with Black Mushrooms
Chinese dried black mushrooms are plumped than sauteed with baby book choy in this saucy side dish.
Crostini of Wild Mushrooms
An assortment of earthy wild mushrooms top these crunchy, garlic-scented crostini.
Artichoke Stuffed Mushrooms
This classic appetizer gets stuffed with breadcrumbs, cheese, shallots and chopped artichoke hearts for extra flavor.
Grilled Mushrooms
Grilling oyster mushrooms brings out a savory smokiness that pairs perfectly with garlic and parsley.
Marinated Mushrooms
Cremini or button mushrooms get dressed up in a marinade of white wine, lemon juice and fresh herbs.
Mushrooms with Cream and Sage
Serve this creamy, sage-scented mushroom sauce over toast.
Mushroom Stuffing
Country-bread stuffing gets a hit of flavor thanks to the addition of dried morels.
Chanterelle Soup
Dandelion greens, chanterelles, and red onion pair in this broth soup.
Chanterelle Risotto
Infuse risotto with shallots, chanterelles, and good quality salted butter.
Mushroom Spinach Gruyere Crepe
These savory crepes are topped with a hearty mix of mushrooms, fresh baby spinach and nutty gruyere.
Xiang Gu You (Mushroom Infused Oil)
Drizzle this shiitake-infused oil over soups, salads, eggs, or vegetable dishes.
Tempura Shiitake Mushrooms
Tender shiitakes get ensconced in a crisp and delicate batter in this irresistible side dish.
Mo Gu Miantiao Tang (Mushroom Noodle Soup)
This Chinese soup is flavored with dried shiitake mushrooms and comes brimming with Chinese egg noodles and squash.
MAIN DISHES
Wild Mushroom Ragout
Serve this mushroom stew over egg noodles that will soak up the flavorful sauce.
Fresh Mushroom Cutlets with Mornay Sauce
These meat-free cutlets rely on chopped mushrooms for their hearty texture.
Farfalle with Wild Mushroom and Tomato Sauce
Eugenia Bone's father, artist and cookbook author Ed Giobbi, paired sweet sausage and wild mushrooms in this simple and delicious pasta dish.
Wild Mushroom Omelette
Wild mushrooms and tarragon dress up an ordinary omelette.
Mushroom and Fontina Pizza
Use shiitakes or your favorite type of mushrooms on this crispy, cheesy pizza.
Meat Loaf with Mushrooms and Sherry
America's favorite comfort food gets dressed up with earthy mushrooms and a splash of sherry.
Filets Mignons with Mushroom Sauce
There is some serious umami going on in this steak-meets-mushroom entree.
Pozharsky Cutlets with Mushroom Sauce
A creamy mushroom sauce tops these butter-stuffed breaded cutlets.
Mushroom Moussaka
This classic Greek casserole is the perfect venue for thickly sliced mushrooms.
Tagliatelle with Chive Oil and Cremini Mushrooms
Tagliatelle pairs beautifully with spicy chive oil, red pepper flakes and cremini mushrooms in this satisfying vegetarian main dish.
Mushroom Ravioli with Pesto
Basil pesto tops these cremini mushroom-stuffed pockets.
Portobello Burgers with Blue Cheese and Sauteed Red Onions
The addition of blue cheese caramelized red onions ensure that this vegetarian-friendly burger is anything but mundane.
Leah Koenig is a freelance writer and author of The Hadassah Everyday Cookbook: Daily Meals for the Contemporary Jewish Kitchen.