One Ingredient, Many Ways: Mustard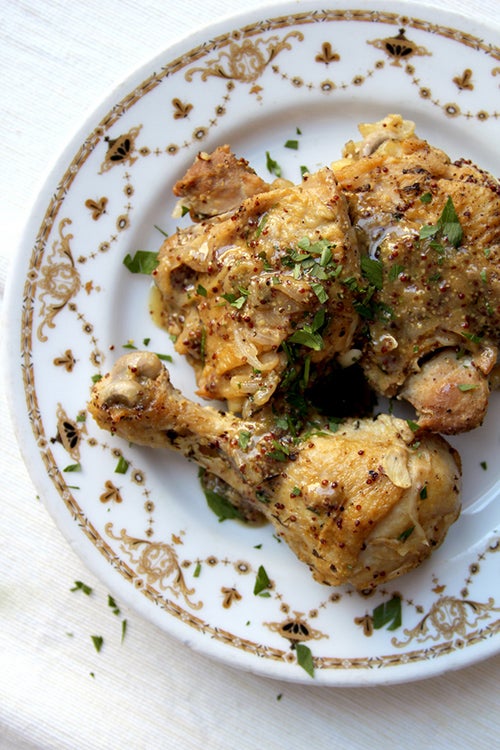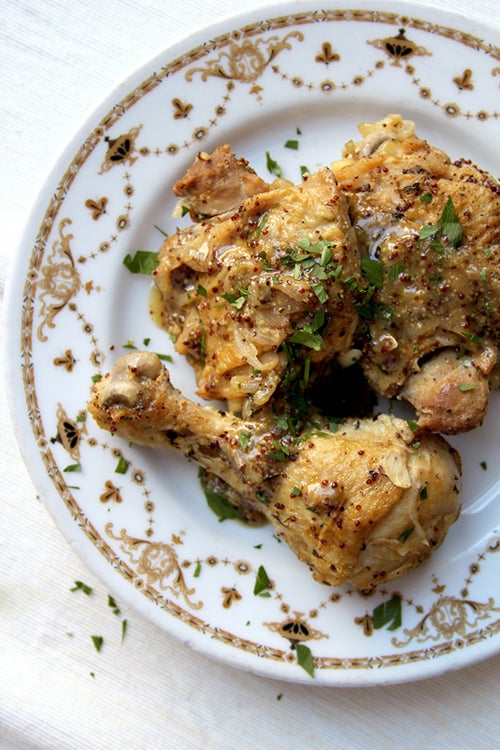 Virtually every refrigerator, whether a well-stocked Sub-Zero or a college dorm mini-fridge, has one thing in common: a bottle of mustard. The sharp yellow condiment has become an essential part of American cuisine, slathered on foods from soft pretzels to hot dogs and stirred into dressings and marinades. So beloved is the piquant sauce that there's an entire museum in Wisconsin dedicated to it, housing over 5,000 bottles of antique and contemporary mustards hailing from more than 70 countries—a testament to its worldwide popularity.
Mustard's enduring appeal stems, in part, from its remarkable versatility. The tiny seed can be toasted and used whole, tossed into a jar of fermenting pickles, ground into a powder, or crushed and mixed with vinegar to form the familiar condiment that we spread onto sandwiches. It adds a welcome, sharp bite to all kinds of dishes, like a hearty dinner of chicken braised with mustard and white wine. An adaptation of a regional French classic, in my version I swap out the traditional Dijon in favor of a grainy, seeded mustard, and add chopped tarragon and thyme. The chicken emerges browned and tender with a richly perfumed sauce so delicious, you'll be mopping it up with bread before the dish even hits the table.
See the recipe for Mustard and White Wine Braised Chicken »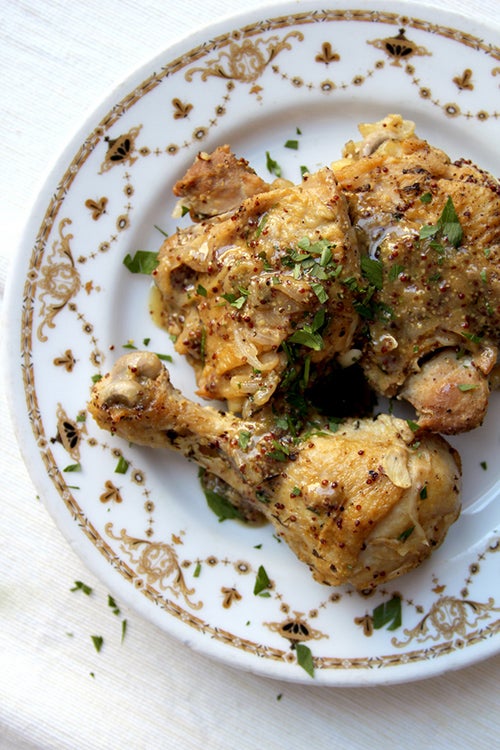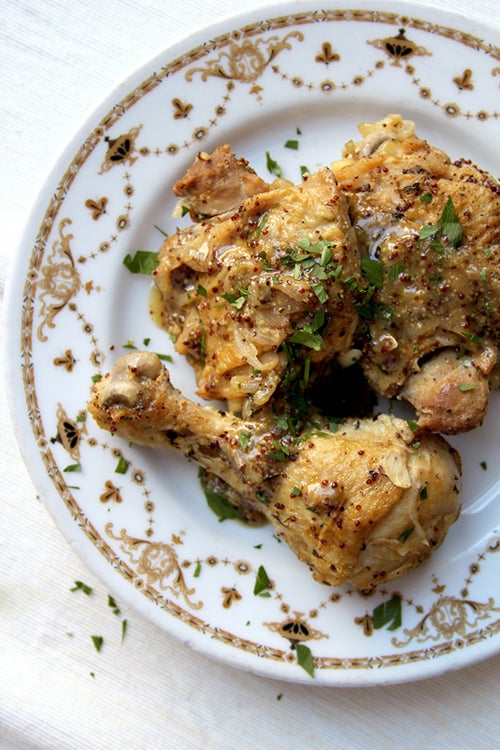 Mustard and White Wine Braised Chicken
An adaptation of a regional French classic, this version swaps out the traditional Dijon in favor of a grainy, seeded mustard.
Mustard Sauces
Spicy Guinness Mustard
Make your own jar of spicy, seed-speckled, stout-spiked mustard.
Mustard Dill Sauce
Serve gravlax with a dollop of this creamy, dill-flecked mustard sauce.
Carolina Gold Sauce
Carolina barbecue mavens slather their chicken with this sweet and tangy mix of mustard, honey, and Worcestershire sauce.
Tarragon Mustard Butter
Chopped tarragon, dijon mustard, and black pepper flavor this delicious compound butter.
Tonkatsu Mustard Butter
The popular Japanese condiment is made from a mix of mustard powder, ketchup, soy sauce, and Worcestershire.
Red Onion Relish
Serve this chile and mustard seed-spiced chutney with meat or fish.
Chow Chow
Mustard in two forms—both whole seeds and powder—enriches this complex sauce.
Mostarda di Fruitta (Spicy Mustard and Fruit Preserves)
This apricot, cherry, and apple relish is sweet and tangy thanks to the addition of Dijon mustard.
Mustard Sides
Potato Salad with Red Onion
Mustard and dill pickle relish adds bite to creamy potato salad.
Beer Battered Onion Rings
Dry mustard is the secret ingredient in these crunchy onion rings.
Tennessee Style Mustard Coleslaw
Liven up classic mayo slaw with a spoonful of yellow mustard.
Cabbage and Carrots with Mustard Seeds and Curry Leaves
Shredded cabbage is anything but boring when served with curry leaves, black mustard seeds, and serrano chiles.
Mustard Main Dishes
Mustard Herring
Briny pickled herring filets get an extra boost of flavor from a mustard and vinegar sauce.
Pan-Fried Steaks with Mustard Cream Sauce
After pan-frying a steak, deglaze the pan with cognac and make this creamy mustard sauce to dollop on top.
Deviled Baby Back Ribs
Dijon mustard and cayenne flavor the crumb coating on these baby back ribs.
Crusted Ahi with Spicy Mustard Drizzle
This Panko-breaded tuna dish is served with a rice vinegar and mustard sauce.
Salmon in Bengali Mustard Sauce
Simmer skinless salmon filets in this spicy mustard sauce, which includes mustard in both its seed and powdered forms.
Leah Koenig is a freelance writer and author of The Hadassah Everyday Cookbook: Daily Meals for the Contemporary Jewish Kitchen.