One Ingredient, Many Ways: Ricotta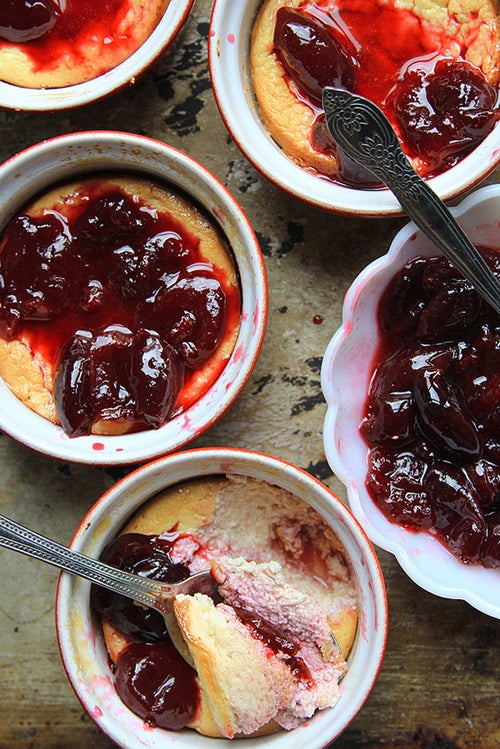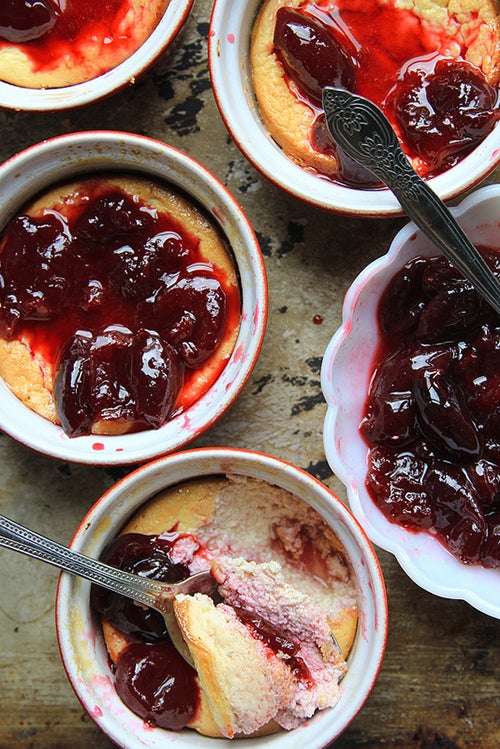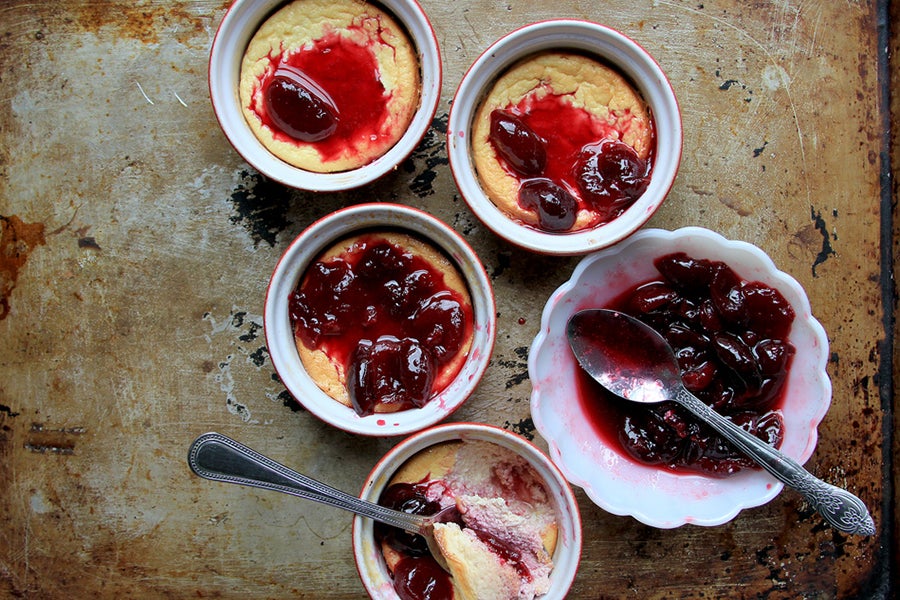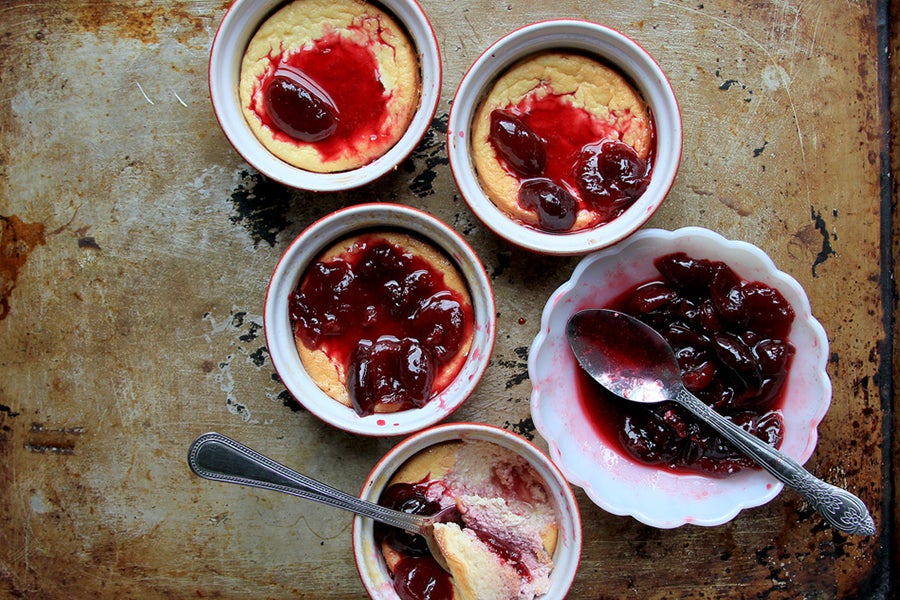 Baked Ricotta with Orange Blossom Cherry Sauce
Serve this creamy, sweet baked ricotta dish as an appetizer, as part of a cheese course, or for dessert paired with shortbread cookies.
Italy's affair with ricotta is one for the ages. The creamy, fresh cheese features prominently across the country's sweet and savory spectrum, lending heft and depth to pasta staples like lasagna, gnocchi, and manicotti, and enriching desserts from cheesecake to cannoli. Perhaps that's because indulging in a spoonful of the soft, mildly sweet cheese is the edible equivalent to reading a love note—at once smoothly seductive and reassuringly cozy.
All ricotta begins with whey, which is a byproduct of making harder types of cheese. Fittingly, the word "ricotta" literally means "recooked" in Italian. The majority of ricotta sold in the States is the soft, fresh kind made from cow's milk whey. But for those willing to search, there are other worlds of ricotta to explore including ultra-rich ricotta di bufala (made with buffalo milk), aged ricotta forte, smoky ricotta affumicata, and the firm, lightly salted ricotta salata. In recent years, fresh ricotta has become a darling of the artisanal movement, with companies like Salvatore Bklyn in New York and Narragansett Creamery in Rhode Island creating high quality versions that are thicker, fresher, and fuller flavored than the usual store-bought kind. Home cooks have also started making it in their own kitchens.
In addition to its use in traditional Italian fare, I find that ricotta makes a lovely substitute in many recipes that call for other fresh dairy products like farmer's cheese or cottage cheese. I also adore it straight up, spooned on toast and topped with anything from a drizzle of honey to a savory mash of cherry tomatoes. When in the mood for something a little more special, I make baked ricotta. Mixing ricotta with an egg and baking it in the oven transforms it into something entirely new: a complex, golden-colored thing with an airy texture and a rich mouthfeel. Served alone, it makes a lovely addition to a cheese plate or antipasto platter. But I like it best for dessert, drizzled with an orange blossom-scented cherry sauce and spooned onto biscotti or shortbread—or simply eaten on its own.
See recipe for Baked Ricotta with Orange Blossom Cherry Sauce »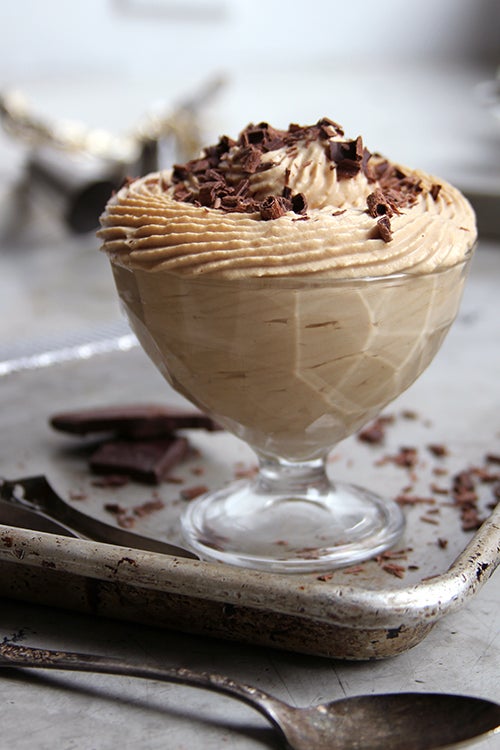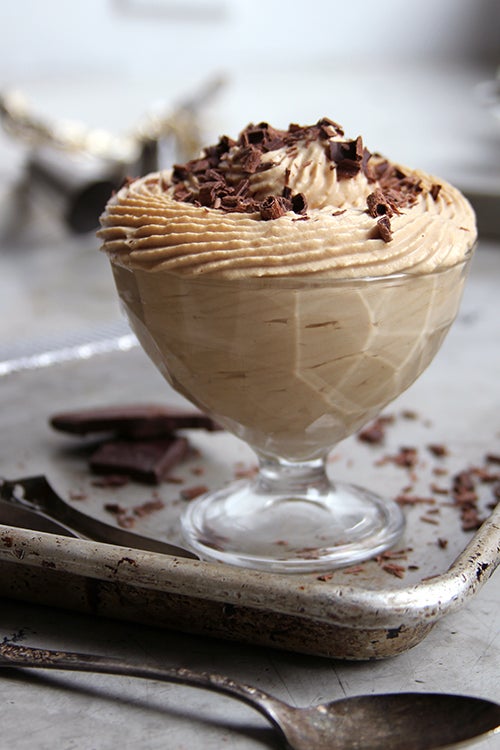 The recipe for this elegant, easy-to-make dessert is based on one prepared at Ristorante Dattilo in Calabria. Get the recipe for Ricotta and Coffee Mousse »
SWEET
Ricotta Crostini with Chestnut Honey
This simple and sweet crostini pairs grassy ricotta with earthy chestnut honey.
Ricotta whisked with confectioners' sugar, orange zest and cinnamon makes a luscious filling for cannoli.
Stewed Rhubarb
Serve sweet-tart stewed rhubarb over a creamy base of ricotta.
Cassata Ricotta Cake
This Sicilian ricotta cake is rimmed in pistachio marzipan and topped with candied fruits.
Ricotta and Coffee Mousse
A simple blend of ricotta, cream, espresso and gelatin yields a rich and elegant mousse.
Malpura (Ricotta Pancakes)
Ricotta pancakes flavored with a saffron and cardamom syrup and topped with chopped pistachios are a creamy, indulgent dessert.
St. Joseph's Day Fritters
Fluffy, crunchy fritters filled with cinnamon-spiked ricotta are traditionally served on St. Joseph's Day in Siciliy.
Syrniki (Russian Cheese Pancakes)
Tender Russian pancakes are typically made with tvorog (a quark-style cheese), but ricotta makes a fine substitute.
SAVORY
Ricotta Crostini with Black Olives, Lemon Zest and Mint
A few simple, flavorful toppings is all it takes to turn ricotta on toast into something special.
Ricotta Crostini with Cherry Tomatoes
Dress up this ricotta crostini with pan-softened cherry tomatoes.
Baked Manicotti
Ricotta plays a staring role in the classic Italian baked pasta dish.
Spinach and Ricotta Ravioli
These ravioli are filled with spinach and ricotta and served in a fennel seed-infused tomato sauce.
Rubirosa Lasagne
Sweet fennel sausage and tiny meatballs enhance a saucy lasagna filled with ricotta.
Corsican Cheese Mint Omelet
In Corsica, a simple, Mediterranean omelet needs nothing more than ricotta, mint, and red chile flakes.
Requeson Revuleto (Ricotta Scramble with Tomatoes)
Forget the eggs: this Mexican dish of scrambled ricotta with tomatoes served in tortillas is plenty satisfying on its own.
Zucchini Stuffed with Ricotta
Ricotta served inside meltingly-tender baked zucchini makes a glorious side dish to almost any meal.
Leek and Zucchini Galette
Make this ricotta and zucchini free-form tart in high summer, when the zucchini crop is at its peak.
Pesto Calabrese
A touch of ricotta tempers the flavor of red peppers in a spicy southern Italian-style pesto.
Ricotta and Roasted Pepper Frittata
Ricotta adds creaminess to a frittata made with silky roasted peppers.
Leah Koenig is a freelance writer and cookbook author. Her forthcoming cookbook, Modern Jewish Cooking, will be published by Chronicle in 2015.