One Ingredient, Many Ways: Scallions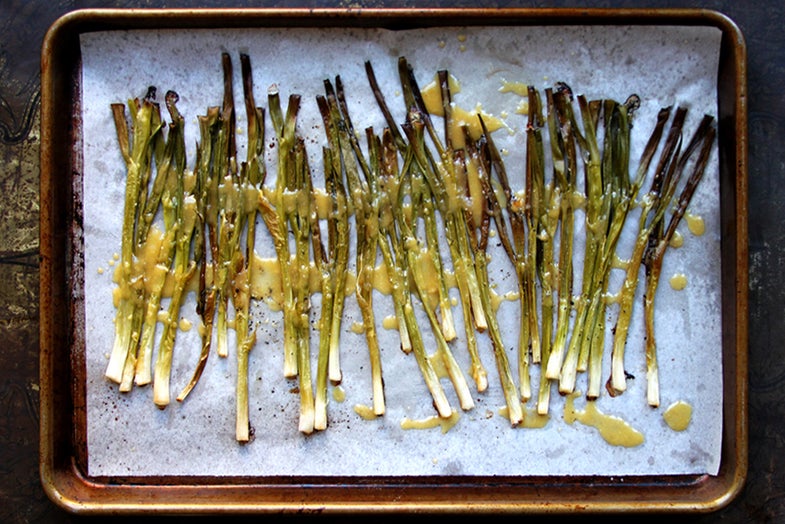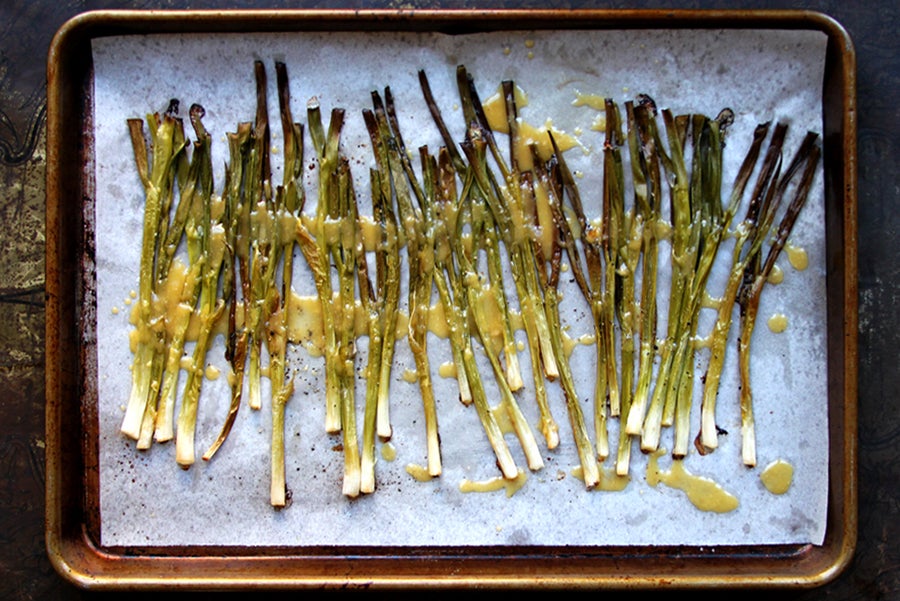 As a kid whose family ate out pretty often at Chinese-American restaurants, I was fascinated—and somewhat unnerved—by scallion pancakes. How strange to see bright flecks of chopped scallions show up in pancakes—a food I knew to be fluffy, sweet, and covered in syrup. I eventually came around to the idea of savory pancakes, but my fascination with scallions has remained. Native to central Asia, they are at once crisp and tender, cooling and hot—perhaps that's why they travel so seamlessly between salads, soups and main dishes. Confusingly, the term scallion can refer to any number of green-stalked alliums that are harvested young, before their bulbs have a chance to develop. But while these varieties are used interchangeably, true scallions never form a large bulb, even when fully grown.
Now that I'm older and more adventurous of palate, I still check Chinese restaurant menus for scallion pancakes. And thanks to the inimitable Martin Yan, who generously shared his recipe and technique with SAVEUR, I can also make them at home. But when I found myself with a bunch of the green onions recently, my mind turned to a dinner party where a friend served them roasted. Left whole and turned over to the oven, they blistered to a crunch and turned sweet. With the addition of a simple and tangy miso dressing, these unassuming little onions are equally as surprising—and delicious—as the scallion pancakes that captured my imagination as a child.
See the recipe for Miso-Roasted Scallions »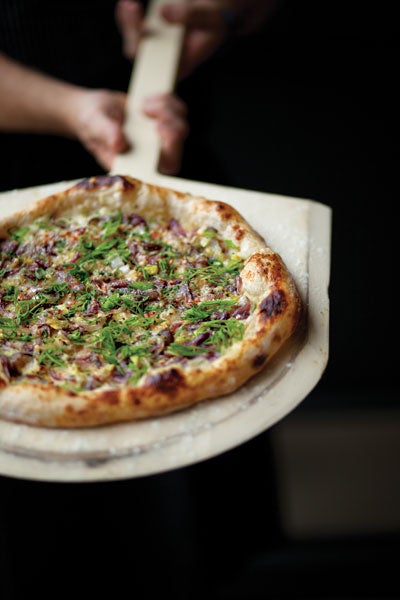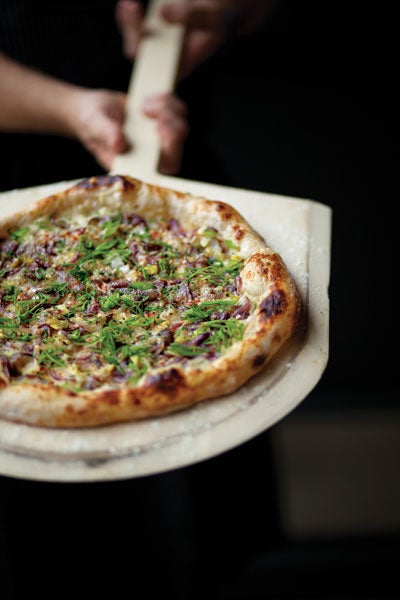 Six-Onion Pizza
Scallion Side Dishes
Classic Scallion Pancakes
Martin Yan's classic recipe turns out perfectly browned pancakes threaded through with bits of spicy scallion.
Batter Fried Scallions
White wine and flour make an intriguingly simple and flavorful batter for crispy fried scallions.
Scallion Soup
This light green take on vichyssoise swaps scallions for the more traditional leeks.
Scallions and Carrots
Julienned scallions and carrots are dressed in butter, soy sauce, and sugar in this simple side.
Ca Nuong (Grilled Eggplant with Garlic and Scallions)
Grilled eggplant's smoky flavor pairs perfectly with spicy garlic and scallions.
Grilled Scallion Skewers
Like roasting, grilling scallions enhances their sweetness—double-skewering them ensures they don't fall through grill grates.
Tofu Wanzi
These fried tofu fritters—SAVEUR contributor Mei Chin's mother's recipe—combine cooked bacon and chopped scallions into a crispy quenelle.
Chile Scallion Relish
Serve this pungent condiment made with Thai chiles, cilantro, and scallions over rice or with meat dishes.
Chinese Cabbage Salad with Scallions and Roasted Peanuts
Fresh cabbage salad gets an extra hit of crunch from peanuts and scallions.
Scallion Cheddar Cheese Biscuits
Finely chopped scallions add a hit of pungent flavor to buttery, cheesy biscuits.
Cape Breton Potato Salad
Stir the freshly chopped vegetables—scallions, celery, parsley and radishes—into this potato salad just before serving to help them stay crisp.
Yams with Ginger and Scallions
Fresh ginger, scallions, and chiles add heat to a dish of sweet yams.
Pickled Radishes and Green Onion
This quick radish pickle is brightened with chopped fresh scallions and sesame oil.
Mexican Bread Pudding
A surprising cilantro and scallion-infused syrup adds an herbal note to sweet Mexican bread pudding.
Scallion Main Dishes
Spaghetti Collins
Chopped scallions, garlic, and cream turn simple spaghetti into a flavorful dinner.
Six Onion Pizza
Six different types of alliums—white onions, leeks, shallots, red onions, scallions, and chives—top this sweet and savory pizza.
Burnt Scallion Fish
Burnt minced scallions add a deep, smoky flavor to pan-roasted fish.
Braised Chicken with Scallion Puree
Dress up braised chicken with a puree of scallions and white wine.
Cong You Ban Mian (Noodles with Fried Scallions)
Asian wheat noodles are topped with flash-fried scallions in this Taiwanese dish.
Chinese Steamed Fish with Scallions
Steamed whole branzino gets stuffed and covered with ginger and scallions.
Broiled Beef-Scallion Rolls
Scallions are rolled tightly into thinly sliced pieces of beef in this sweet and savory dish.
Eggs and Scallions with Toasted Cassava Flour
This Brazilian dish of toasted cassava flour with eggs and scallions is simple and delicious.
Cuban-Style Black Beans
Chopped scallions often top stewed black beans—in this version, they play a more central role.
Chicken and Scallion Yakitori Skewers
Pieces of chicken and the white parts of the scallion are skewered together in this grilled Japanese classic.
Black Pepper Tofu
Chef Yotam Ottolenghi's book Plenty is filled with delicious, vegetable-focused recipes, including this sweet and spicy tofu and scallion dish.
Leah Koenig is a freelance writer and author of The Hadassah Everyday Cookbook: Daily Meals for the Contemporary Jewish Kitchen.