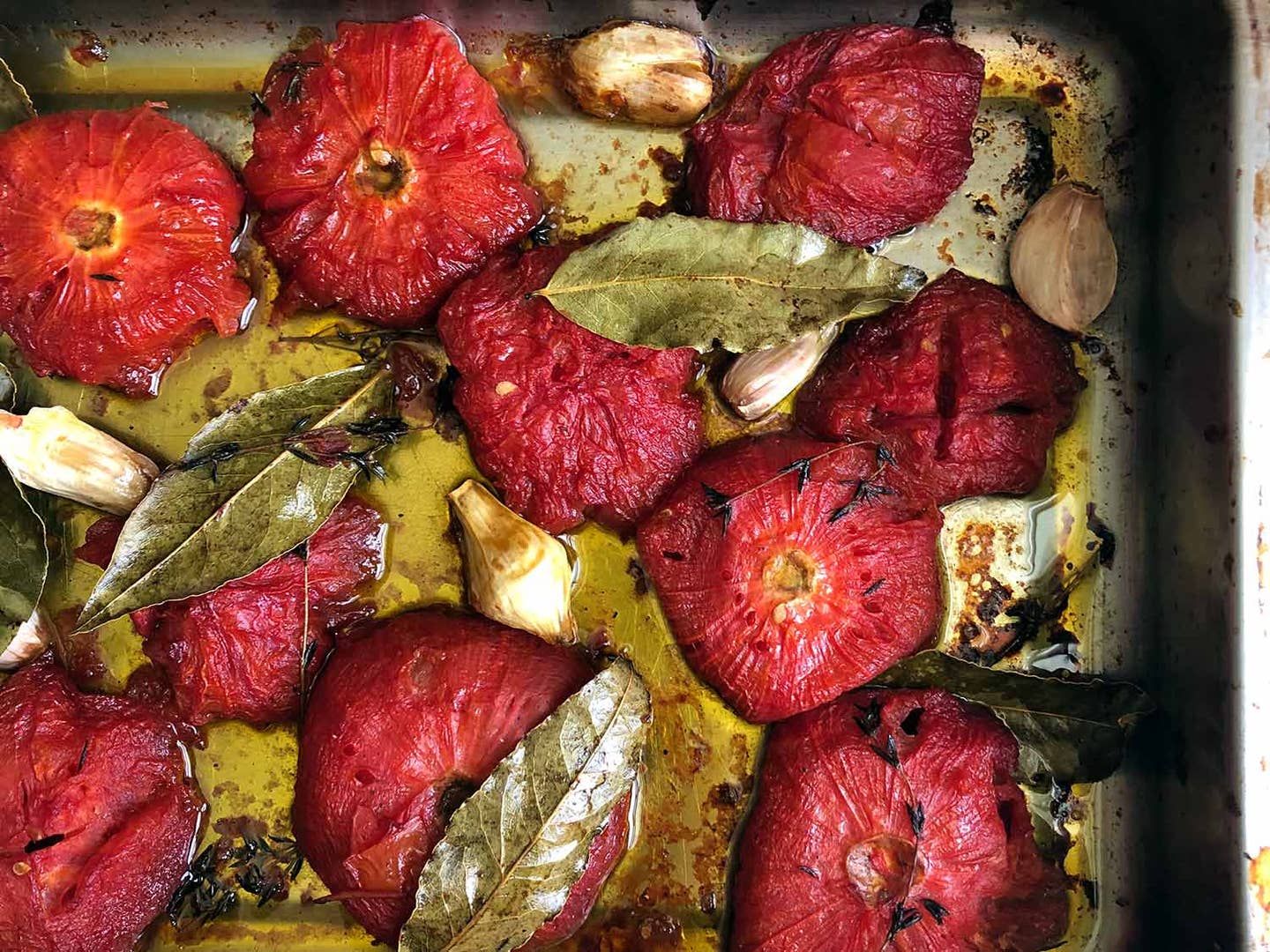 Recipes
Tomato Confit Will Help You Hold onto Summer As Long As Possible
Use this easy French technique to preserve tomatoes at their peak
In late summer it's easy to live in the moment, assembling the simplest of meals with delicious fruits and vegetables of the season. When it comes to tomatoes, you barely need to do anything to enjoy them in all their glory—aside from sprinkling salt, drizzling olive oil, and lazily scattering a few basil leaves on top. But for some of us more glass-half-empty types, the pleasure of this peak season is bittersweet; we feel a twinge of melancholy when looking at an abundance of tomatoes, knowing that just like summer itself, they will soon be gone.
What can we do, then, to seize the moment and hold on tight?
The practical and most versatile option is bottling the tomatoes in their juice, which requires a decent amount of counter space, time—and most importantly—the proper canning technique. It'll give you lots of satisfaction later to pull a jar of summer tomatoes from your shelves to cook with. Likewise, making a big batch of tomato sauce is a project well worth sacrificing a day to the kitchen. Those of us with a more slapdash approach can squirrel tomatoes away for winter by coring them and freezing them in bags. While this method affects the texture of the tomatoes (they'll be watery when thawed), it still gives you something bright to add to winter soups and stews—and to remember summer by.
Colorful, fragile heirloom varieties may tempt us with their misshapen beauty and nuanced flavors, but it's the plum and beefsteak tomatoes that are the real workhorses. Trusty plum tomatoes, such as Roma or other paste tomatoes, with their high flesh-to-juice ratio, are best suited for canning and bottling. Beefsteaks, those round slicing tomatoes served on BLTs across America, might be the best deal in early fall markets. They are in abundance now, and cost far less than heirloom varieties. When ripe they are delicious and juicy enough for layering in a sandwich, or chopping or grating directly into a bowl for a no-cook sauce.
But if you really want to dig in your heels and slow the season down, use beefsteaks to make this recipe for preserved tomatoes, or tomates confites. Drawing upon the tradition in southwestern France of preserving in oil or fat, they require minimal work but deliver big rewards. Here's how to do it.
The easiest way to peel tomatoes is by dropping them in a pot of boiling water. Wait just until the skin loosens, then immediately chill the tomatoes in ice water and slip the skin off.
Add Olive Oil and Aromatics
Season the peeled tomatoes with salt, sugar, and generous amounts of garlic and herbs (fresh thyme and bay leaves are wonderful here), then bathe in olive oil.
Bake the tomatoes in a 250-degree oven for a total of 3½ hours. Slow-cooking concentrates the flavor of the tomatoes, transforming them from fresh and juicy to rich, savory, and meltingly soft. Prepared this way, even basic beefsteaks become a luxury item. Store them in your refrigerator for a couple of weeks, and you'll have money in the bank.
With their deep flavor and almost jammy consistency, the confited tomatoes can be spooned over fresh goat cheese or ricotta on crostini and served with drinks on early fall evenings. You can also make an instant condiment by chopping the tomatoes and adding a splash of red wine vinegar and some capers or olives and fresh herbs. Let this luscious relish come to room temperature, then serve over grilled fish, chicken, or lamb. Sliced or chopped, the confit can be stirred into side dishes and salads, and are especially good with farro, chickpeas, or cannellini beans. When left whole, the tomatoes can be warmed in the oven to round out a dish of baked or broiled fish, or layered into a savory tart or frittata, with or without other cooked vegetables. Always make use of the delectable oil from the jar, too.
Enjoy these preserved tomatoes as a treat in the long, golden hours of September, or pack yourself a gift for the future: store them in small, airtight containers in the freezer for that time, not too long from now, when the lazy days of summer will be just a memory.