Our Most Indulgent Recipes for When You Need to Treat Yourself
It's not decadent if it's self care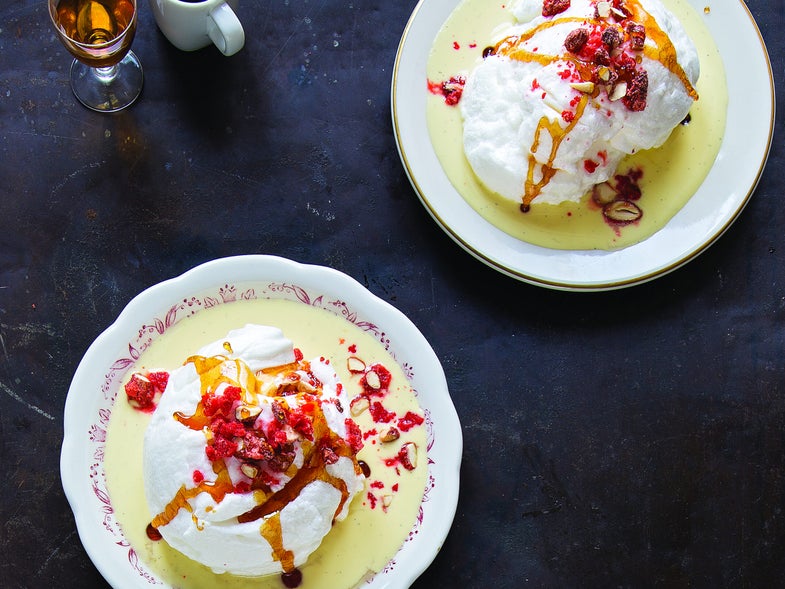 From luscious bordelaise sauce on filet mignon, to the silkiest potatoes and richest cakes—these are the most decadent recipes we know. It's worth taking the time to make something extra special every once in a while, and our French recipes are a treasure trove of elegant recipes. The same goes for our moist, rich decadent cakes. From our elegant breakfast recipes to the fanciest party recipes, we've rounded up our most decadent recipes in our archives right here.
Luscious, wine-enriched bordelaise sauce is often paired with hanger steak, shell steak, and tender filet mignon. Though the sauce is traditionally served with a dollop of beef marrow, we think it is just as delicious with a garnish of chopped fresh parsley and rosemary.
Passing cooked potatoes through the fine holes of a potato ricer ensures a silky consistency for this ultrarich side. Get the recipe for Pomme Purée »
At Boulestin, Agen prunes, prized for their caramel notes and soft texture, are infused with brewed tea, cinnamon, and armagnac and then used to top this sumptuous custard. In lieu of vanilla sugar, you can substitute 3/4 cup sugar and 1 tsp. vanilla extract. Get the recipe for Sauternes Custard with Armagnac-Soaked Prunes »
Warming, caramel-scented Armagnac custard bathes fresh, barely-cooked Italian plums in this quick, simple dessert. Get the recipe for Brûléed Italian Plums with Armagnac Custard »
Clafoutis is a French dessert that's trickier to pronounce than to make. A simple mixture of flour, eggs, dairy, and a little sugar, it's like a pancake, but more custardy, and it's baked instead of griddled. It looks and tastes impressive the way classic French desserts often do, but it's simple enough to whip up any weeknight. Rum-soaked dried apricots, figs, and raisins add their caramelized and honeyed flavors to this creamy version, perfect for cold weather when there's no fresh fruit around. Get the recipe for Fruit Cake Clafoutis »
Fresh squid of every size, and cuttlefish too, are found at fishmongers throughout Provence. Lulu buys the tiny ones to fry, but chooses medium-size squid to stuff with herbs, chard, and bread crumbs (she prefers chard to spinach under most circumstances). To make things easier, the squid can be prepared in advance and cooked later in the day, roasted, grilled, or braised. Serve warm or at room temperature, drizzled with fruity oil or an anchovy vinaigrette. Get the recipe for Provençal Stuffed Squid »
Beating egg yolks with sugar until pale and fluffy is the key to the smooth texture in this rich, classic French dessert, as made by Dennis Wist, father of Saveur Art Associate Allie Wist. Get the recipe for Crème Brûlée »
This version of the classic NOLA dessert combines a rich buttermilk cake with both lemon curd and chocolate fillings, surrounded by a vanilla German buttercream and ganache. Get the recipe for New Orleans Doberge Cake »
Rhubarb gets a smoky makeover when broiled briefly before being cooked down into a jammy compote. Use it as a topping for this rich strawberry cheesecake or drizzle on ice cream.
This luscious, cakelike pudding, made with milk-poached butternut squash batter and crowned with caramel-drenched delicata, rides the line perfectly between side dish and dessert, "kind of like yams with marshmallows," says Joe Beef's Red Morin, who serves it with caramel sauce or sweetened whipped cream. Get the recipe for Cast-Iron Squash Pudding »
Thick Italian meringue is sandwiched between moist layers of cake, which is topped off with sweetened shredded coconut in this recipe from chef Thomas Keller. Get the recipe for Thomas Keller's Coconut Cake »
A giant slab of perfectly roasted beef looks incredibly appetizing on its own, so don't worry about cleaning and exposing (known as frenching) the bones. The fat that remains will help keep the meat moist. Get the recipe for Standing Rib Roast with Black Currant Port Glaze »
Fred Morin and Dave McMillan of Joe Beef in Montreal cook a mix of birds over flames and embers, using hooks and chains to suspend and rotate them (different-size birds will cook at different speeds). "The spin, the way the fat drips down, all combines to make a wonderfully burnished bird," says McMillan. Ambitious home cooks can hang birds using twine or wire over a backyard fire, or simply roast birds on a rack set in a roasting pan in the (indoor) oven. Get the recipe for Fire-Roasted Duck and Pheasant with Red Currant Jelly »
The secret to achieving this cake's moist, dense-but-not-too-dense texture is to poke it all over with a knife while it's still warm, before dousing it with a rich milk mixture that will soak into the cake's interior. Get the recipe for Dulce de Leche Cake »
Pâté is a labor of love, but it's worth every step, especially when you bake it in flaky homemade pastry dough and top it with a flavorful gelée. Here, being careful to keep the ingredients cold during the process, and taking the same care when folding and filling the dough, yields a pâté that everyone will write home about. Get the recipe for Duck Pâté en Croûte »
Scalded milk produces a moist texture in this simple Virginian dessert, an ivory-hued cake that's so straightforward it's often referred to, even in vintage cookbooks, as "old-fashioned." Get the recipe for Hot Milk Cake with Vanilla Buttercream »
The earthiness of beets pairs well with duck, which chef Gavin Kaysen likes to grill, but a skillet works just as well at home. The black rice is an incredible dish simply on its own. Get the recipe for Skillet-Cooked Duck Breast with Beets and Watercress »
Sprinkled on top of these delicate meringues—which float in a vanilla custard—are praline roses, caramel-coated almonds dyed a bright pink. The color's a bit shocking, but they're a staple of Lyonnaise pâtisseries and lend a nice crunch and color to this white-on-white backdrop. Get the recipe for Meringue Floating in Crème Anglaise »