What to Cook in August
End summer on a strong note with our must-cook dishes for August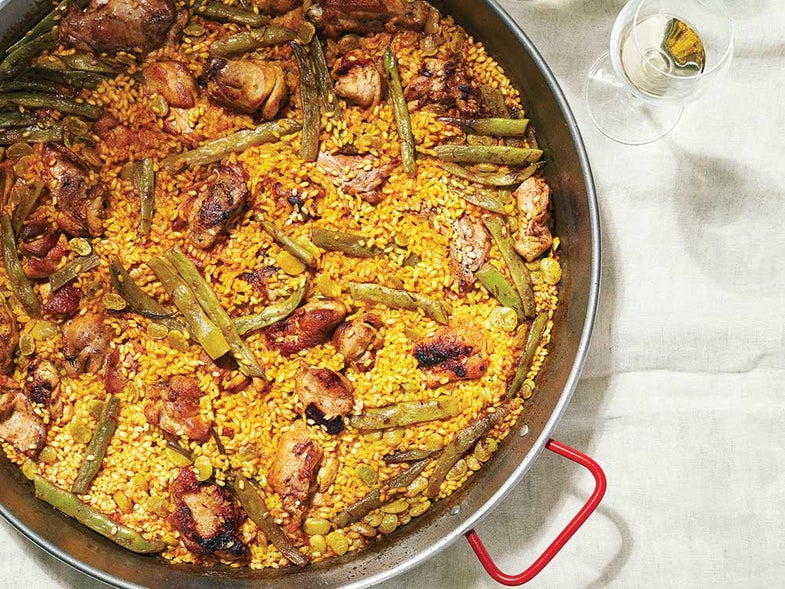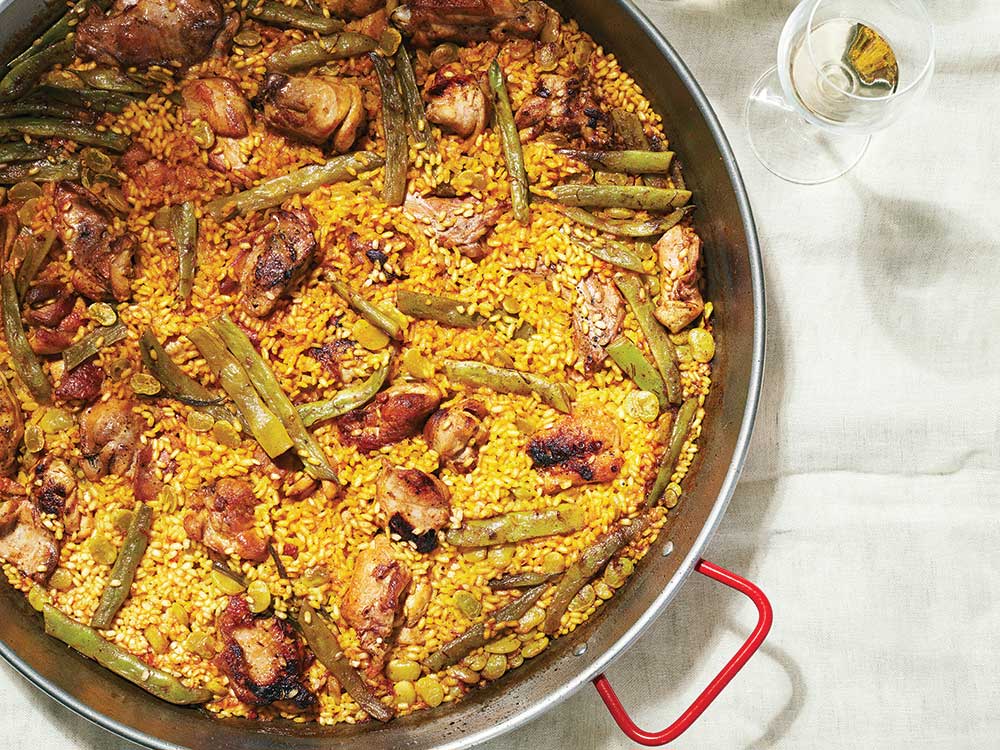 August is the last full month of summer, and we're excited to make the most of it in our kitchens. This month, we're taking advantage of all the great stuff at the market with recipes that will carry us all the way to Labor Day.
Here at SAVEUR, we've been celebrating a summer of paella—testing the stuff, switching it up, and being thankful to the Spanish culinary gods that have blessed us with the recipe. When it's hot out, we also love swapping grilled protein for some of our raw-fish favorites that keep things fresh and cool.
Join us as we cook our way through August favorites from Valencian rabbit paella to grilled lobster.
Unlike its green-skinned counterpart, white asparagus has a tough, bitter peel that must be removed before cooking. The following is the classic way of preparing the treasured vegetable in Germany (though simple steaming is also popular). Get the recipe for White Asparagus »
This preparation incorporates the best of old and new, with a lightly briny and delicately foamy cream sauce, crispy seared fish, and robust cabbage shoots (another local favorite) infused with the fresh juice of the mussels. Get the recipe for Pan-Seared white Fish with Mussels, Cabbage Shoots, and Cream »
Bugulama (from bugulamak, Turkish for "steamed or boiled") describe a whole range of ways of preparing fish on the Black Sea coast; there are probably as many versions as there are cooks. Bugulama can be soupy, saucy or dry; cooked on the stovetop or in the oven; spare and simple, little more than fish poached on the bone with parsley and garlic, or lush with juicy tomatoes and lots of freshly churned Black Sea butter. Get the recipe for Turkish Steamed Anchovies and Tomatoes (Hamsi Bugulama) »
Born among the orchards, gardens, and groves around Valencia, the original paella draws on ingredients from the fields rather than the sea. Rabbit, chicken, and a few types of local beans form the heart of this rustic dish. Searing them in the pan, then simmering the meat and bones for 20 minutes before adding the rice, fortifies the stock for a more intensely flavored paella. Get the recipe for Valencian Chicken and Rabbit Paella »
This refreshing summer soup, adapted from La Guarida restaurant in Havana, is meant to be served lightly chilled. Olive oil, garlic, pink peppercorn, and smoky grilled shrimp round out the sweetness from the strawberries and watermelon. Add ¼ teaspoon of sugar if the fruit is more tart than sweet. Get the recipe for Strawberry, Watermelon, and Tomato Gazpacho »
Breakfast, brunch, or snack, we could serve (and eat) this quick-cured, no-cook fish dish from John Karangis of Union Square Events, any time of day. It works exceptionally well as a summer starter, served with a savory lime yogurt and refreshing cubes of ripe watermelon, then sprinkled with flecks of shichimi togarashi: a spicy, tangy, earthy Japanese spice mix. Get the recipe for Cured Fluke with Yogurt, Watermelon, Sunflower Seeds, and Togarashi »
In Basque country, this egg-based tortilla is sometimes sliced through the middle like a sandwich roll and layered with cured ham and sheep's milk cheese. If cutting horizontally through the thin, delicate tortilla seems too troublesome, the ham and cheese are just as delicious served on the side. Get the recipe for Basque Potato and Pepper Tortilla with Ham and Cheese »
For this comforting roasted eggplant salad, Sergey and Ivan glaze the eggplant with kvass, a traditional Slavic drink made from fermented rye bread. Get the recipe for Warm Eggplant Salad with Hemp Seed Sauce »
Charring young eggplant over an open flame lends a smoky flavor to this dish from the Galilee. Get the recipe for Charred Eggplant with Chile Sauce & Tahini »
Salting and draining fresh tomatoes before baking ensures a crisp, flaky crust for this savory tart from the Dominican sisters of Heartland Farm in Pawnee Rock, Kansas. Get the recipe for Tomato-Cheddar Tart »
A chunky cashew pesto made with sharp, pungent Västerbotten cheese is tossed with chopped arugula to yield an unctuous salad with a robust umami flavor. Swedish home cook Asa Johanson prepared this nut-enriched side dish for her Midsummer celebration in Vickleby, Sweden. Get the recipe for Ruccolapesto med Cashewnötter (Arugula and Cashew Pesto Salad) »
In this recipe, lobster is flash-grilled, then poached in its own shell in a pool of melted garlic-parsley butter. Get the recipe for Grilled Lobster with Garlic-Parsley Butter »
These savory crêpes are made with pounded, soaked rice and black lentils. When preparing them, it's important to spread the batter quickly from the center of the pan to the edges to ensure wide, thin, evenly cooked crêpes. Get the recipe for Dosas (South Indian Fermented Lentil and Rice Crépes) »
Shrub, the sweet-tart syrup favored by colonial Americans, is simply made by macerating fruit in sugar until the fruit exudes its juice, straining, then adding vinegar. Mixed with rum and soda, it makes a bracing drink, ideal for summer afternoons. Get the recipe for Blackberry-Rum Shrub »