Stay Cool as a Cucumber with our 8 Favorite Recipes
From salads to dips to pickles, here's how to cuke all season long.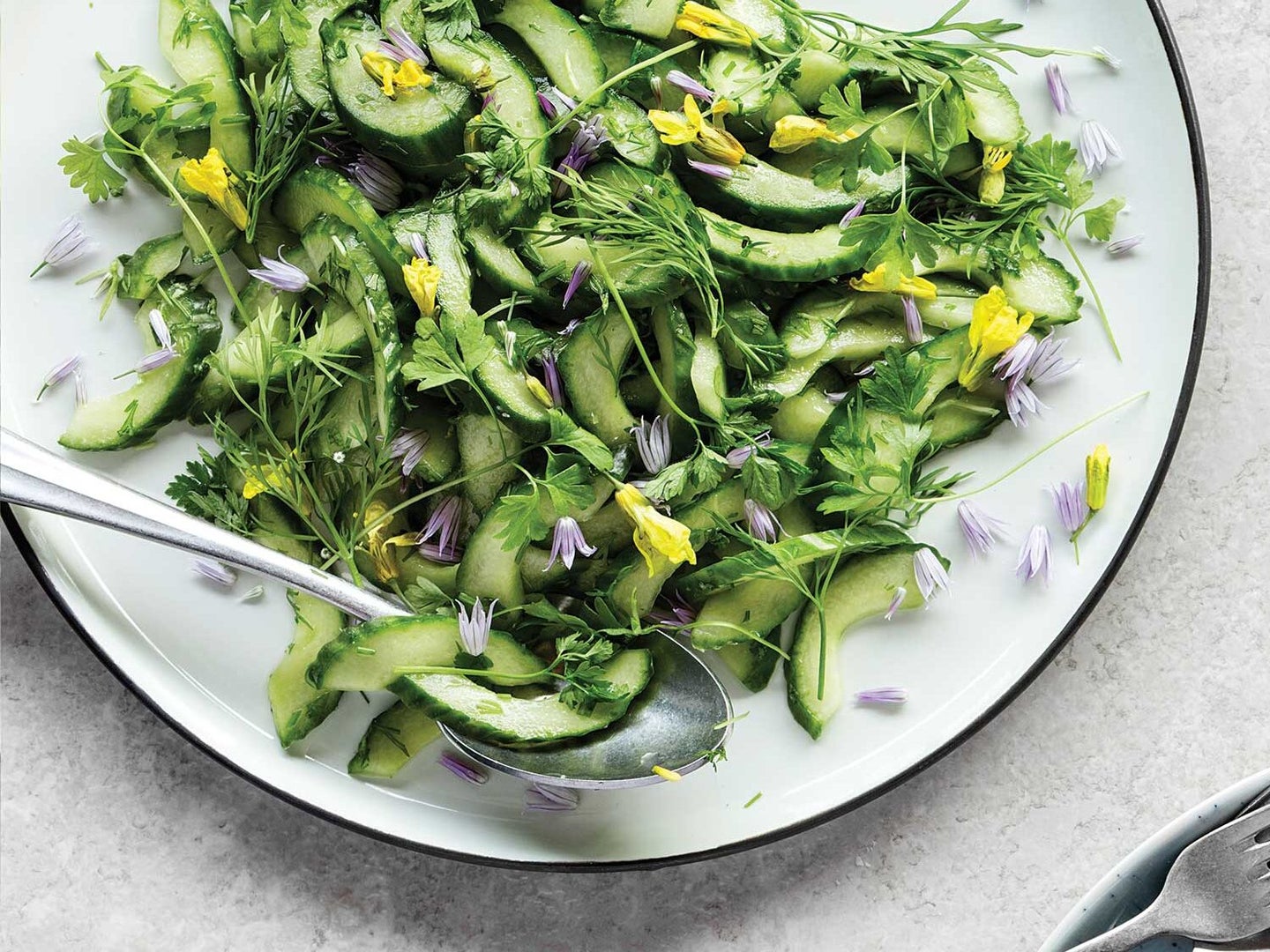 Did you know that the term "cool as a cucumber" first appeared in an 18th-century poem about a dejected lover with an appetite for food similes?  A cousin to watermelon, the cucumber is actually a fruit, not a vegetable; common varieties include the thin-skinned Burpless (for obvious reasons); seedless Diva; and tiny Hokus gherkins, perfect for pickles—all spunky stage names, to say the least. 
Cucumbers show up in salads, soups, dainty tea sandwiches, and heat-beating cocktails. Japanese Shingon Buddhists even perform a cucumber blessing at temples in hopes of staying fresh like one in hot weather.  
To ensure your cukes keep their crunch, wrap them whole in a paper towel, and store them in the fridge away from other fruits and veggies. (They're sensitive to spoilage.) 
These are our favorite cucumber recipes from the archives—the ones we serve whenever we want to stay, well, you know, cool.
Copenhagen-based author Niclas Grønhøj Møller salts cucumbers, seasons them with a  squeeze of lemon, and finishes with edible flowers to make this refreshing Danish salad. Get the recipe >
Green goddess dip pairs perfectly with these crunchy spears dredged in peppery cornmeal and fried until crisp. Get the recipe >
We love pairing this classic cucumber-mint Greek condiment with grilled meats. Get the recipe >
In this aromatic starter, chef Eli Sussman of Samesa drizzles ripe tomatoes and cucumbers with a caramelized fennel dressing. Get the recipe >
This lightly pickled salad makes for perfect drinking food, as smashed cucumbers soak up the spicy and mouth-numbing rice vinegar, chile flakes, and Sichuan peppercorn dressing. Get the recipe >
In this zesty and refreshing summer slaw from Kansas-based photographer James Roper, three types of peppers complement slightly salt-pickled cucumbers. Get the recipe >
A lively combination of colors and textures, this simple side dish from chef Meherwan Irani perfectly complements grilled meats. Get the recipe >
This simple garden salad sits on a milky bed of crumbled biezpiens, a soft, fresh cow's-milk cheese omnipresent throughout Latvia. This recipe details how to make your own, but in its place you can substitute a well-drained ricotta or crumbled queso fresco. Get the recipe >
Pomegranate seeds add a pop of tart juice to each bite of this buttery late-summer salad with crunchy cucumbers and a toasty sesame oil vinaigrette.  Get the recipe >
Say what you will about the green juice fad: There's just something about a sip of cucumber juice that's instantly revitalizing; sugarcane and ginger, too, have long been celebrated for their restorative qualities. When combined—and spiked with a few splashes of Jamaican rum—the effects of these three ingredients just may be even greater than the sum of their parts. Get the recipe >