10 Hawaiian Recipes to Transport You to the Islands
Bring that beach vacation home.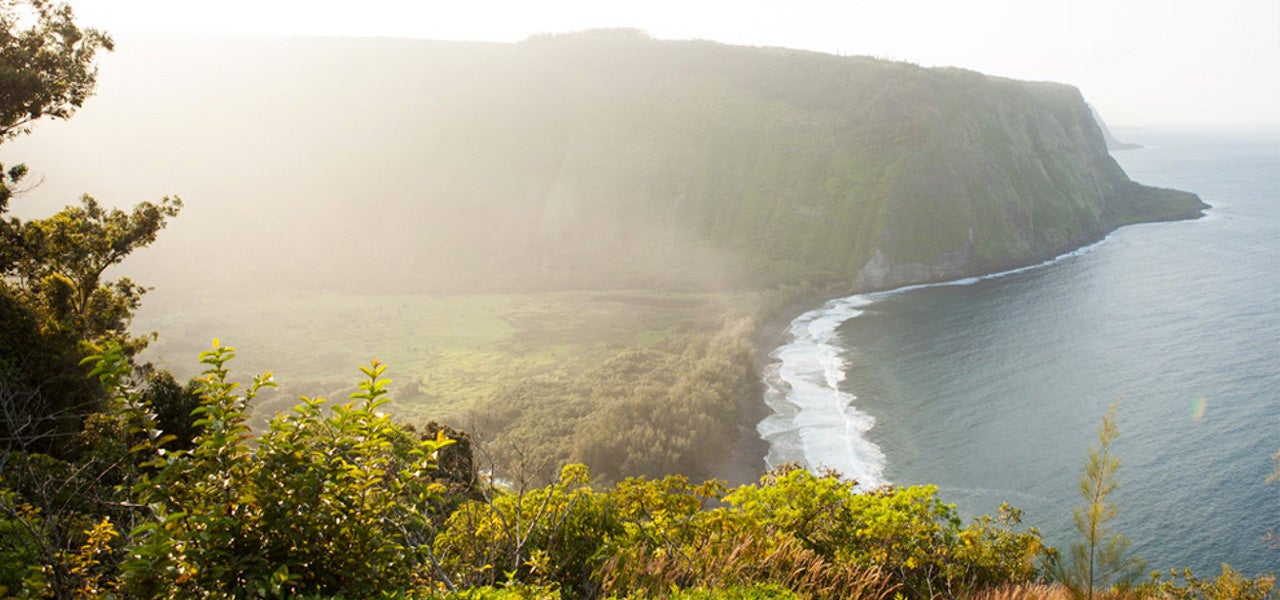 Hawaiians refer to their tastiest meals as ono kine grindz, local slang for anything delicious to eat, and they can spend hours arguing where to find the best laulau, kalua pork, saimin, poke, or shave ice. Each day in the islands has its own food rhythm, maybe starting with malasadas or loco moco for breakfast, followed by garlic shrimp plate lunch from a roadside food truck or a teriyaki chicken takeout bento at an okazuya deli, and then pau hana (happy hour) cocktails and pupus at surfside bars. (We love the Mai Tais at House Without a Key on Waikiki.) 
Here are our favorite Hawaiian recipes, gathered from friends who love sharing the bounty at a backyard luau or family reunion. Most essential ingredients can be sourced on the mainland at Asian markets or online, as well as supermarket shelves. At least, until we dine again at beloved Helena's Hawaiian Food in Honolulu or the multi-generation Manago Hotel Restaurant on the slope of Mauna Loa. A hui hou.
Maui chef Sheldon Simeon thinks of shoyu and sugar as the "mother sauce" of Hawaiian cuisine. Mixed together in sweet and salty balance, "shoyu sugar" forms the foundation for a number of dishes, from chicken hekka to Okinawan rafute. Get the recipe for Shoyu Sugar Steak »
Uhu is the Hawaiian word for parrotfish, a colorful tropical fish with a prominent sharp beak. Chef Sheldon Simeon wraps the whole thing in ti or banana leaves and a layer of heavy-duty aluminum foil which seals in the fish's moisture as it cooks. Get the recipe for Stuffed Uhu (Parrotfish) with Lap Cheong »
Hawaiian chiles are traditional in this tangy, piquant condiment—hence the name—but Thai chiles also work well. Get the recipe for Hawaiian Chile Pepper Water with Soy and Fish Sauce »
Fiddlehead ferns—the furled fronds of ferns, which grow wild in Hawaii's lush Waipi'o Valley on the Big Island—often appear in salads at luaus, tossed with everything from fish cakes to dried shrimp. Here, in a version from Tishia Spencer, an attendee of the Mock Chew family annual luau, simple cured salmon beefs up this refreshing side dish. Get the recipe for Fiddlehead Fern and Cured Salmon Salad »
For their twist on classic char siu, Hawaiian islanders typically marinate wild boar in this Chinese-style barbecue sauce. Get the recipe for Sweet and Sticky Roasted Pork with Sesame Noodles »
Head-on shrimp, quickly stir-fried with garlic, are sweet, spicy and succulent. Serve over rice for an easy weeknight dinner. Get the recipe for Wok-Fried Shrimp with Garlic »
In this dish, a popular order at Teshima's, a restaurant in the Big Island town of Kealakekua, a thin omelette is folded around a filling of fried rice and sausage. Get the recipe for Fried Rice Omelette »
The chicken for this Japanese homestyle dish is traditionally coated in mochiko, sweet rice flour, before frying, but cooks at Ethel's Grill in Honolulu, Hawaii, use Japanese potato starch to yield an extra-crispy crust. Get the recipe for Hawaiian Fried Chicken (Mochiko Chicken with Ponzu) »
This refresher combines pineapple and mango juices with coconut and spiced rums. Get the recipe for Riki Tiki »
This neon-hued curaçao punch features vodka, pineapple juice, and sour mix. Get the recipe for Blue Hawaii »