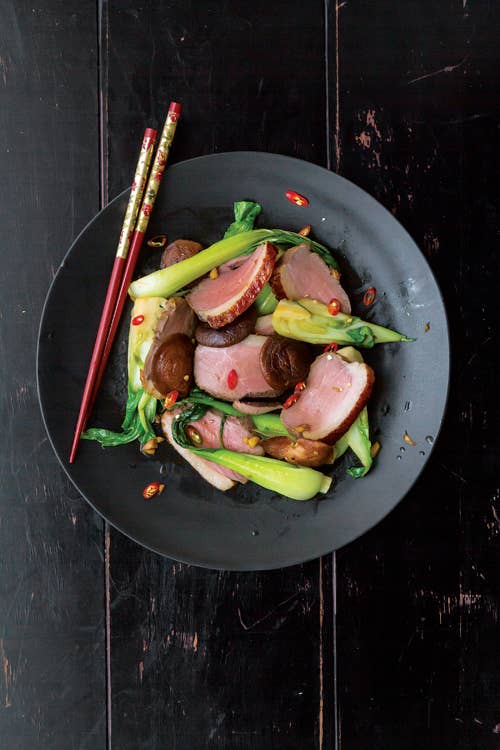 Recipes
Our All-Time Best Duck Recipes
From pâté to cassoulet, these recipes for duck make the most of the richest poultry around.
Not sure how to cook duck? We've got you.
The meat on these birds is so rich, flavorful, and robust that it toes the line between poultry and beef. Lean duck breasts—particularly those of magrets de canard, the prized fowl raised for foie gras—can go head to head with the finest steaks, especially when seared to a crisp and rosy medium-rare. Duck legs, on the other hand, require a little more than time and their own fat to be transformed into tender and silky confit.
With a melting point well below human body temperature, duck fat makes a seductive substitute for butter and shortening in bread and pastry. It's also the penultimate medium for frying potatoes, yielding vastly superior pommes frites. And the bird's organ meats find their way into rarefied charcuterie products like pâté and mousse.
France (particularly Gascony) is famed for its elegant use of the waterfowl, and you'll discover a number of French duck recipes here, among them Chef Dominique Ansel's amazing three-day cassoulet. But we've included duck dishes from China (Sichuan tea-smoked duck), Mexico (duck carnitas tacos), and Thailand (red curry with roasted duck), too. Whether you're after easy duck recipes or a serious culinary challenge, duck appetizers or duck entrees (even duck desserts!), one of our best duck recipes should fit the bill (heh, heh).
Skillet-Cooked Duck Breast with Beets and Watercress
Birch Syrup and Soy Sauce-Glazed Roast Duck
Dominique Ansel's Cassoulet
Duck-Fat Shortbread Cookies
Tacos de Carnitas de Pato (Braised Duck Tacos)
Fire-Roasted Duck and Pheasant with Red Currant Jelly
Duck Borscht with Fermented Tomato Sauce
Hearty Vegetable Stew with Duck Confit and Cabbage (Garbure Gasconne)
Gascon Sourdough Cornbread (Pain de Méture)
Gascon-Style Duck Confit (Confit de Canard)
Roast Duck with Shallots and Concord Grapes
Gascon Duck-Fat Polenta with Duck-Skin Fritons (La Cruchade)
Escarole with Confit Duck Gizzards, Comté, and Walnuts
Duck Liver Mousse with Cipolline Onions and Mushrooms
Bebek Betutu (Balinese Roast Duck)
Tomatoes Stuffed with Foie Gras, Duck Confit, and Chanterelles (Tomates Farcies)
Thai Red Curry with Roasted Duck
Bistro Pommes Frites (Bistro French Fries)