Creamy Polenta, Charred Carrots, and Pumpkin Gratin Just Might Eclipse the Turkey This Year
12 vegetarian Thanksgiving recipes that steal the show.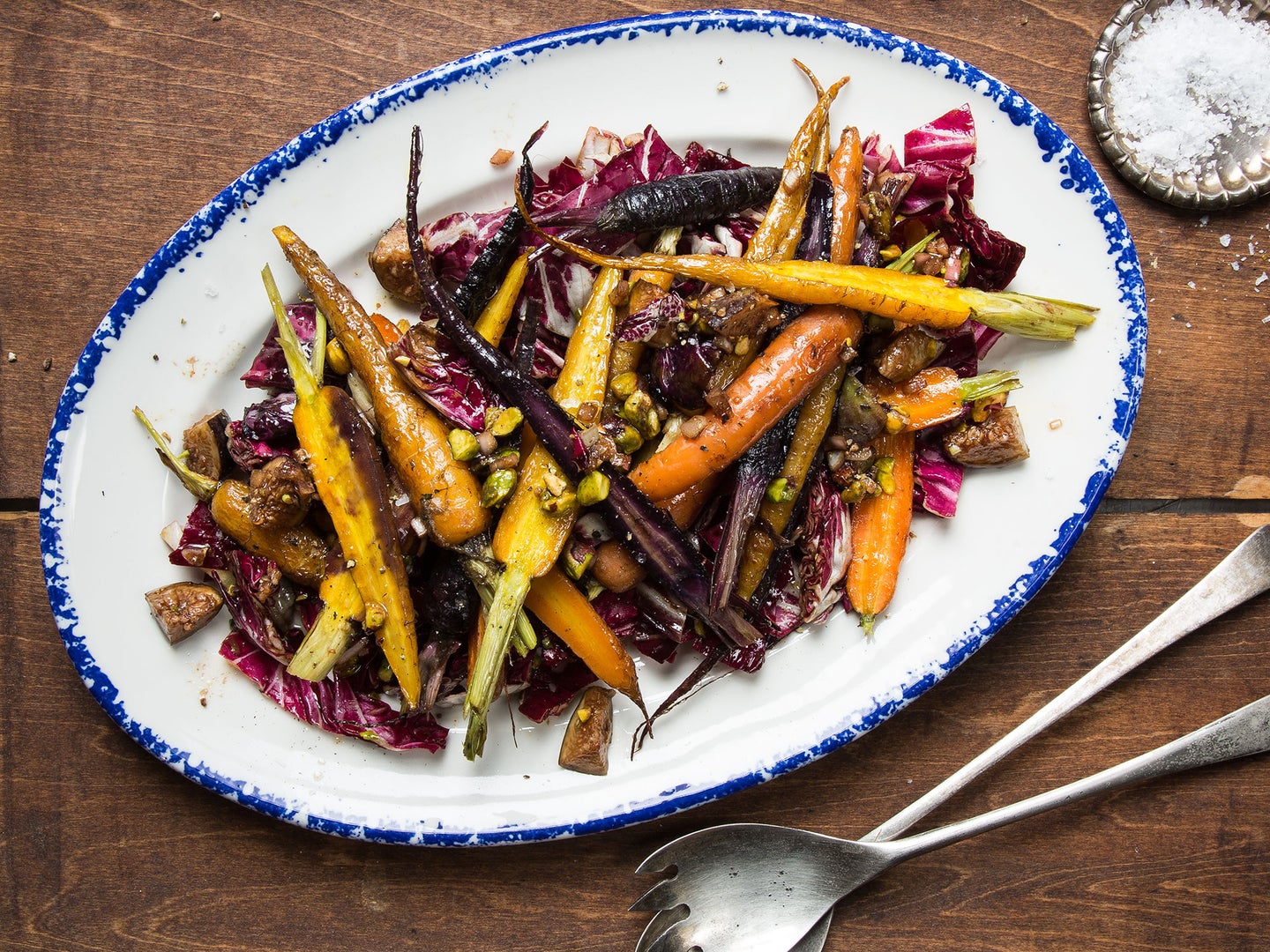 Meat is, of course, a mainstay at the classic Thanksgiving dinner but plant-based alternatives can be so much more than the supporting act. Vegetables, when done right, can steal the whole show and go beyond plate-filling mashed potatoes. Dark leafy greens, tubers, and squash are in season right now and deserve a spot in your holiday lineup, too.
Roasting cauliflower or broccoli florets and dressing them in tahini or miso make for hearty appetizers. Charring root vegetables lends depth and earthiness to a dish. Pumpkins layered between cheese result in an irresistible gratin. But a vegetarian Thanksgiving needn't be limited to just vegetables. Try a fluffy pilaf or crispy polenta—or swap out those ho-hum green beans with a lovelier legume—curried lentils or spiced chickpeas, perhaps. The possibilities are endless—here are 12 recipes to start. They might go faster than the turkey.
This recipe, which is adapted from writer Julia Sherman's Arty Parties, is the marriage of two brilliantly simple but satisfying sides—crispy slices of pan-fried polenta and cheesy roasted broccoli, stems and all. Get the recipe >
The bitter bite of broccoli rabe is tempered by creamy cannellini beans and brightened by salty preserved lemon. A quick and pretty one-pan side dish, this is easy to scale up for a crowd; unlike softer, more watery greens, rabe retains plenty of volume after cooking. Look for greens with healthy-looking stems and dark green florets. Get the recipe >
Copenhagen chef Niclas Grønhøj Møller chars these carrots over the grill for a lightly smoky flavor before pairing them with a bittersweet lovage sauce. Get the recipe >
In Crete, boureki is a rich, layered dish typically consisting of potatoes and squash, often topped with a generous amount of cheese before baking. Boureki is especially irresistible when the cheese is still warm but is great at room temperature. Make it ahead for a vegetarian Thanksgiving feast and reheat just before serving. Get the recipe >
Inspired by the yams he ate at Miznon restaurant in Tel Aviv, Michael Solomonov of Philadelphia's Zahav developed this recipe for roasted sweet potatoes, rubbed with lots of salt and dill seed, and topped with a sharp, garlicky labneh. Get the recipe >
Fresh mint, Aleppo pepper, and cumin flavor this humble carrot salad, sweetened lightly by a dressing made with the carrots' cooking liquid, which becomes a concentrated syrup when reduced. Get the recipe >
Whole cauliflower is quartered and roasted with paprika, turmeric, and jalapeño in this dish from Miznon restaurant in Tel Aviv. Get the recipe >
Fonio, a delightfully nutty-tasting type of millet, is a ubiquitous staple in Senegal, and chef Pierre Thiam enjoys using it in his Thanksgiving menu because he finds it lighter than bread-rich stuffings. If you can't find fonio, substitute an equal amount of couscous or quinoa. Get the recipe >
Packed full of glowing winter produce—sweet roasted beets, tart pomegranate seeds—this lentil salad makes a colorful addition to the winter table. Get the recipe >
Wild rice adds a toasted nuttiness to this dish, and breaking it up in a food processor allows the rice to cook at the same rate as the polenta. Cookbook author Amy Thielen advises to scrape the corn cobs with the back of a knife after you grate the kernels to extract as much of the corn liquid as you can. Get the recipe for Polenta with Corn and Wild Rice »
Carrots are roasted before being topped with crunchy pistachios and a sweet fig vinaigrette in a simple salad from Eli and Max Sussman. Get the recipe >
In this offbeat cabbage slaw from chef Chris Shepherd of Underbelly in Houston, raw red cabbage adds a textural contrast to the grilled green cabbage, and a zippy, spicy-sweet-salty dressing goes well with the charred bits. Just as good for a vegetarian Thanksgiving as a it is for a barbecue. Get the recipe >