23 Celebratory Father's Day Recipes That Show Dad Your Love
Grilled classics with some next-gen twists thrown in.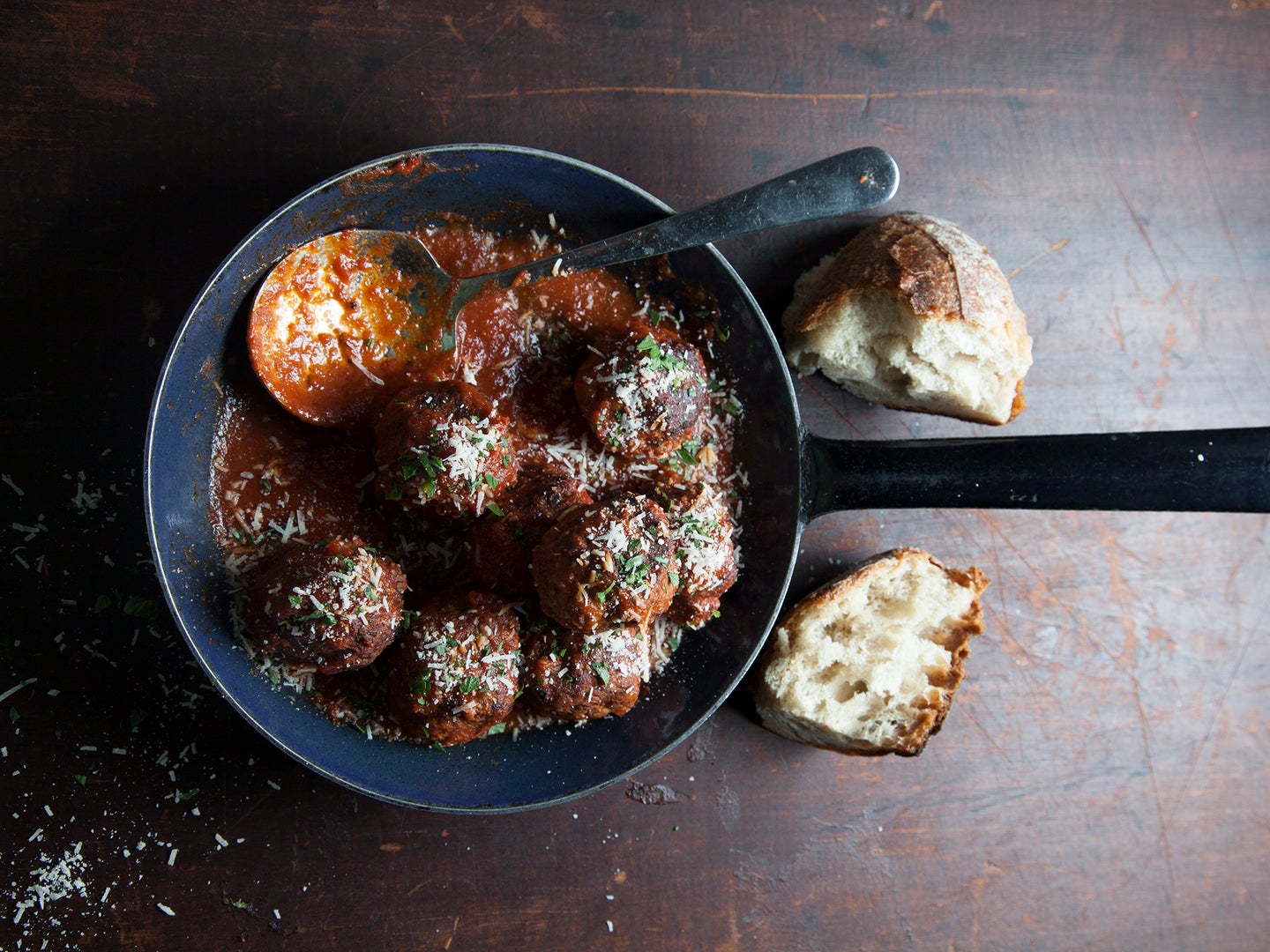 From mastering the groan-worthy pun to offering reliable advice, our dads have taught us a lot over the years and we cherish their stories. Treat the dad in your life to a meal this weekend that shows your appreciation. Our favorite Father's Day recipes require a little prep and not a lot of tidying up, so you can spend time at the table all together.
Dad may have shared more than a few of his own tips and tricks for grilling a better steak. So whether you're cooking for a burger aficionado or a lobster lover, it's your turn to elevate those no-fuss meats with unexpected ingredients like cilantro, cola, and vanilla. While grilling may be written into the Father's Day contract, stovetop main courses featuring fish, meatballs, and crunchy summer greens are surefire pleasers without the mess. Simple pastas and waffle breakfasts come together in no time. And don't forget dads with a sweet tooth. What better than a classic pie to express your love?
Paired with crisp curtido, sweet plantains, and gallo pinto, this dish is part of a hearty, much-loved fritanga meal. Get the recipe for Nicaraguan-style carne asada »
Drying and salting your salmon fillets helps ensure that the skin gets extra crispy. Get the recipe for Crispy-Skinned Salmon with Seaweed Salad »
The all-brisket patty for this burger—from San Francisco's Wes Rowe, a pop-up burger slinger—is grilled, but in a cast-iron pan over the flame. It's a fan favorite for dads that love to grill. Get the recipe for The "Grill Everything but the Burger" Brisket Burger »
The key to making these meatballs is to brown them first in a skillet and then braise them in a sauce of red wine and tomatoes. Serve them with crusty bread or spaghetti to sop up the sauce. Get the recipe for Classic Meatballs »
These juicy and crispy pan-roasted chicken thighs rubbed with the spices commonly used for rotisserie-cooked shawarma meat are a sure hit in a lineup of healthy Father's day recipes. Get the recipe for Shawarma-Spiced Chicken Thighs with Roasted Radishes »
Think boldly when making a dish for dad. Grilled lobsters are a classic. Add a twist to how it's dressed to vastly improve it's wow factor. Get the recipe for Grilled Lobsters With Vanilla Cream Sauce (Langouste Á La Vannile) »
Is Dad a fan of fish? Whole grain Dijon mustard and lemon brighten up roasted salmon in this simple dinner main from The Yellow Table's Anna Watson Carl. Get the recipe for Roasted Salmon with Honey-Dijon Glaze »
Sirio Maccioni, the well-known restaurateur of Le Cirque fame, created this hearty vegetable-forward pasta. It's a simple Father's Day recipe that's fast and easy to cook. Get the recipe for Pasta Primavera »
Use lettuce used as a crisp wrapper for bulgogi (marinated beef). In this recipe, sweeter pickled onions take the place of spicy kimchi. Get the recipe for Grilled Flank Steak with Coca-Cola-Pickled Onions »
A cross between a sazerac and a whiskey smash, this cocktail recipe by Suffolk Arms head bartender Caitlin Ryan highlights the versatility of Copper & Kings American Craft Brandy, a brandy made in the American bourbon tradition. Get the recipe for Sweet Talking Son Cocktail »
Treat these super-buttery biscuits like puff pastry for folds that separate into flaky layers when baked. Get the recipe for Nancy Silverton's All-Butter Biscuits »
Double-frying chicken wings is the secret to achieving the delicate, crackly crust that is the hallmark of this popular Korean specialty, made famous in this country at the Los Angeles restaurant Kyochon. Get the recipe for Korean Fried Chicken »
Start Father's day off with a sweet treat for dad. Almond flour and espresso powder give bittersweet edge to these waffles, which are glossed with a sauce of condensed milk, coffee, and dark chocolate. Get the recipe for Espresso Waffles With Mocha Drizzle »
A chilled tomato sauce with sundried tomatoes makes a pleasant contrast to these hot potato and spinach dumplings, which chef Josita Hartanto of Berlin's Lucky Leek binds together with firm tofu and durum wheat semolina. Dry the potatoes and spinach thoroughly so the dumplings will hold their shape. Get the recipe for Spinach and Potato Dumplings with Cold Tomato Sauce »
Father's Day recipes aren't complete without a veggie dish. Simple stir-fries get a hearty addition with coated fat from pork belly. Get the recipe for Stir-Fried Cabbage with Bacon »
Retro and mousse-like, lemon chiffon pie is a diner classic. Just don't call it meringue. Get the recipe for Lemon Chiffon Pie »
Whiskey loving dads rejoice. This simple Father's Day cocktail recipe for the classic Manhattan comes from Keen's Steakhouse in Manhattan. Get the recipe for Manhattan »
Bacon adds smoky dimension to this stir-fry, a quick late-night snack from chef Tadashi Ono. It's easily adapted to whatever leftovers you have in your fridge—roasted pork or chicken, egg, seafood, or just about any kind of vegetables. Get the recipe for Bacon and Shrimp Fried Rice »
Chunky romesco brings out the beefiness in this sandwich. Get the recipe for Roast Beef Sandwich with Walnut Romesco »
This recipe treats iced coffee like a cocktail, adding peach nectar and lime juice to amp the beans' citrus and other fruit notes. Get the recipe for Gone in 60 Seconds »
This rich, creamy chocolate pudding pie is pure nostalgia. Get the recipe for Chocolate Pudding Pie »
Our gluten-free alternative to the classic actually gives the cookies a boost: subtracting flour highlights their pure peanut butter flavor and adds a wonderfully chewy texture. Get the recipe for Flourless Peanut Butter Cookies »
Mashed potatoes combined with butter and crème fraîche make a rich, creamy side. Any root vegetable can be used in combination with or in place of the potatoes. Get the recipe for Crème Fraîche Mashed Potatoes »