Our 11 Most Pinned Sandwiches Belong on Your Grub Board
Our Pinterest users have excellent ideas about what to put between two slices of bread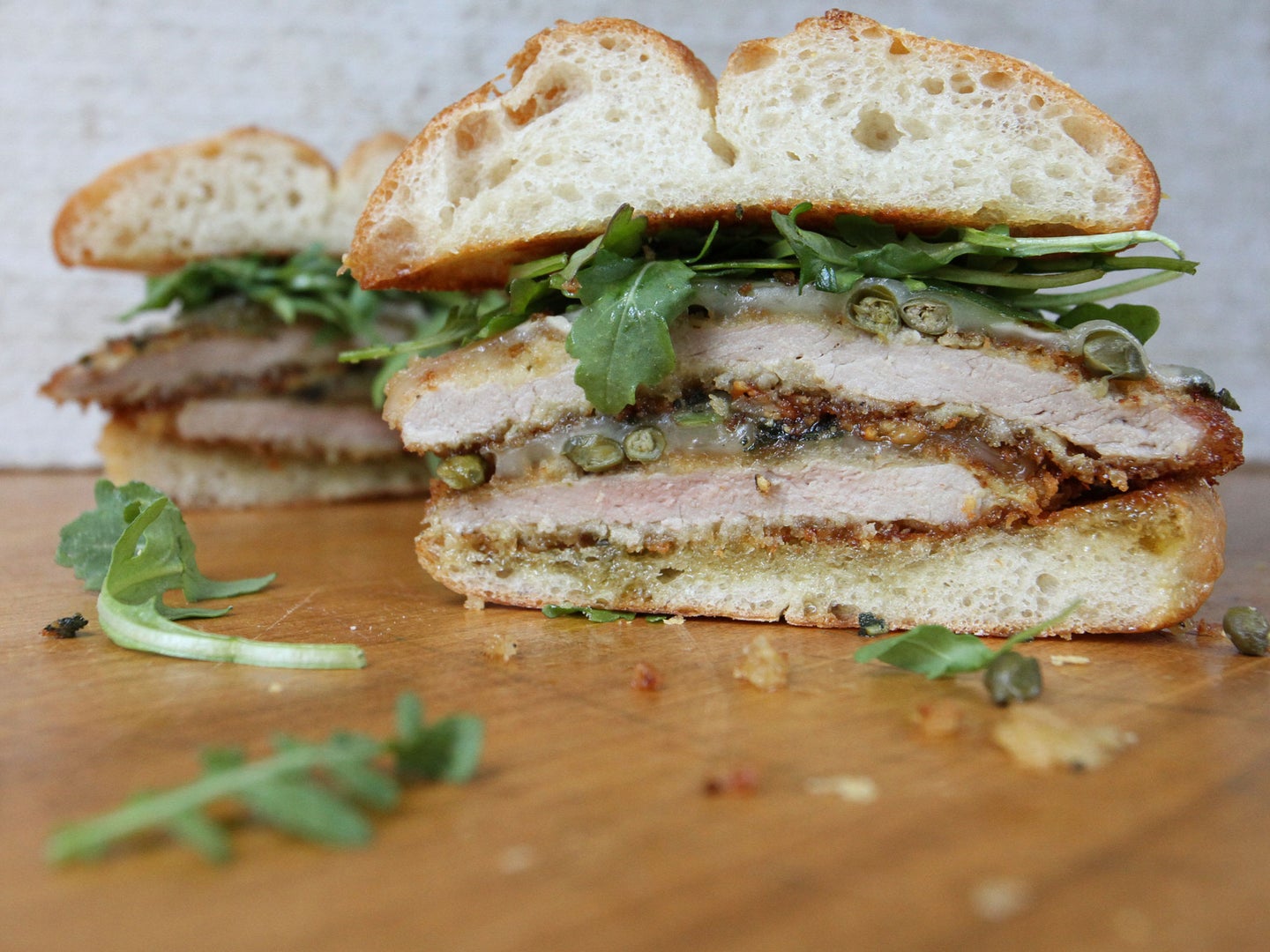 Sandwiches are a common-thread food that unites so many different cuisines around the world: the ease of sandwiching meat, cheese, and greens between two slices of bread makes it a universal staple. At SAVEUR, we even dedicated an entire issue to the glory that is the sandwich.
You can make a sandwich out of pretty much anything, any time of the day: try a cheesy, egg-filed breakfast sandwich for a grab-and-go bite before work, pair a lunch sandwich with soup for a well-rounded midday meal, or prepare all-sandwich dinner party for a worthy feast that'll be a hit with your guests.
Naturally, our creative, kitchen-savvy Pinterest users can't get enough of our very best sandwich recipes. From a burrata-centric creation to classic grilled cheese, here are the 11 sandwiches our users are pinning right now.
Raegan Steinberg, co-owner of Arthur's Nosh Bar in Montreal's hip Saint-Henri neighborhood, calls her partner chef Alex Cohen an "everything and the kitchen sink kind of cook." Called the McArthur Sandwich, this high-piled schnitzel-filled creation adapted from the restaurant is the perfect example of his genius. Pounded and breaded chicken is topped with sweet honey, salty dill pickles, and vinegar-y iceberg slaw, then served upon crispy challah toast. The secret to the crunchy yet hearty schnitzel breading: instant mashed potato flakes mixed into the breadcrumbs. Get the recipe for The Ultimate Fried Chicken Sandwich »
Fatty homemade porchetta is balanced out by a bright, briny salsa and soft marinated onions in this flavorful sandwich. Get the recipe for Porchetta Sandwiches with Marinated Onions and Salsa Verde »
This hearty twist on the classic Provençal pressed sandwich pan bagnat combines black olive tapenade, goat cheese, roasted chicken, and thinly sliced vegetables. Make it at least two to three hours before you plan to serve it to really let the flavors marry. Get the recipe for Roast Chicken Pan Bagnat with Olive Tapenade and Goat Cheese »
Crusty bread sops up creamy burrata and juicy marinated tomatoes in this pleasantly messy sandwich. Get the recipe for Burrata and Marinated Cherry Tomato Sandwiches »
This specialty of Çesme, a small beach town in Turkey, is one of the world's great grilled cheese sandwiches, in which the cheese itself is grilled before getting slipped into toasted bread with raw tomato and optional (but highly recommended) toppings of griddled sausage and pickled cucumbers and chiles. Get the recipe for Turkish Grilled Cheese »
Capers and mustard cut through the richness in this satisfying pork sandwich. Get the recipe for Pork Schnitzel Sandwich »
Brisket is braised in stout, bourbon, and soy sauce in these spicy pimento cheese-topped sliders from Edward Lee, executive chef at 610 Magnolia in Louisville, KY. Get the recipe for Braised Brisket Burgers with Pimento Cheese »
With roast pork, ham, Swiss cheese, and pickles, it's almost identical to a Cuban sandwich, save for the bread, a sweet egg load that's similar to challah. Get the recipe for Cuban Medianoche Sandwich »
This open-faced sandwich was created at the Brown Hotel in Louisville, Kentucky, by chef Fred K. Schmidt, who was looking for a unique midnight snack to serve to all the revelers dancing in the ballroom until the wee hours. The classic is slightly updated with the use of sweeter cherry tomatoes instead of large tomato wedges. Get the recipe for Classic Louisville Hot Brown Sandwich »
These crisp mini-sandwiches are deep-fried and filled with molten cheese. Get the recipe for Fried Mozzarella Sandwiches »
Alvin Cailan of Los Angeles' cultish Eggslut goes pancetta-crazy in this sandwich, using eight slices on top of his gorgeously marbleized egg and cooking the collard greens in pancetta fat. Get the recipe for Biscuits with Pancetta, Collard Greens, Marbleized Eggs »
Pressing down on this sandwich with a spatula while it toasts in the pan is the key to achieving the outer crispness and well-melted cheese that you want in a Reuben. Pile the meat on generously but not more than an inch or two thick or else the interior won't get sufficiently warmed. Get the recipe for The Schimmel Reuben Sandwich »
Two great New Jersey tastes that taste great together: juicy meatballs fortified with New Jersey pork roll (a.k.a. Taylor ham). Get the recipe for New Jersey Pork Roll Meatball Sub »
This is chef Ignacio Mattos' version of a hearty cheesesteak sandwich that is served in restaurants and cafés throughout Uruguay. Get the recipe for Chivito (Uruguayan Cheesesteak) Sandwich »