Road Trip Snacks to Fuel Your Next Getaway
If you see a fork in the road, you know it's time for lunch.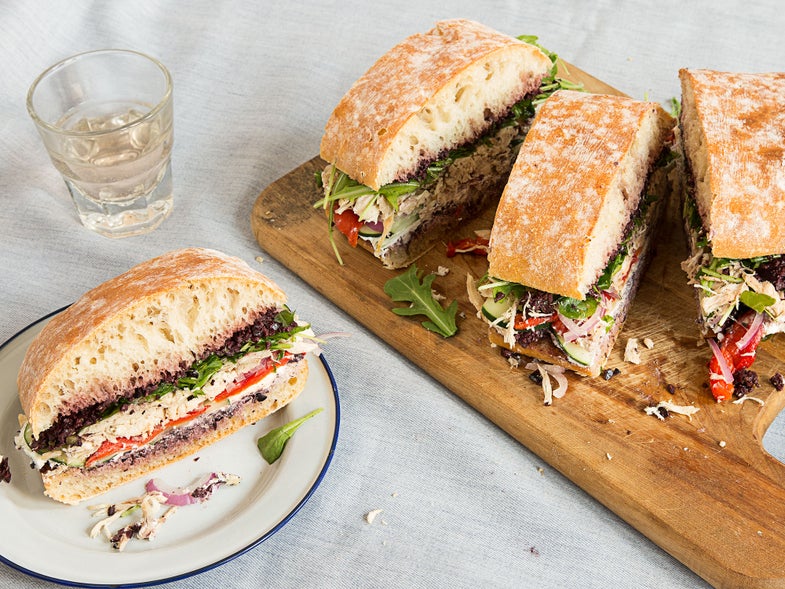 Road trips are an American birthright, and if you're setting out on one, remember that you'll need to eat. While we're firm believers in sampling local fare along the way, we also like to be prepared with plenty of home-packed meals and snacks.
Here are some sweet and savory portable eats to keep you fueled, from New Jersey's greatest breakfast contribution to standout empanadas to chocolatey cookies that will power you through even the most grueling overnight drives. Focus on minimally drippy road trip food that can be eaten without utensils.
On longer journeys, a portable stove and a cooler full of ingredients will satisfy cravings for a home-cooked meal. So pack the essentials, pick a point, and grab your keys, because these quick and easy road trip recipes can be whipped up in no time.
These crunchy empanadas, featuring shells made with masa, lard, and salt, are filled with tender shredded beef tossed in a spicy salsa. You can prepare the masa and filling in advance, but don't fill or fry the empanadas until just before eating. Adding baking powder and using an electric mixer are two secrets to light, puffy empanada pastry. Get the recipe for Fried Shredded Beef Empanadas »
Fried chicken keeps surprisingly well during extended road trips. You'll often find chicken katsu sandwiches lining convenience store shelves in Japan and they are just as good as road trip food. There are four key components to a classic katsu sando: a perfectly fried cutlet (in this case, chicken), Kewpie mayonnaise, Bull-Dog tonkatsu sauce, and the fluffiest Japanese milk bread. Get the recipe Chicken Katsu Sandwich »
Erin Ambuster and Casey Dominguez, owners of The Salty Owl café, serve these hand pies to travelers and locals alike in the Knox County Regional Airport in Owl's Head, Maine. The ideal airport food is also the ideal road trip food: quick, portable, and tasty. Get the recipe for Ham-and-Jam Hand Pies »
Casually eaten and widely beloved in Argentina, these grilled sausage sandwiches are great with a cold beer. Get the recipe for Grilled Chorizo Sandwiches with Chimichurri (Choripán) »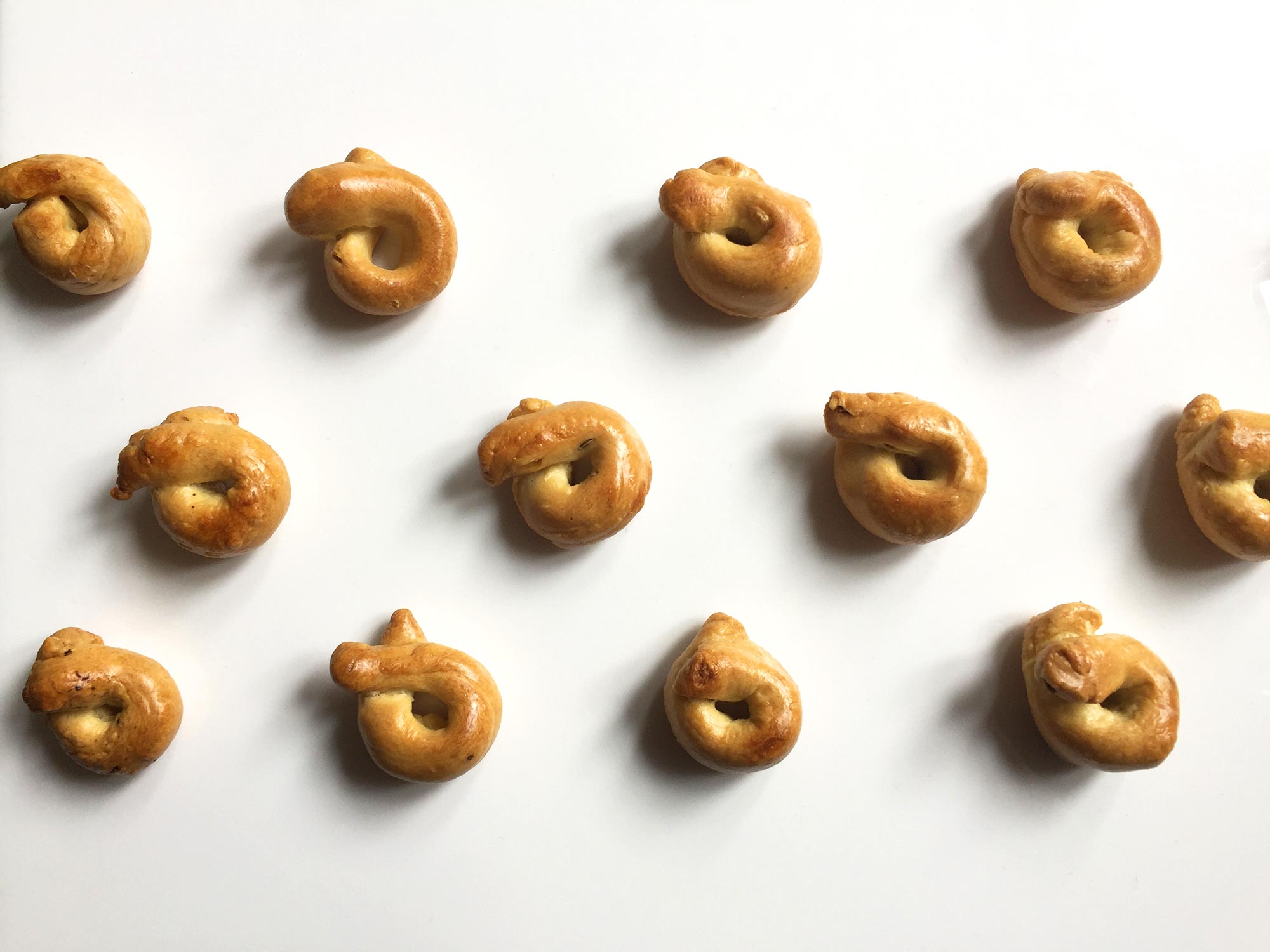 Crisp, biscuit-like Italian crackers, taralli taste best baked until dry and golden-brown: the toastiness brings out and complements the flavors of the spices and fruity olive oil. Baking them atop a drying rack helps ensure an even browning all around, but if you don't have one, dry the taralli briefly on clean kitchen towel and bake them on a parchment-lined sheet. You can omit the fennel seed and replace with 1 ¼ tsp. coarsely ground black pepper if desired, or leave the dough plain. Get the recipe for Fennel Seed Taralli (Italian Olive Oil Crackers) »
There are chopped salted cashews in the mix; winey, sweet-tart dried cherries; chopped milk chocolate; and both chopped and melted bitter-sweet chocolate. You need a lot of chocolate—more than a pound!—and every penny that you put into buying great chocolate for these will come back to you in oohs, aahs and culinary contentment. There's no question that Chunkers are one of the world's great cookies. Get the recipe for Dorie Greenspan's Chocolate Chunker Cookies »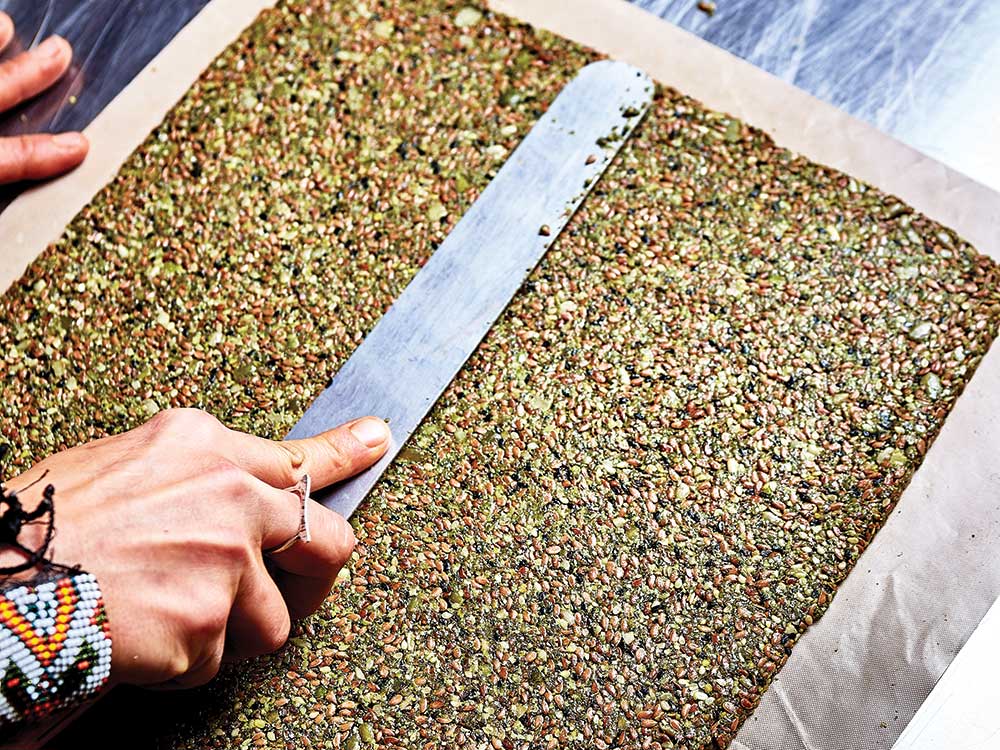 Chia seeds! Lacto-fermented brine! It sounds like hippie food, but these seed crackers are addictive. Get the recipe for Seed Crackers with Lacto-Fermented Brine »
Fragrant Meyer lemon zest goes into these shortbread cookies from pastry chef and author Emily Luchetti. She then uses the sweet–tart juice to make a silky citrus curd that sandwiches two cookies together. Get the recipe for Meyer Lemon Sandwich Cookies »
Classic sweet rugelach get a Chinese twist with a filling of chestnuts, goji berries, and Chinese five-spice powder. Get the recipe for Chestnut and Goji Berry Rugelach »
This variant of the classic Iranian frittata-like egg dish has become a popular street food in London. Feel free to add walnuts, barberries, or raisins to make it your own. Get the recipe for Persian Herbed Frittatas with Fenugreek (Kookoo Sabzi) »
These cookies test the limit of exactly how much chocolate you can possibly pack into one cookie. Made with cocoa powder and more than one type of chocolate chip, this cookie's soft dough benefits from at least 4 hours of refrigeration, allowing the disks to stay thick and chewy when cooked. Plus, the dough will keep frozen for several months, so stash a few in the freezer to throw in the oven whenever you're hit with a craving for chocolate. Test Kitchen Director Farideh Sadeghin developed this recipe based off New York City's famous Levain Bakery. Get the recipe for Chocolate Chocolate Chip Cookies »
For these portable fruit pies, Georgia-based chef-restaurateur Hugh Acheson uses rice wine vinegar to make the flavors pop. Get the recipe for Strawberry Rhubarb Hand Pies »
Lightly sweet, perfectly crunchy, and with a mild vanilla flavor, this addictive granola is perfect served over yogurt or as an on-the-go snack. Get the recipe for Homemade Granola »
These hangover helpers made with pork roll, the processed meat pride of New Jersey, are a road trip food to wake up with seat-side. Get the recipe for Pork Roll Breakfast Sandwich »
These crisp mini-sandwiches are deep-fried and filled with molten cheese. Get the recipe for Fried Mozzarella Sandwiches »
Adapted from Anya Fernald's Home Cooked, this recipe for delicate, whole wheat-flecked crackers makes enough to feed a party, or last all week in your pantry. "The key to [their] crispiness is to roll out the dough extremely thin," the author writes. If the dough springs back at all while rolling, let it rest at room temperature for 5 minutes, then try again. Get the recipe for Olive Oil Crackers »
In the tropical Udupi-Mangalore region on India's southwestern coast, you'll find a sweet and fragrant puri made with mashed ripe bananas and cumin. The combination works better than you might expect, and these sweet, earthy doughnuts, called Mangalore buns or banana puri, are served hot, for breakfast with tea, or for a with spicy coconut chutney as a snack. Get the recipe for Indian Fried Banana Cakes (Mangalore Buns) »
At Lillie's Q, hushpuppies—little cornbread fritters you could eat like popcorn—get a dose of zesty pimento cheese for extra richness. Get the recipe for Pimento Cheese Hush Puppies »
Raegan Steinberg, co-owner of Arthur's Nosh Bar in Montreal's hip Saint-Henri neighborhood, calls her partner chef Alex Cohen an "everything and the kitchen sink kind of cook." Called the McArthur Sandwich, this high-piled schnitzel-filled creation adapted from the restaurant is the perfect example of his genius. Pounded and breaded chicken is topped with sweet honey, salty dill pickles, and vinegar-y iceberg slaw, then served upon crispy challah toast. The secret to the crunchy yet hearty schnitzel breading: instant mashed potato flakes mixed into the breadcrumbs. Get the recipe for The Ultimate Fried Chicken Sandwich »
When this fluffy, oil-slathered dough bakes, the red and green grapes dotting it burst, releasing their sweet juices into the bread. Get the recipe for Abruzzo-Style Grape Focaccia »
This trail mix uses three kinds of nuts (cashews, pecans, Marcona almonds), two kinds of dried fruit (apricots, figs), cacao nibs, and a flurry of spices (cinnamon, cumin, and more). Barbecue sauce and bacon glazed with maple syrup add an irresistible savory-sweet tang to the snack. Get the recipe for Barbecue Trail Mix »
Molly O'Neill's LongHouse Granola
The LongHouse scholars ate this granola for breakfast every morning of their month-long stay at Molly O'Neill's house in Rensselaerville, New York. Get the recipe for Molly O'Neill's LongHouse Granola »
Adding sriracha to the chunky pimento cheese recipe in this sandwich ups the spice factor and helps to offset the creaminess of the cheddar. Get the recipe for Pimento Cheese Sandwich with Homemade Pickles »
This hearty twist on the classic Provençal pressed sandwich pan bagnat combines black olive tapenade, goat cheese, roasted chicken, and thinly sliced vegetables. Make it at least two to three hours before you plan to serve it to really let the flavors marry. This sandwich packed in the cooler is perfect as road trip food. Get the recipe for Roast Chicken Pan Bagnat with Olive Tapenade and Goat Cheese »
The key to moist, flavorful tamales is not being shy about adding fat. Lard is traditional in Mexico, but you can use softened butter for vegetarian versions. Tamales are best eaten doused in salsa or hot sauce. This salsa verde has a fresh, tangy sourness (and kick of heat if you like) that helps cut through the richness of the masa. Get the recipe for Corn Tamales with Tomatillo Salsa »
his crusty sandwich only calls for a handful of ingredients—pecorino, parsley, and anchovy—but has big flavors. Get the recipe for Pecorino, Parsley, and Anchovy Sandwiches »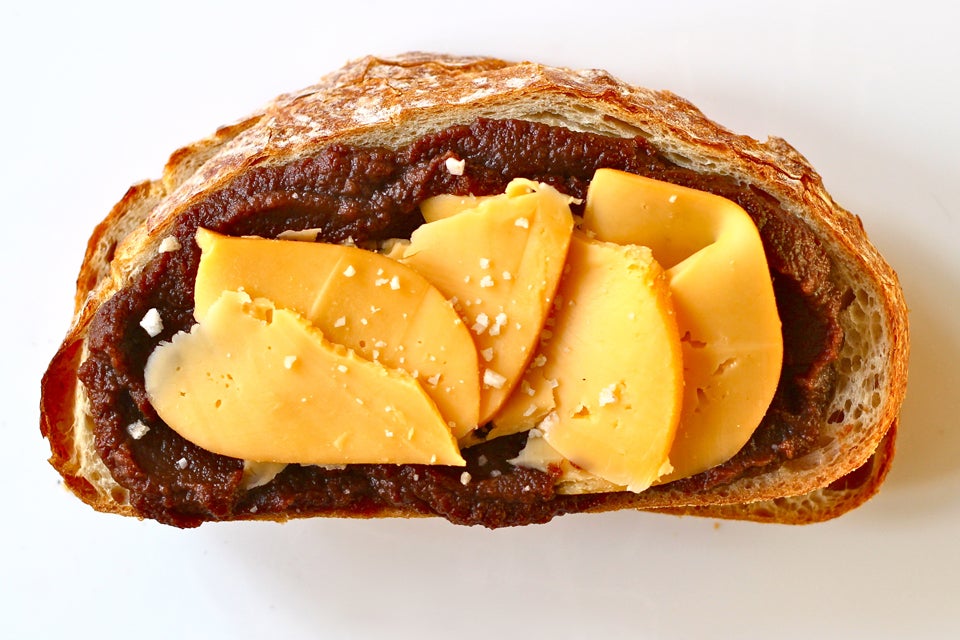 This combination is autumn on a slice of bread: sourdough spread with rich apple butter, topped with slices of mild smoked gouda and a sprinkle of flaky sea salt. Get the recipe for Smoked Gouda and Apple Butter Sandwich »