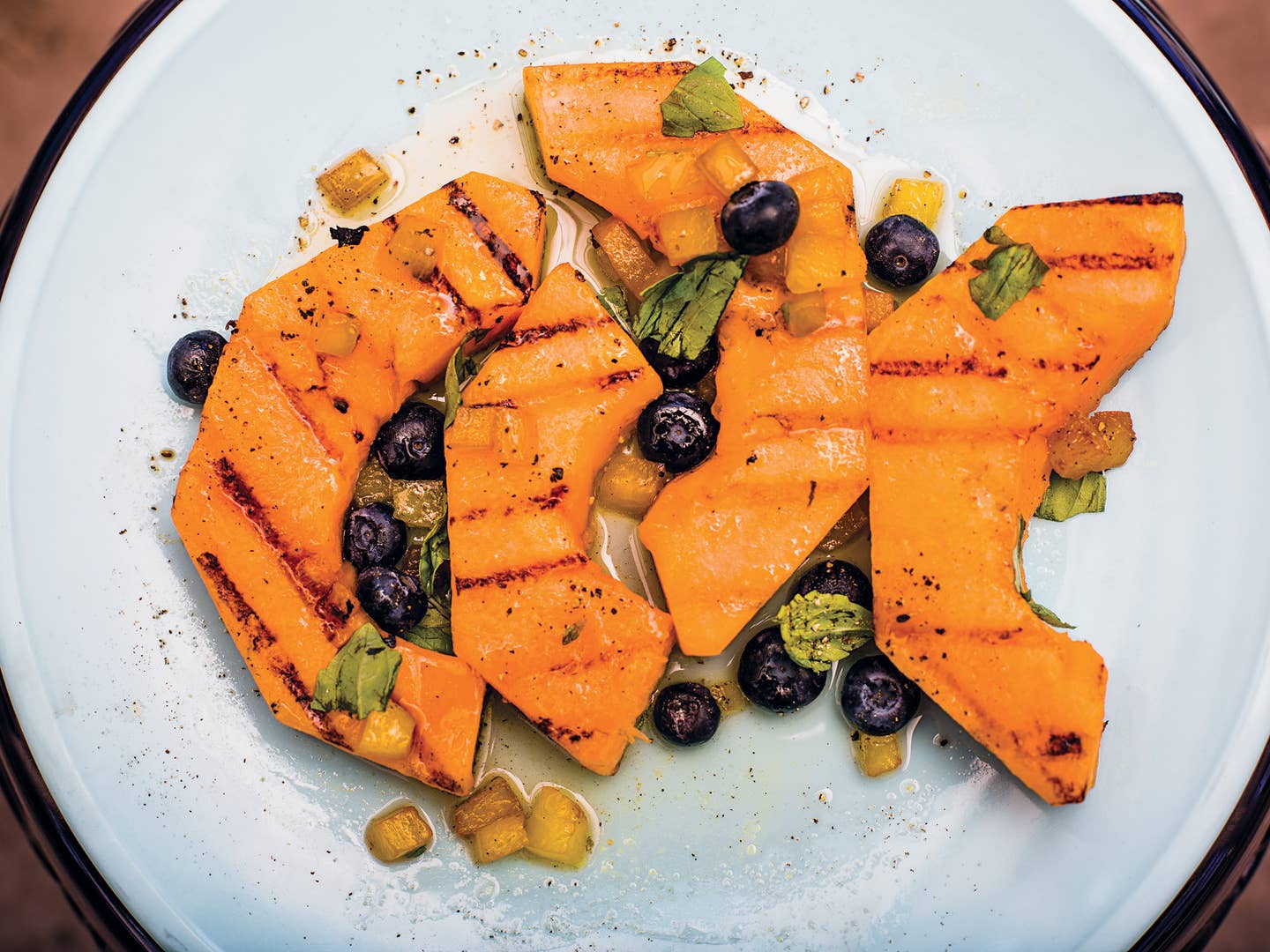 Recipes
Vegetarian Recipes For When You Just Don't Want Meat
Cookouts aren't just for carnivores thanks to these vegetarian grilling recipes
While "meat" and "grill" generally go hand-in-hand, there's an underrated world of vegetarian ingredients perfectly suited for grilling. If you're in a burger mood but don't want to go the beef route, don't worry. Our meat-free burgers are as good as any hamburger. We've got a black bean burger flavored with cumin, paprika, coriander, and both poblano and chipotle chiles; a portobello mushroom burger topped with blue cheese and sautéed red onions; and a quinoa burger with carrot, celery, arugula, and beans topped with a roasted red pepper relish.
Grilled vegetables add an interesting flavor and texture to other salads. In our endive salad, the vegetable is steamed, grilled, and dressed with a bee pollen vinaigrette. Beets, asparagus, eggplant, cauliflower, and fennel come together into a warm, smoky salad when grilled and tossed with lemon juice and zest. And for dessert, try grilling fruit—the heat causes the sugars to caramelize. Try cantaloupe dressed with a peach agrodolce and served with blueberries and basil.
Find all of these dishes and more in our collection great vegetarian grilling recipes.
Pickled Stone Fruit and Burrata Flatbread
Grilled Vegetable and Barley Salad
Grilled Greens and Leek Tops with Chile-Garlic Sauce
Grilled Shiitake Mushroom with Chile and Thyme
Shaved Fennel and Grilled Corn Salad
Grilled Calçots and Asparagus with Romesco Sauce
Grilled Cantaloupe with Peach Agrodolce
Grilled Onion Salad with Sumac and Herbs
Grilled Corn with Herbed Goat Cheese Butter
Endive Salad with Bee Pollen Vinaigrette
Grilled Shallots with Dill (Schalottenlök i Folie)
Spinach, Chive, and Yogurt Soup with Grilled Scallions
Grilled Vegetable Salad (Sallad på Rostade Grönsaker)
Grilled Eggplant with Basil Vinaigrette
Tadashi's Grilled Tomatoes
Black Bean Burger with Salsa Fresca and Avocado Crema
Portobello Burgers with Blue Cheese and Sauteed Red Onions
Quinoa Veggie Burger with Roasted Red Pepper Relish
Eggplant and Parsley Dip (Melintzanosalata)