Our Most Instagrammable Desserts Are Here to Steal Everyone's Likes
Pics or it didn't happen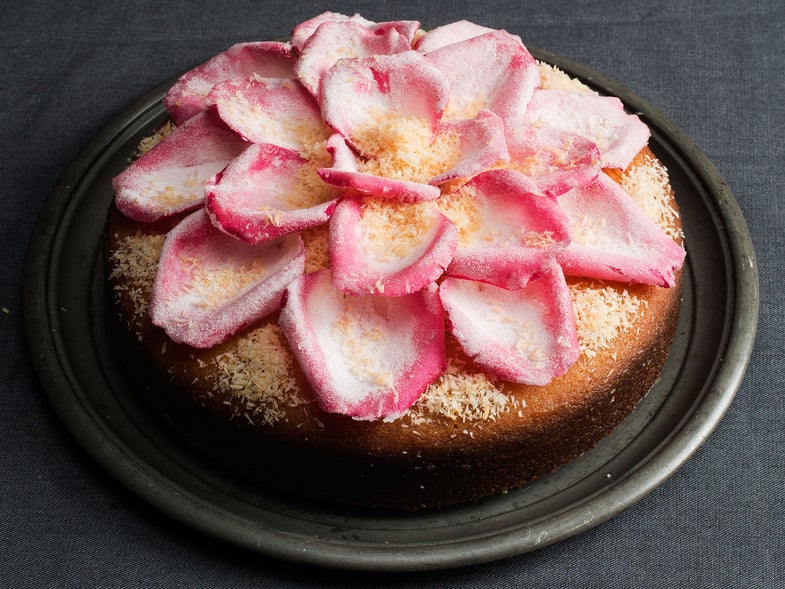 If you baked a cake and you didn't Instagram it, did it really happen? These days, loving food has become synonymous with sharing it with friends and family on social media. And some of our most Instagrammable recipes are colorful, sugary confections that run the gamut from classic French desserts to Thai desserts using ingredients like green pandan, the vanilla of Southeast Asia. From French lemon meringue tarts to Azeri almond-cardamom pahklava, make these photogenic desserts for the sweet taste of Instagram engagement: and don't forget to take an overhead shot and use the right hashtags.
This recipe comes from Tariq Hanna of Sucré in New Orleans. Originating in Brittany, a region known for it's salt-forward cuisine, this crust contain a hefty pinch of the flaky stuff; be sure to use a good brand as the delicate flavor will be noticeable here. It's a crust that requires no rolling and very little fuss, making it an exceptional choice for a summer fruit tart. Get the recipe for Sablé Breton »
Sweet Cheese Ice Cream with Apricots, Raspberries, and Honey Granola. Get the recipe for Mascarpone Ice Cream with Apricots, Raspberries, and Honey Granola »
"The single best gauge of a bakery's quality is its lemon tart," says tart expert Maury Rubin. "There's a dance to balancing the sweet and tart flavors appropriately, and in a good bakery the filling will never taste buttery or eggy—it will taste like lemon." This recipe, adapted from Rubin's Book of Tarts and infused with lemon zest for extra citrusy flavor, is the ideal. Alternatively, lemon juice and zest can be swapped out for equal parts lime. Get the recipe for Lemon Meringue Tarts »
At Zulya Kazimova's bakery in Baku, pakhlava—the Azeri version of baklava, which she cuts into a diamond shape—is made using 14 layers of a dense yeasted dough rolled out so thinly and painstakingly that it becomes translucent. For home cooks, prepared phyllo dough produces a wonderfully crisp, lighter, and flakier version. To defrost frozen phyllo quickly, set it in a microwave (still wrapped in its plastic packaging) on the defrost setting for about 30 seconds, then rotate the package and repeat. Get the recipe for Almond-Cardamom Pakhlava »
Pastry chef Anna Posey of Chicago's Publican blackens rhubarb in a wood-fired oven for the cheesecake's compote topping. A standard oven will also do the trick. Get the recipe for Strawberry Rhubarb Cheesecake »
This over-the-top architectural dessert (also known as brick toast) is popular in tea shops and casual restaurants in Japan, Taiwan, and Singapore. The dish is meant to be shared with a friend (or three) and the more color, texture, and height the better, so don't skimp on the garnishes. Cookies, seasonal fruit, and candy are typical ingredients, but sprinkles, nuts, and flavored syrups are not unheard of. Get the recipe for Shibuya Honey Toast »
Warming, caramel-scented Armagnac custard bathes fresh, barely-cooked Italian plums in this quick, simple dessert. Get the recipe for Brûléed Italian Plums with Armagnac Custard »
This recipe is from Waylynn Lucas' Los Angeles-based baked donut shop called Fōnuts. Get the recipe for Strawberry-Buttermilk Fōnuts »
Black sticky rice, which like wild rice is unhulled, makes a rustic rice pudding loaded with far more flavor and texture than usual. This version from chef Peerasri Montreeprasat at Sugar Club, a Thai grocery and cafe in New York, adds in cubes of nutty taro and is sweetened with palm sugar.
Essentially torn pieces of pancake topped with oozing lingonberry or cranberry sauce, this dessert is a cinch, even for the baking-challenged. Get the recipe for Brown Butter Skillet Cake with Berry Compote (Kaiserschmarrn) »
These drops were born of fiddling with my favorite brownie recipe. A little more flour and chocolate, and a different way of baking, and presto chango, cookies. The orange and ginger are holiday add-ins. Adapted from Dorie's Cookies. Get the recipe for Orange and Ginger Brownie Cookies »
Sprinkled on top of these delicate meringues—which float in a vanilla custard—are praline roses, caramel-coated almonds dyed a bright pink. The color's a bit shocking, but they're a staple of Lyonnaise pâtisseries and lend a nice crunch and color to this white-on-white backdrop. Get the recipe for Meringue Floating in Crème Anglaise »
This elegant cake is soaked in a fragrant lemon syrup, perfumed by flower waters. The garnish is candied rose petals sprinkled with toasted coconut. Get the recipe for Semolina-Coconut Cake with Orange and Rose Waters »
If working with extremely ripe and juicy fruit, you might need a bit more cornstarch to adequately thicken the filling of this pie—add up to 2 additional tablespoons. The same recipe and technique can be used with just about any summer fruit. Try a combination of berries, peaches, apricots, or black cherries; you can also add flavorings, such as a teaspoon of almond extract, or liqueur. Get the recipe for Blackberry-Plum Lattice Pie »
This multilayered French dessert of baked almond meringue, buttercream, and rum-spiked whipped cream tastes best doused in a dark chocolate sauce and served with strong coffee to offset some of the sweetness of the cream layers. Not cutting the cake immediately after it's assembled helps to prevent the meringues from cracking while slicing through. This recipe is adapted from the cake at Buck's in Louisville, Kentucky. Get the recipe for Mocha Dacquoise Cake »
These are dream cookies…literally. They came to me in a dream in Paris, the city of sweets. The base is a French shortbread, or sablé, flavored with honey and loose tea. If you have 2-inch baking rings, you can make the cookies in the rings on lined baking sheets instead of using muffin tins. Build the cookies inside the rings, bake, then leave the rings in place for at least 20 minutes before lifting them off, rinsing and reusing. Get the recipe for Honey-and-Tea Jammers »
Layer nutty whole wheat crêpes with delicate honey whipped cream for a light but impressive dessert. Get the recipe for Whole Wheat Mille Crêpe Cake »
Pastry chef Pichet Ong's whimsical spin on the classic mooncake takes inspiration from American chocolate chip cookies. He folds chocolate chips and candied fruits into a bean- and almond-paste filling and then wraps it in brown sugar-like cookie dough. Get the recipe for Chocolate Chip Moon Cakes with Almonds and Spiced Fruit »
Instead of coating his pâte de fruit with plain sugar, William Werner of San Francisco's Craftsman and Wolves flavors Demerara sugar with Clément Créole Shrubb, a spiced liqueur made of aged and white Agricole rums and bitter orange peels. It adds a clean, bright flavor to the glittering topping. Get the recipe for Strawberry Rhubarb Pâte de Fruit »
Frangipane, an almond-based pastry filling, has a nutty fragrance and a consistency between buttery pound cake and airy sponge cake. In French-style fruit tarts, this classic filling is often studded with poached or fresh fruits. In summer, you can swap out the cranberries in this tart for halved pitted apricots, fresh pitted cherries, or sliced plums. Syrup-poached apples or pears, halved ripe figs, or quince would be delicious in cooler months. Get the recipe for Almond Frangipane Tart with Cranberries and Honeyed Pistachios »
Classic babka gets an update with a double dose of raspberry: A few spoonfuls of jam add a tart edge to the cocoa filling, while a simple syrup infused with fresh berries adds a pink-tinged, lacquered shine to the final loaf. Get the recipe for Chocolate-Raspberry Babka »
Broiled, sugared grapefruit slices and a citrus glaze top this moist cake scented with zest. Get the recipe for Glazed Grapefruit Cake »
Fresh blueberries bolstered by jam make these donuts especially flavorful. Get the recipe for Blueberry Donuts »
Melt butter in the oven for a fast, versatile tart crust with intense nutty flavor that pairs beautifully with pastry cream and fresh berries. For easy serving, prepare the tarts in individual aluminum cups. Get the recipe for Brown Butter Tart with Blackberries »
These sugar-crusted, jam-filled pastries are a morning treat at Twofish Baking Company in Sea Ranch, California. Get the recipe for Raspberry Pinwheels »