Our Best Asian Noodle Recipes
Stir fry, simmer, and slurp your way to culinary greatness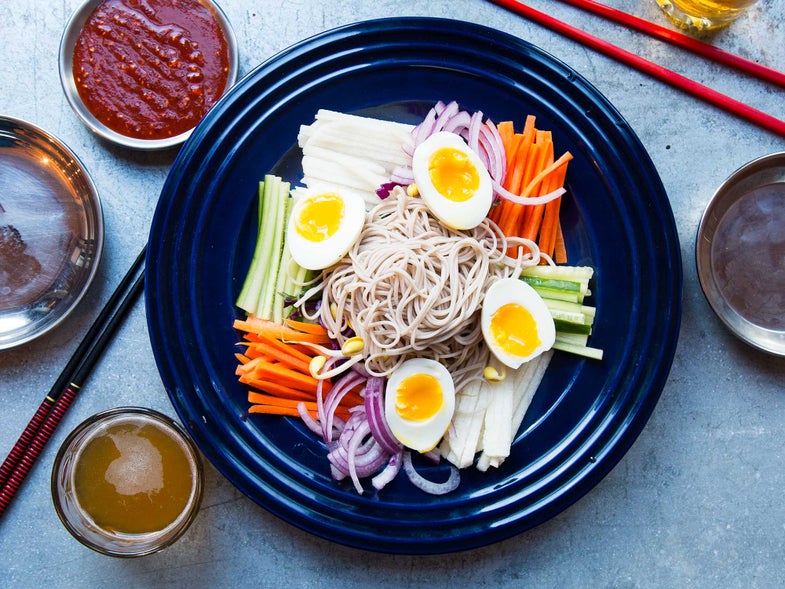 Noodles are the common-thread dish of East and Southeast Asia—from Japan to Thailand and beyond. And it's easy to see why they're universally loved: whether you're in the mood for steamy noodle soups or a cold noodle salad, there's a twirl-able, slurp-able dish for you.
From Japan comes soba, the delicate buckwheat noodles that can be layered in a salad or boiled in soup. From Vietnam, there's the ubiquitous pho noodle soup and also bun cha, a rice noodle dish with grilled pork patties and pork belly. Another one of our favorites is pancit, a stir-fried skinny noodle dish from the Philippines.
Ready your chopsticks. We've rounded up our best Asian noodle recipes here.
Nutty buckwheat noodles are a staple of Japanese cuisine, second only to rice as the most consumed grain in that country. Get the recipe for Fresh Soba Noodles »
Cold soba noodles are often dipped into sauces, in this case two: one made of dashi and the other a homemade, lightly sweetened walnut paste. Get the recipe for Soba Noodles with Two Dipping Sauces »
For this deconstructed noodle soup, dip cold noodles into the hot broth, then slurp them quickly—the technique preserves the integrity of the tender, fresh noodles. Get the recipe for Cold Soba with Mushroom and Leek Seiro Broth »
A medley of thinly sliced vegetables dressed with a spicy gochujang sauce makes a simple Korean buckwheat noodle salad. Get the recipe for Korean Cold Buckwheat Noodles »
This refreshing salad of soba noodles tossed with winter greens and mixed vegetables is brought together by a tart dressing of miso, ginger juice, and lemon. Get the recipe for Soba Salad with Lemon-Miso Vinaigrette »
A miso marinade doubles as a dressing for a flavorful salad composed of watercress, scallions, and soba noodles. Get the recipe for Soba Noodle Salad with Miso and Grilled Prawns »
Instead of the cookout-classic pasta salad, serve this refreshing Asian noodle dish zipped up with crunchy vegetables. Get the recipe for Soba Salad with Marinated Cucumber and Ponzu »
Refreshingly light, these Vietnamese rolls filled with rice noodles offer a nice alternative to fried egg rolls. Get the recipe for Summer Rolls with Dipping Sauce »
Green garlic, asparagus, and peas brighten this classic Thai street dish with springtime flavors. Out of season, you can substitute scallions for the green garlic. Get the recipe for Spring Pad Thai with Green Garlic, Asparagus, and Peas »
We first fell in love with these lightly spicy lo mein noodles when chef Marcus Samuelsson dropped by our kitchen to test drive some recipes for his Harlem restaurant, Streetbird Rotisserie. Laced with oyster sauce, ginger, and yuzu kosho and tossed with pickled mustard greens, the dish is a medley of sweet, tangy, spicy, and sour. Get the recipe for Sho' Nuff Noodles »
Chewy wheat noodles, shrimp, chicken, chile, and a dash of mushroom powder make this savory, satisfying plate of noodles. Get the recipe for Philippine Noodle Stir-Fry »
Any Chinese noodle—rice, wheat, flat, thin, or broad—can be used in this simple breakfast stir-fry from author Francis Lam. Get the recipe for Stir-Fried Breakfast Noodles »
Slippery sweet potato noodles turned golden from the cooking juices and soy sauce, crunchy vegetables, and tender beef make for a satisfying dish. Get the recipe for Korean Noodles with Beef and Vegetables »
For a twist on classic char siu, Hawaiian islanders typically marinate wild boar—pork shoulder makes a fine substitute—in Chinese-style barbecue sauce. Get the recipe for Sweet and Sticky Roasted Pork with Sesame Noodles »
A garnish of chopped peanuts and slivered cucumber and carrot add crunch to the silky, savory Chinese-American noodle dish. Get the recipe for Sesame Noodles »
An easy-to-make-at-home chicken version of pho that's only simmered briefly to keep the flavors fresh and bright. Get the recipe for Danny Bowien's Hanoi-Style Breakfast Pho »
Is there ever a bad time for soba noodles? Definitely not. Get the recipe for Hot Soba with Chicken and Egg »
These tender pork meatballs in a savory broth are served family-style with thin rice noodles, crisp lettuce, and fresh herbs. Get the recipe for Vietnamese Pork Meatball and Noodle Salad »
Simple broth, chewy rice noodles, meaty pork, and pungent pickled greens—perhaps the perfect soup. Get the recipe for Hainanese Noodle Soup with Pork and Pickled Bamboo »
This spicy, delicious Thai noodle soup is enhanced with a touch of crimson pig's blood. Get the recipe for Thai Boat Noodle Soup »
Toasted sesame oil and hot chile oil spice up this porky ramen. Get the recipe for Sesame and Chile Ramen »
Red miso paste, more fermented than its blond counterparts, adds piquancy to pork belly cooked with brown sugar, mirin, and sesame seeds. Get the recipe for Noodles in Dashi with Miso-Coated Pork Belly »
In this simple noodle dish, crisp wasabi stalks add texture, while the tender, chewy leaves are a complex substitute for bitter greens. Get the recipe for Soba Noodles with Shiitake and Mushrooms »
For this beloved dish of China's Sichuan province, a tangle of wheat noodles is topped with a spicy, pungent pork sauce. Get the recipe for Sichuan Noodles with Spicy Pork Sauce »
A regional soup packed with egg noodles and pig parts, La Paz batchoy was born in the La Paz district of Iloilo city, in the province where chef Dale Talde's mother was born. Talde's version streamlines the traditional recipe, keeps the liver and intestines optional, and applies just enough shrimp paste to keep things funky. Get the recipe for Pork Noodle Soup with Shrimp Paste (La Paz Batchoy) »
This popular breakfast in China's Yunnan Province starts with fresh rice noodles and ground meat in a bare-bones pork broth, then gets customized with as many as a dozen condiments. Yunnan mi xian noodles (round and spaghettilike) or mi gan (flat and wide) are traditional, but any size rice noodle works, and dried varieties are fine in a pinch. Find fresh rice noodles in the refrigerated section at most Asian markets. Get the recipe for Yunnan-Style Breakfast Noodle Soup (Mi Xian) »
A simple, light soup not short on heat or spice. It's traditionally served over a butane flame, so the broth remains hot, and a heavy dose of heat is delivered from two types of thinly sliced chiles. Get the recipe for Korean Spicy Clam Soup (Jogaetang) »
When Kyle Itani of Itani Ramen makes ramen at home, this chicken version is his go-to. The broth is a relatively simple but deeply flavored chicken base layered with fresh ramen noodles, poached chicken breast, soft soy eggs, and a delicate fennel oil. We recommend Sun Noodle for fresh ramen noodles, but if you can't find them, dried will do in a pinch. Other common toppings you can buy include: Bamboo shoots, fish cake, pickled mustard greens, and corn kernels. Get the recipe for Home-style Chicken Ramen »
This vibrant noodle soup, a staple of nighttime street-food stalls in Wenchang, is built on a fragrant broth, so be sure to use a homemade version. though these food stalls typically make the noodles by hand, thick Filipino "luglug" noodles are a good alternative. Get the recipe for Rice Noodle Soup with Pork and Pickled Bamboo (Bao Luo Noodles) »
For this deconstructed noodle soup, dip cold noodles into the hot broth, then slurp them quickly—the technique preserves the integrity of the tender, fresh noodles. Get the recipe for Cold Soba with Mushroom and Leek Seiro Broth »