Minty Moroccan Carrots, Celery Root Mash, And 17 More Flavorful Thanksgiving Sides
They just might upstage the main dish.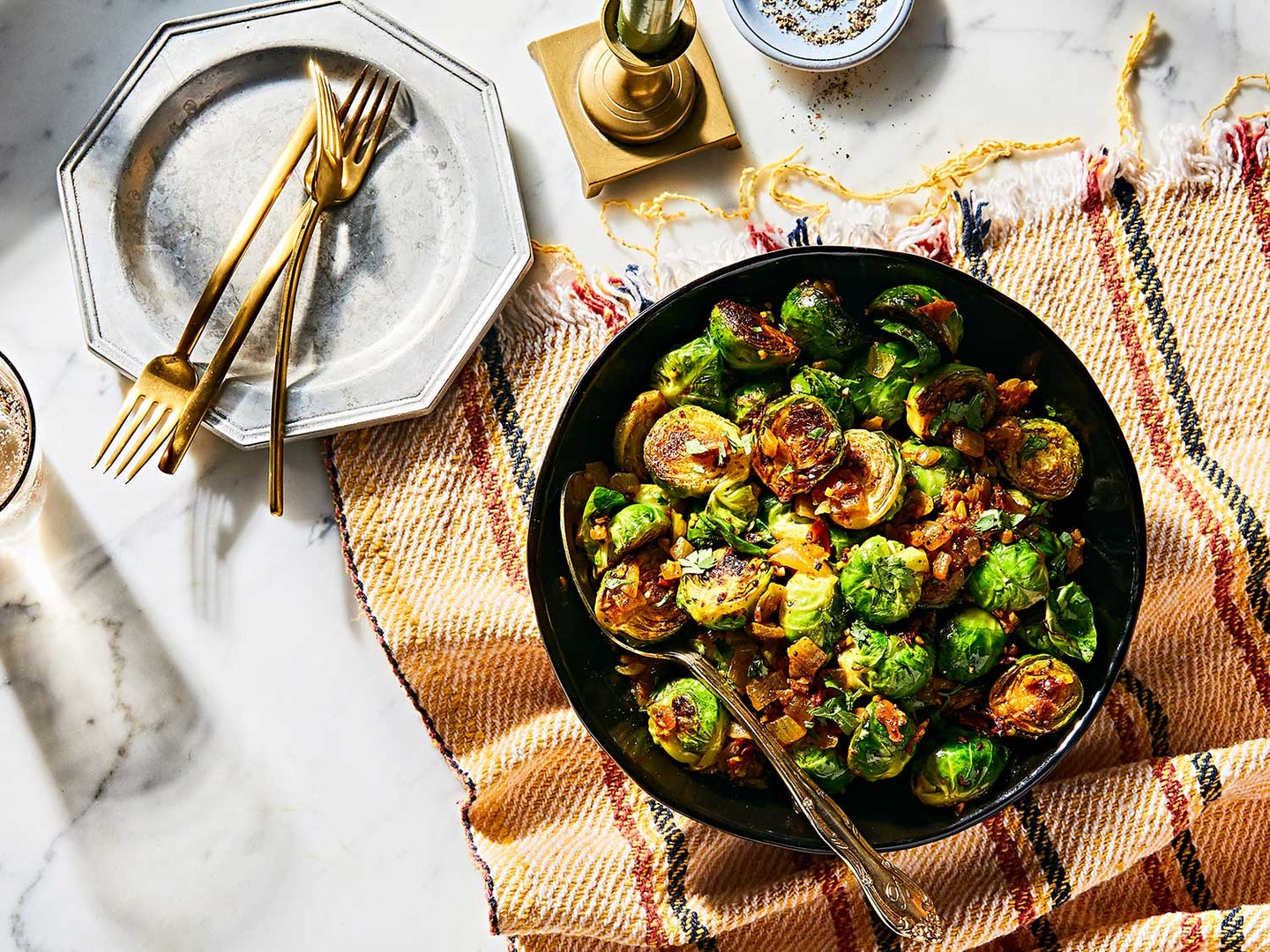 Whether the centerpiece of your Thanksgiving is a glistening turkey or a showstopping vegetarian dish, your main needs its sidekicks. All the trimmings—stuffing, sauces, and more—are what turn a meal into a holiday feast. You can't go wrong with a classic casserole or sweet potato mash. But this year, try a few fresh takes, like pumpkin and cheese boureki, roasted beets, spicy Moroccan carrots, and stuffed okra, and you just might spark some new culinary traditions. The best part about these Thanksgiving sides? Most of them can be made well ahead of the big event; simply reheat and serve. Because navigating those dinner table conversations is stressful enough.
This rustic stuffing from Thomas Keller's Bouchon Bistro is made with crusty Italian bread and laced with fresh herbs, aromatics, and sausage. The staff at the restaurant makes it as part of their annual tradition of serving a Thanksgiving feast to Yountville-area veterans and their families. Get the recipe >
The way to win over Brussels sprout haters? These crispy sprouts from Sara Gore, co-host of NBC's New York Live. Quick-fry the brassicas, then dress them in a sweet-and-sour sauce of honey and balsamic. Get the recipe >
Mashed potatoes combined with butter and crème fraîche make a rich, creamy side. Any root vegetable, such as parsnips or turnips, can be used in combination with or in place of the potatoes. Get the recipe >
Spice things up this Thanksgiving with this roasty, toasty riff on Turkey's favorite sidekick. Get the recipe >
This bracingly tart relish, from Matthew Jennings of the now-retired Townsman restaurant in Boston is the perfect foil for a rich Thanksgiving spread. Whole pieces or orange flesh and peel add texture to balance the creamy smoothness of mashed potatoes and cornbread dressing. Get the recipe >
Earthy celery root and nutty Grana Padano cheese add intrigue to this otherwise classic mashed potato recipe. Get the recipe >
Bring out the best in Brussels sprouts for your Thanksgiving sides with this simple, creamy preparation. Don't skimp on the salt: it lends depth and highlights the sprouts' natural sweetness. Get the recipe >
Pleasantly bitter turnips are roasted until sweet and then slicked with bacon fat and sherry vinegar in this warm side dish, which also uses the root vegetable's hearty green leaves. Get the recipe >
Cookbook author Leah Koenig's family always served puréed carrots as part of their holiday repertoire. This version gets amped up with ginger, garlic, and bright citrus. Get the recipe >
Fresh mint, Aleppo pepper, and cumin flavor this humble carrot salad, sweetened lightly by a dressing made with the carrots' cooking liquid, which becomes a concentrated syrup when reduced. Get the recipe >
The key to getting a good char on Brussels sprouts is roasting them in a single flat layer, making sure they don't overlap. Don't worry about serving them right out of the oven, as they are just as tasty at room temperature. Prep them ahead for an easy Thanksgiving side. Get the recipe >
Protein-rich red lentils and hearty butternut squash are transformed into a silky soup; served with flatbread, it's a simple and comforting main course. Get the recipe >
This recipe is an adaptation of the one developed in the 1950s by the Campbell's Soup Company. Get the recipe >
Fresh apples plus hard cider give this easy mac and cheese a double dose of fall flavors. Get the recipe >
Cloves of garlic are first blanched whole, which enhances their sweetness, then used to make a rich béchamel sauce that's stirred into mashed potatoes with cream and parsley in this recipe from America's favorite cooking teacher. Get the recipe >
A variety of mushrooms gives nuance to this hearty vegetarian fennel soup. Any assortment of fresh mushrooms will work and you can change those flavorful notes by switching up the combination each time you make it. Get the recipe >
The flavor of raw collard greens combines perfectly with tender roasted sweet potatoes and tangy, rich goat cheese in this hearty salad. Get the recipe >
Amy Thielen's creamed spinach is an ultra-fine, silky version of this traditional staple, puréed with parsley leaves for a vivid green and vermouth for a pop of acidity. For the brightest color, cool the spinach mixture down fully before puréeing, then reheat. Get the recipe >
A cool and tangy crème fraîche dressing adorns roasted beets for a simple, colorful Thanksgiving side dish. We like to use a combination of red and golden beets for presentation. Get the recipe >