The Procrastinator's Guide to Easy, Low-Effort, High-Reward Holiday Recipes
Make Christmas cooking a walk in the park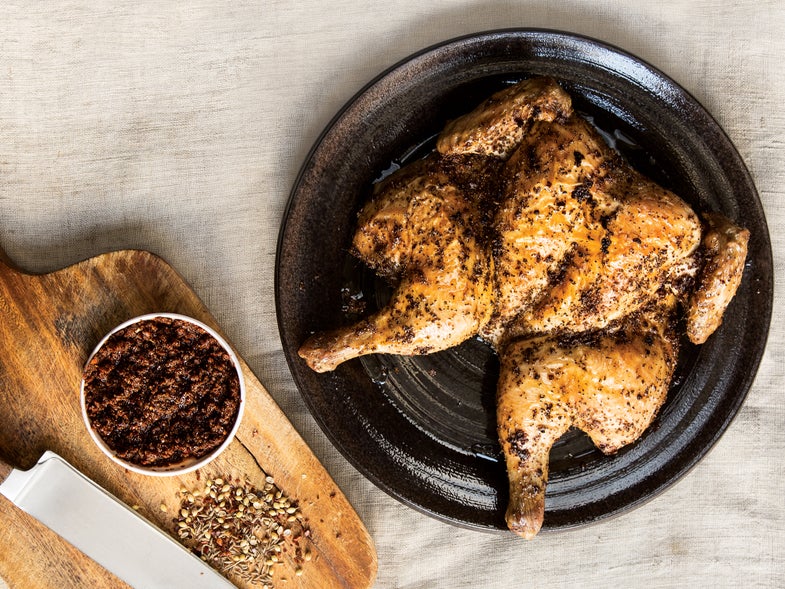 These easy holiday recipes are here to make your Christmas dinner a breeze. See our list below for everything you need from mains like roasted pork loin to chicken, holiday sides like gratins and cheesy mac and cheese, cocktails, and classic cookies. For more holiday inspiration, see our Holiday Guide.
Tart red currant jelly compliments the buttery-rich sweetness of these show-stopping potatoes and delectable holiday pork roast. Get the recipe for Roast Pork Loin with Salted Caramel Potatoes »
This German method of preserving fruit in rum is more a ratio than a recipe: two parts fruit to one part sugar, covered with rum by at least an inch, with fruit continually added as it comes into season. Use the best fruit you can get your hands on (at season's peak) and allow for resting time (at least 2 months of aging at room temperature, though longer is better). Do it right and your crock never empties out; as the seasons progress, so do your additions of fruit, this year's nectarines mingling with the whispers of decade-old grapes. [Get the recipe for Rumtopf »](https://www.saveur.com/rumtopf-rum-fruit-preserve-recipe/
A burnished red wine and cranberry sauce swirls into this simple semolina cake, perfect for breakfast or a light afternoon snack. Get the recipe for Cranberry Swirl Semolina Cake »
Fried crisp and served hot, these cheesy fritters are ideal for dunking into warm soup. Get the recipe for Ricotta, Potato, and Scallion Fritters »
Battered and fried veal cutlets—scattered with horseradish, capers and lemon juice—is the perfect breakfast cure after a night of holiday revelry. Get the recipe for Wiener Schnitzel »
Sweetly acidic green grapes off-set the funk of creamy Danish blue cheese in this seasonal salad tossed together with a creamy cider vinegar–walnut dressing. Get the recipe for Blue Cheese, Grape, and Gem Lettuce Salad »
These sticky, caramelized pears get served warm with a glug of fresh chilled cream for a richly-flavored variation on poached pears. Get the recipe for Honey-and-Butter-Baked Pears with Cold Cream »
Caramelized roasted pumpkin gets an unorthodox hit of flavor from orange zest and juice, stirred in just before serving to brighten this wintry soup. Get the recipe for Pumpkin Soup with Orange and Parmigiano-Reggiano »
Known as chupe de centolla, this Chilean crab gratin borders on a cheesy crab dip. While similar South American chupe are always prepared with milk-soaked bread and any combination of shrimp, scallops, shellfish, meats, and cheeses, Patagonia's version relies solely on the massive local king crabs, the hallmark of fishermen's kitchens along Chile's southernmost coast. Get the recipe for The Ultimate Crab Dip »
This simple, comforting root vegetable gratin is perfumed with fragrant thyme and bay leaves before being baked with a bubbly Gruyère crust. Get the recipe for Celery Root, Carrot, and Potato Gratin »
This buttery, vanilla-bean-flecked cookie batter is scraped into a piping bag and can be formed into wreaths, bows, or any shape your holiday heart desires. Get the recipe for Vanilla Wreath Cookies »
Fruitcake has a bad rap. But if you take the care to find good ingredients, or make them yourself (re: roast the walnuts, candy the fruit and ginger, and soak your own cherries in rum) like Houseman chef Ned Baldwin does, there's no reason fruitcake can't hold its own against any other holiday dessert. There's also no reason it needs to age for any length of time; even with time to soak in a rum syrup, the cake is ready in days, not weeks.
An earthy North African Aleppo pepper paste—perfumed with cumin, caraway, and coriander—flavors this juicy roast chicken from chef Michael Solomonov. Get the recipe for Roasted Chicken with Harissa »
The dressing for this cumin-spiced salad is made from the carrots' cooking liquid, which concentrates into a sweet syrup when reduced. Get the recipe for Moroccan Carrots with Aleppo Pepper and Mint »
Slow roasting enhances the potatoes natural sweetness, making this a standout side dish or vegetarian entrée. Garlicky labneh and quick trip under the broiler add tang and smokiness. Get the recipe for Slow-Roasted Sweet Potatoes with Garlic Labneh »
Red quinoa, which is similar in flavor and texture to white quinoa, adds color to this warm, hearty winter salad. Get the recipe for Root Vegetable and Quinoa Salad with Pickled Sunchokes »
This kind of luscious puréed bean soup is made all over Italy with either white or fava beans. Prepare the soup several days in advance, but sauté the broccoli rabe just before serving. Get the recipe for White Bean Soup with Fennel Seeds and Broccoli Rabe »
Think of this gratin as a meatless cassoulet, meant to accompany a roast, or as a stand alone, next to a tartly-dressed green salad. Get the recipe for Lima Bean Gratin with Herbed Bread Crumbs »
In this riff on the hot eggnog-like classic, Rachael Thompson of Chicago's Violet Hour perks up the traditional rich base of egg batter and cognac with two New Orleans favorites: the anise-y liqueur Herbsaint and a coffee-chicory syrup, a nod to the coffee at Café du Monde. Get the recipe for Tom and Jerry Cocktail »
A sandy, melt-in-your mouth chocolate cookie with a coffee kick—and a dip in more chocolate for good measure. Get the recipe for Dusty Bliss Cookies »
A smoky, sweet, and savory condiment as versatile as ketchup. Get the recipe for Roasted Pepper and Eggplant Spread »
This simple Southern-style cornbread harkens to cookbook author Lee Bailey's Louisiana upbringing and highlights his simple entertaining and cooking style. Bailey calls for baking the cornbread in a cast-iron skillet, but you can substitute a well-greased 9-inch metal baking pan. Get the recipe for Sour Cream Corn Bread »
Freekeh—sun-dried and roasted unripe wheat berries—is a popular grain in Mediterranean cuisines, and has a mildly smoky flavor and pleasant chew. Here, chef Mehmet Gürs of Istanbul's Mikla cooks it pilaf-style and spices it with sumac, a bright red spice that lends color and a lemony zing to anything it hits. Get the recipe for Freekeh Pilaf with Sumac »
We love this quick braised side dish with Swiss chard, but any hearty green will work. Try it with bok choy, kale, or even green or purple cabbage. Get the recipe for Skillet-Braised Swiss Chard »
There's no shortage of greens you can cook, but the Memphis BBQ Company goes for turnips. The vegetables grow wild in the Mississippi Delta, and the greens can be cooked just like collards. Cube up the turnip roots for a full side dish. Get the recipe for Braised Turnip Greens »
Barry Sorkin from Smoque has a bold claim about their peach cobbler. "It's kind of like a fruit cup. You could almost argue it's breakfast food if you want." A roasted almond streusel on top adds a complex nutty complement, and hey, you might as well eat it for breakfast. Get the recipe for Peach Cobbler »
Lard bread, available at many Italian bakeries, is a loaf has rendered pork fat and morsels of cubed, cured prosciutto layered into the dough. Its meaty perfume and chewy nuggets of ham are made even more delectable with the addition of sweet onions, Italian herbs, and crunchy bits of cooked fennel in this stuffing. Because styles and flavors of lard bread vary by bakery—some are fluffy and moist, others are dense and crusty, and some have a peppery kick—feel free to tinker with the salt, pepper, and baking time in this recipe as your loaf requires. Get the recipe for Lard Bread Stuffing »
This hearty, chicken stock—braised kraut is smoky, spicy, and well balanced, with sweet onions, garlic, and bacon fat nicely contrasting the brightness and brininess of jarred sauerkraut. If you prefer the end result even more sour, feel free to add a splash more brine from the jar. Get the recipe for Braised Paprika Kraut »
This recipe is adapted from cookbook author Dorie Greenspan. You can portion and freeze these gougères in advance, then bake them just before guests arrive (you may need to add a few minutes of baking time). This recipe makes soft gougères that are custardy in the center. If you prefer a firmer puff, use 4 eggs. Get the recipe for Nut and Cheese Gougères »
Tart, colorful cranberries are not just for cooked and canned sauces. Paired with rich whipped ricotta spread and toasted baguette slices, the raw fruit has a punchy flavor and crunchy texture that's a light, bright complement to crostini. Prepare the dip up to one day ahead and store covered in the refrigerator. Stir or buzz in the food processor briefly before spreading onto toasts. Get the recipe for Cranberry Crostini »
A low and slow braise is the best way to transform tough cuts of meat into fork-tender morsels. This version, made with a crosscut whole beef shank, is cooked in white wine and rich homemade beef bouillon layered with vegetables and aromatics for added complexity. Crunchy roasted radishes and a funky flaxseed, herb, and vinegar relish balance the pot roast's richness with acidity and texture. Get the recipe for The Ultimate Pot Roast »
A traditional dish enjoyed year-round in the Alps of southern Switzerland, this homey soup takes its name from the mountain huts where it's commonly made. Typically incorporating cheeses from the region, this version is fortified with L'Etivaz (which can be found at specialty cheese shops) and heavy cream. If you can't find L'Etivaz, substitute Gruyère instead. Get the recipe for Swiss Cheese Soup »
Frangipane, an almond-based pastry filling, has a nutty fragrance and a consistency between buttery pound cake and airy sponge cake. In French-style fruit tarts, this classic filling is often studded with poached or fresh fruits. In summer, you can swap out the cranberries in this tart for halved pitted apricots, fresh pitted cherries, or sliced plums. Syrup-poached apples or pears, halved ripe figs, or quince would be delicious in cooler months. Get the recipe for Almond Frangipane Tart with Cranberries and Honeyed Pistachios »
"The single best gauge of a bakery's quality is its lemon tart," says tart expert Maury Rubin. "There's a dance to balancing the sweet and tart flavors appropriately, and in a good bakery the filling will never taste buttery or eggy—it will taste like lemon." This recipe, adapted from Rubin's Book of Tarts and infused with lemon zest for extra citrusy flavor, is the ideal. Alternatively, lemon juice and zest can be swapped out for equal parts lime. Get the recipe for Lemon Meringue Tarts »
A touch of egg is the simple, secret ingredient in this luscious tart's filling. Just a little gives the combination of chocolate and cream a sliceable, fudgy consistency. The crumbly cocoa-laced crust can be pressed right into a fluted pan, no rolling pin required. Swap out espresso beans for toasted nuts, chopped brittle, granola, or crushed peppermint candy. Just don't eliminate the sea salt; it adds a bright, irreplaceable contrast to the decadent filling. Get the recipe for Chocolate Ganache Tart with Sea Salt and Espresso Beans »
The flavor of raw collard greens combines perfectly with tender roasted sweet potatoes and tangy, rich goat cheese in this hearty starter. Get the recipe for Shredded Collard Green Salad with Roasted Sweet Potatoes and Cashews »
Fragrant with star anise, chiles de árbol, and cilantro, these mushrooms brown to a crisp on the outside while remaining tender inside. Get the recipe for Maitake Mushrooms with Red Chiles and Cilantro »
Whole cauliflower is quartered and roasted with paprika, turmeric, and jalapeño in this wintry side dish. Get the recipe for Spicy Roasted Cauliflower with Tahini »
Florets of cauliflower are stewed in a fragrant garlic-laced tomato sauce of fried onion, spices, and jalapeño in this Afghan dish from Nawida Saidhosin, a home cook and teacher from New York's League of Kitchens. Get the recipe for Cauliflower with Tomato Sauce (Gulpea) »
A sauce of unabashedly flavorful ingredients—including evaporated milk and, yes, Velveeta cheese—makes for a spectacularly rich take on creamed spinach. We adapted this recipe from one found in the River Road Cookbook, one of Louisiana's most iconic Junior League cookbooks. Get the recipe for Spinach Madeleine »
The silky garlic cream sauce at Las Cabras, Juan Pablo Mellado Arana's restaurant in Santiago, Chile, adds a welcome zing to this rich stew, but is also a great condiment in its own right—served with fries, slathered on sandwich bread, or spooned over meats. Get the recipe for Braised Beef Stew with Garlic Cream »
We've found that rolling these cookies into bigger portions, then refrigerating them for at least 2 hours before slightly under-baking them at 350°, results in incredibly gooey, soft chocolate chip cookies. Get the recipe for The Perfect Chocolate Chip Cookies »
Paprika lends to the burnished skin and earthy sweetness of this roast chicken, its flavor brightened with a squeeze of fresh lemon juice. Set on a bed of pearl onions, carrots, garlic, fennel, and zucchini, the vegetables soak in all the bird's juices as it roasts. Get the recipe for Red Roast Chicken with Lemon and Garlic »
Fresh apples plus hard cider give this easy mac and cheese a double dose of fall flavor. Get the recipe for Apple & Sausage Macaroni and Cheese »
We enjoyed this warm and comforting dessert while visiting a sheep farm in new Zealand. Get the recipe for Apple Crumble with Hot Custard »
Red cabbage and apples are stewed with wine, sugar, and dried cranberries in this spiced side dish. Use tart apples, such as Granny Smith, if you want a more sour-sweet flavor from this cabbage dish. Get the recipe for Spiced Red Cabbage With Apples and Cranberries »
In a classic Danish treatment, sweet red apples are roasted with onions, caramelized in bacon fat, and served under thick steaks of smoked belly bacon. Get the recipe for Roasted Apples and Bacon with Onions and Thyme (Æbleflæsk) »
Crunchy cashews coated with maple syrup and sesame seeds, and a boldly piquant dressing of Shanxi vinegar, add texture and verve to the classic kale salad from chef Cara Stadler of Tao Yuan in Brunswick, Maine. This vinaigrette is sharper than most, so if you prefer less acidity, add up to 1/4 cup more vegetable oil. Get the recipe for Kale and Apple Salad »
This pudding takes the best part of a traditional mont blanc—the chestnuts—and dispenses with the fussy meringue, so you can enjoy chestnuts in all their toasty glory, with no distractions. Nutmeg's distinct floral aroma complements the earthy chestnuts for a simple pudding perfect for a weeknight dessert or a holiday party. Get the recipe for Chestnut Pudding With Nutmeg Whipped Cream »
Lighter than most rice puddings, and not as sweet, this Swedish specialty is eaten both as a dessert and as a breakfast food. Short-grain rice, such as arborio, is essential for creating a deliciously creamy consistency. Get the recipe for Rice Pudding with Raspberry Coulis »