Our 38 Best Vegetarian Recipes for the Spring
From soups to stir-fries, here are the best ways to make the most of spring produce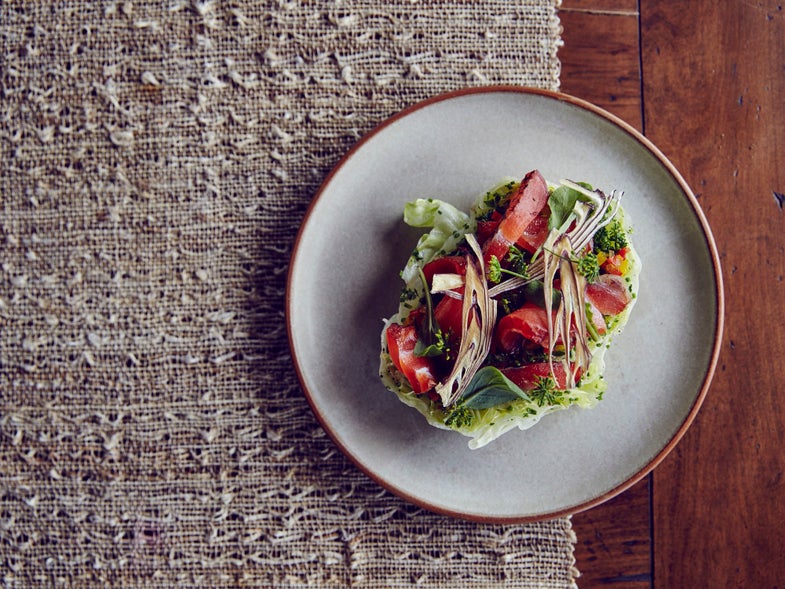 After a long cold winter, it's hard not to get excited about spring's bounty of fresh produce. With asparagus, artichokes, ramps, morels, peas, and more readily available, there's no better season to eat vegetarian food.
Woodsy morel mushrooms are delicious in spaghetti, sautéed with mint and peas, or served with tofu skin in a pungent black bean chile sauce. Our best ramp recipes deploy the mildly onion-y herbs in a seasonal escabeche and as a base for pizza. Then there's fresh asparagus—simply toss the stalks in a skillet with butter, salt, and pepper to let their flavor shine. Asparagus slices cured in honey and lemon juice make a wonderful topping for a creamy macadamia gazpacho. Spring peas in pea recipes are wonderful for adding a pop of sweetness to virtually any dish. Along with asparagus, carrots, fennel, and spring onions, they create a vibrant barigoule.
It's easy being green with easy spring recipes. Whether you're sticking to easy spring salad recipes or testing your cooking chops with spring pastas and spring soup recipes, we've got you covered here.
Though it is typically made with root vegetables, come spring, Heena Patel likes to put a bright seasonal spin on the southern Gujarati vegetable dish undhiyu.Get the recipe for Gujarati Spring Vegetables »
The sweetness of cherries balances the saltiness of halloumi in this simple summer salad, perfect for a side or a main dish. Get the recipe for Grilled Halloumi and Cherry Salad »
This recipe originated in the Ottoman palaces. Use small eggplants for a better eggplant-to-stuffing ratio, since the key is to bake as much vegetable and tomato flavor into the eggplant as possible. Feel free to play around with the filling: swap in vegetables like sweet corn or zucchini for a seasonal twist. Turkish Stuffed Eggplant (Imam Bayildi) »
In this simple Japan-meets-California salad, radishes are tossed with cilantro and a fragrant rice vinegar and soy sauce vinaigrette before topped with goat cheese. Get the recipe for Radish and Cilantro Salad with Goat Cheese »
Crisp spring vegetables pair with a flavorful, vanilla-scented broth in this Provençal classic. Get the recipe for Barigoule of Spring Vegetables »
Richard Kuo of New York City's Pearl & Ash uses preserved lemon, a Moroccan staple, to brighten this simple spring dish. Get the recipe for Morels with Mint, Peas, and Shallot »
A classic Persian herb-loaded egg dish with the fragrant lift of rose petals. Get the recipe for Persian Kuku Sabzi »
This refreshing salad of soba noodles tossed with winter greens and mixed vegetables is brought together by a tart dressing of miso, ginger juice, and lemon. Get the recipe for Soba Salad with Lemon-Miso Vinaigrette »
This tangy chilled soup is topped with charred scallions. Get the recipe for Spinach, Chive, and Yogurt Soup with Grilled Scallions »
Morels are paired with pieces of yuba, or tofu skin, to soak up a pungent black bean chile sauce to create this rich, flavorful almost-stew. Get the recipe for Morels in Black Bean Sauce with Fried Enoki Mushrooms »
Packed with grassy, spicy watercress and plenty of cheese, this frittata-like tart works wonders at brunch. Get the recipe for Watercress Ricotta Torte »
Carrot ribbons cooked al dente and lightly braised red endive add color to this simple vegetable-packed pasta dish, brightened with lots of lemon zest. Josita Hartanto of Berlin's Lucky Leek uses multicolored carrots for a beautiful presentation. Get the recipe for Spaghettini with Carrots, Olives, and Red Endive »
Dandelion greens and sturdy, slightly bitter puntarelle (an Italian chicory) stand up to honey-mustard vinaigrette in this assertive spring salad. Get the recipe for Puntarelle and Dandelion Green Salad with Honey and Olive Vinaigrette »
Piles of colorful carrot ribbons—which skew more savory than sweet, thanks to a lemony coriander-flecked dressing—come out of the oven glistening and retaining some of their bite. The keys to the couldn't-be-flakier crust beneath: keeping the ingredients as cold as possible, and not overhandling the dough. Leftovers of the tart can be refrigerated and recrisped in the oven the next day. Get the recipe for Shaved Carrot Tart with Ricotta »
Buckwheat flour gives this gnocchi weightiness and an earthy flavor that pairs perfectly with a spring mix of peas and spinach. Get the recipe for Buckwheat and Ricotta Gnocchi with Cream, Peas, and Spinach »
The classic wedge with a zesty upgrade. Get the recipe for Iceberg Wedge with Lemon-Parsley Dressing »
Sweet macadamia nuts, toasted to deepen their flavor, give a creamy base to this creative chilled gazpacho with asparagus. Get the recipe for Chilled Macadamia Gazpacho with Cured Asparagus »
This pizza, which pairs mellow, earthy morels, with oniony ramps, sharp Parmesan cheese, and just-set eggs. Get the recipe for Pizza with Ramps, Morels, and Eggs »
Chef José Andrés likes to cook these calçots, here served with asparagus, in the traditional manner: in a newspaper. The newspaper traps in steam from the cooling calçots, making them more tender and soaking up any excess oil. These tender Spanish green onions, always served with Romesco sauce, are a classic springtime treat. Get the recipe for Grilled Calçots and Asparagus with Romesco Sauce »
Garlicky grilled ramps soak up the vinegary tang of the escabeche sauce, and because of the light pickling, can keep in a sealed jar in the fridge for up to two months. Get the recipe for Jose Enrique's Ramp Escabeche »
This nontraditional pesto is one of the best ways to use up an overload of pea shoots. Packed with mint and spread atop toast or beneath a burger, it will make anything you pair it with taste fresher and greener. Get the recipe for Pea Shoot and Mint Pesto »
Green almonds are a rare spring treat; simmering them in olive oil, orange juice, and aromatics mitigates their slightly bitter exterior, making them an irresistible cocktail party snack. Get the recipe for Olive-Oil Poached Green Almonds with Dill »
Cooking asparagus in the skillet concentrates its flavor rather than diluting it, as steaming or boiling can. Get the recipe for Skillet Asparagus »
In this bright spring pasta dish of morels, asparagus, and cream, dried morels are rehydrated in boiling water that is then used to cook spaghetti, infusing the pasta with an earthy, mushroomy flavor. Get the recipe for Morel and Asparagus Spaghetti »
Tender artichoke hearts and fava beans pair beautifully in this simple Greek side dish. Get the recipe for Artichokes and Fava Beans (Aginares Me Koukia) »
This side dish from Andrea Reusing's Cooking in the Moment: A Year of Seasonal Recipes (Clarkson Potter, 2011) is the essence of summer: emerald green vegetables cooked together briefly, until their flavors just meld. Get the recipe for Fresh Peas With Lettuce and Green Garlic »
The striking geometry of this terrine—an elegantly simple pairing of leeks and goat cheese—makes for a visually arresting presentation. We like it served with dark pumpernickel bread and some briny cured salmon at brunch, or as part of a cheese plate with a casual dinner. Get the recipe for Leek Terrine with Goat Cheese »
A simple salad pairs end-of-season citrus with fresh butter lettuce topped with pistachios. Get the recipe for Butter Lettuce Salad with Pistachios and Orange Crème Fraîche Dressing »
Though traditionally cooked in embers, these artichokes are equally as succulent when oven-roasted. Get the recipe for Roasted Artichokes (Carciofi Arrostiti) »
These airy potato pillows get an infusion of color and flavor from sweet peas and fresh mint before being coated in a lemon and herb cream sauce. Get the recipe for Sweet Pea Gnocchi »
Earthy and tender, these artichokes are a favorite antipasto at Frankies Spuntino restaurants in New York City. Get the recipe for Braised Artichokes »
This sweet and savory pizza showcases the flavor of six kinds of onion. Get the recipe for Six-Onion Pizza »
The secret to this soup is a flavorful aromatic base of tomatoes, garlic, and onions—called a recado—that is pureed and fried before the beans go into the pot. Get the recipe for Fava Bean Soup (Sopa de Habas) »
Baby artichokes, dressed with olive oil and garlic, take center stage in this lemony dish. Get the recipe for Pasta with Grilled Artichokes »
Rich, nutty brown butter perfectly offsets the fresh flavor of sweet peas and mint. Get the recipe for Brown Butter, Peas, and Mint Omelette »
Pairing pistou, an herb sauce made with fresh basil, with tender spring vegetables makes for a bright-tasting seasonal entree. Get the recipe for Vegetable Ragout with Pesto (Ragout De Legumes Au Pistou) »
A deceptively simple vinaigrette of olive oil, white wine vinegar, chopped parsley, and crushed tomato transforms simple steamed asparagus into a sumptuous and well-turned-out dish—exactly what a great dressing should do. Get the recipe for Espàrrecs Amb Vinagreta (Catalan Asparagus Vinaigrette) »
The origins of leeks vinaigrette—poached leeks in a mustardy dressing—are unknown, but it's easy to imagine someone pulling them out of the stockpot once they had worked their magic, then seasoning them. Get the recipe for Poireaux Vinaigrette (Marinated Leeks with Herbs) »