Exploring India: From Saag Paneer to Urad Dal to Rogan Josh
These recipes are second to naan.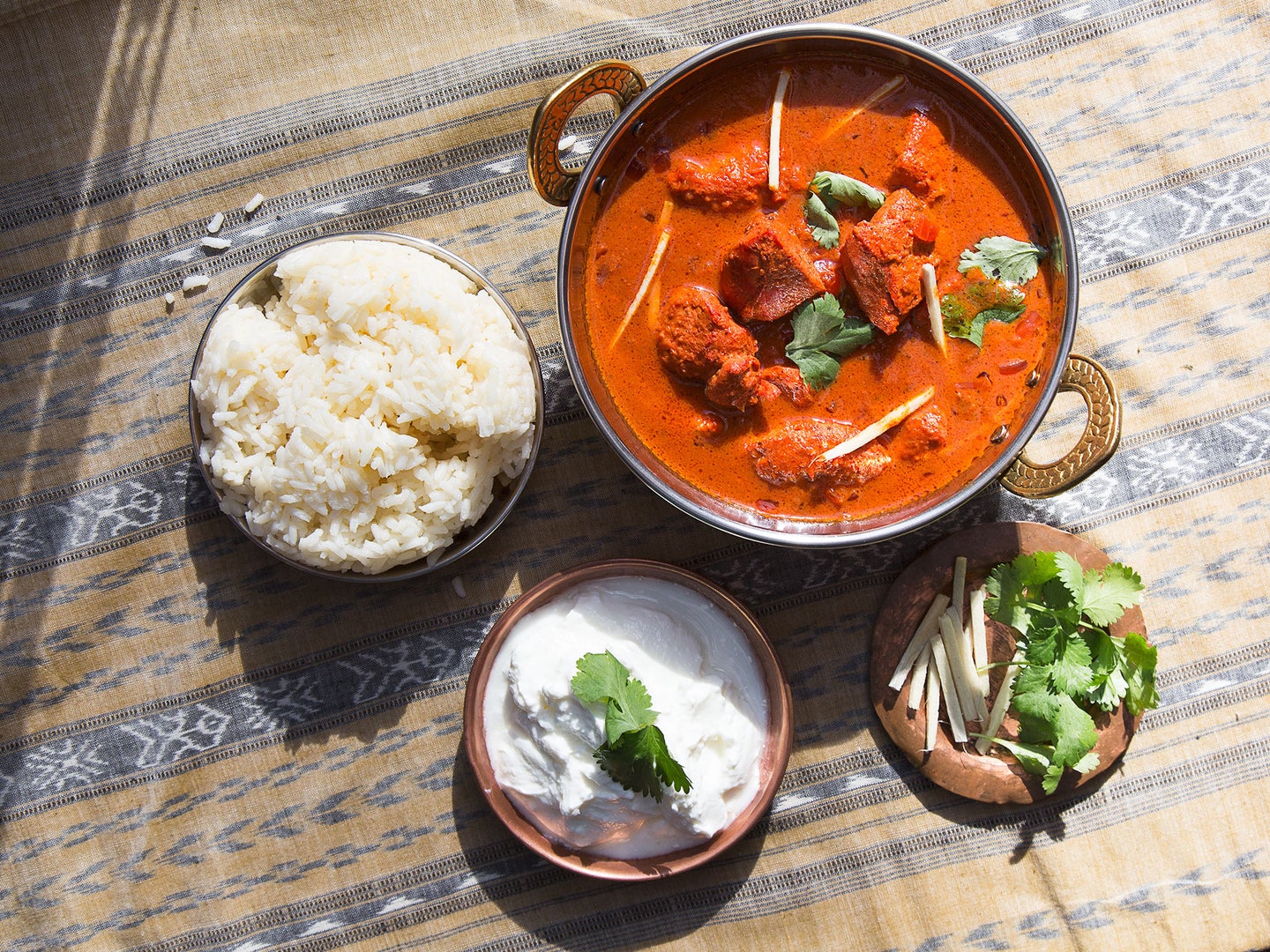 Drop the takeout menu. Cooking an Indian meal from scratch may not be quick or easy, but the point isn't merely getting dinner on the table—it's also about exploring some of the world's most eclectic culinary traditions. 
The Indian subcontinent is the epicenter of the global spice trade—which is, in large part, why its vibrant fare is so widely revered.  
Indian expats serve versions of their homeland's cuisine wherever they may land, and regional adaptations abound—from the saucy, starchy comfort of Durban, South Africa's bunny chow to the U.K.'s beloved carryout curries. 
This global reach is an elegant reflection of an inarguable truth: India—and its cuisine—is by no means a monolith. The South Asian nation boasts over 100 different languages and comparable culinary diversity. 
In and around Mumbai, Parsis (the descendants of pre-Arabian Persians) enjoy an array of grilled meats, fresh cucumber salads, fruit-based stews, and milky desserts that speak to the population's Middle Eastern roots, while in the coastal state of Goa, once a Portuguese colony, vinegar-based curries and European-style yeasted breads persist. Along the coasts, you're apt to find fragrant, coconut-laced fish dishes, while the wheat noodles and dumplings popular in the northeastern state of Sikkim are similar to those of neighboring China and Bhutan. (Meanwhile, further south, rice is king.) 
We've rounded up some of our favorite regional Indian recipes for you to try at home.
A quick and soothing Indian dish with a bracing bitter bite. Get the recipe for Karela Ma Kheemo (Parsi-Style Bitter Gourd with Ground Chicken) »
Bitter greens are an elegant foil to the sweetness of onions and green peas. Get the recipe for Bhaji Dana (Parsi-Style Fenugreek Leaves with Peas) »
A spiced yogurt marinade works wonders with boneless, skinless chicken breasts. Get the recipe for Grilled Chicken Tikka Kebabs »
Charred bell peppers and onions help balance out the richness of the paneer in these colorful vegetarian skewers. Get the recipe for Paneer Tikka Kebabs »
Starchy potatoes and sweet peas, fragrant with plenty of spice and ginger, get a kick from fiery green chiles in these crispy vegetarian samosas. Get the recipe for Vegetarian Samosas with Potatoes and Peas »
The addition of chia seeds in this chutney thickens the juices and emulsifies the mixture into a spreadable, smooth sauce that doesn't separate. If you prefer it milder, remove some of the chile seeds before blending. Use the chutney as a condiment for pakoras, samosas, and tandoori roasted meats. Get the recipe for Spicy Mint, Cilantro, and Chia Seed Chutney »
A masala dosa feast includes turmeric-tinged potato sabzi, rich gun­powder chile paste, and crisp, airy wrappers. Get the recipe for Masala Dosa »
Our version of the classic is lighter, fresher, and brighter than what you'll get at most restaurants. Get the recipe for Chicken Tikka Masala »
Bunny chow, a hollowed out bread bowl with a spicy, curried mutton filling, is as delightfully messy as it sounds. Get the recipe for Mutton Bunny Chow »
Unlike some other staple Indian breads, which are unleavened and crafted from durum wheat flour, or atta, fluffy naan is made with all-purpose flour and yeast. Traditionally, the dough is slapped against the chimney wall of a clay tandoor oven and baked over wood fires, but it's also easily cooked on the stovetop. Get the recipe for Indian Leavened Flatbread (Naan) »
It's not hard to love North Indian saag paneer—meltingly soft spinach strewn with chunks of mild fresh cheese—especially when scooped up with hot flatbread. Get the recipe for Saag Paneer (Spinach with Fresh Cheese) »
Goa, located on the west coast of India, has a regional cuisine known for seafood and coconut milk. But there's another ingredient in the Goan pantry that calls back to its Portuguese colonial roots: vinegar. That's what gives the slight tang to this easy fish stew. Get the recipe for Goan Cod Curry »
Garnishing with fresh dill, ground sumac, and a drizzle of olive oil turns up the volume on these flame-kissed fish skewers. Get the recipe for Grilled Swordfish Kebabs (Machli Kebabs) »
In this lively salad, flame-kissed corn kernels are teamed with fresh vegetables, a zesty cumin-lime dressing, and for a surprisingly delicious crunch, unsweetened corn flakes. Get the recipe for Grilled Corn Bhel »
At the base of the flavor of solkadi is the tart kokum fruit, a member of the mangosteen family that grows on the western coast of Maharashtra. Its purple pelt is peeled away from its flesh, soaked in the fruit's juice, then salted and dried in the sun. This solam (dried peel) then soaks in a glass of water, staining it a pale pink. Get the recipe for Solkadi (Indian Kokum and Coconut Drink) »
In early spring, green, unripe mangoes are a featured ingredient on the daily menu at Raja Sulaiman Khan's home in Lucknow, India. Here, amchoor—dried green mango—adds pungent sourness to creamy lentils. Get the recipe for Red Lentils with Green Mango (Malika Masoor Dal) »
These flavorful mashed potatoes are perfumed with mustard seeds, fresh curry leaves, turmeric, and ginger. Get the recipe for Aloo Masala (South Indian Potatoes) »
This intensely spicy curry from chef Kevin Joseph of Durban's Oyster Box hotel gets its heat not from chiles, but from a pastes of fresh garlic, ginger, onions, and dried curry powder. Though not cooked long, the sauce is rich and thick thanks to heaps of ground spices and unsweetened coconut cream. Get the recipe for Chicken and Prawn Curry »
For these simple, bite-sized Bengali confections, milk is turned into homemade cheese, then combined with sugar and cardamom to yield a dense and fudgy treat. Get the recipe for Bengali Milk Sweets (Sandesh) »
This creamy dish from Toronto-based Indian cookbook author Smita Chandra is made with the fresh paneer, peas, whole peeled tomatoes, and plenty of tangy fresh fenugreek greens. Get the recipe for Creamy Fenugreek and Spinach with Cheese (Methi Malai Paneer) »
Carved out of ten former districts of Andhra Pradesh, Telangana officially became India's 29th state in June 2014. For this regional dish, home cook Padma Reddy removes the chicken skin to allow the flavors of the marinade—coconut, lime, garlic, ginger, cardamom, mace, and more—to fully penetrate. Get the recipe for Telangana-Style Curried Chicken Stew »
Any firm fish will work in this green mango-infused South Indian curry, named for the Keralan coastal city of Thalassery. Get the recipe for Thalassery-Style Fish Curry (Thalassert Meen Curry) »
Studded with chopped nuts and flavored with aromatic cardamom and rose water, this sweet pudding is made from a blend of nutty ghee, milk, cream, sugar, and grated carrot. It's equally good served either hot or cold. Get the recipe for Punjabi-Style Carrot Pudding (Gajar ka Halwa) »
A hint of rosewater adds its sweet, floral aroma to this moist and tender coconut-semolina cake. Get the recipe for Goan Coconut Cake (Baath) »
When writer VK Sreelesh visits his in-laws' house in Kerala, papaya thoran is almost always on the table. Thoran is usually a dried dish that is mixed and eaten with rice; its ingredients can range from cabbage to beans to carrots to beets. For this green papaya version, the minced fruit is first steamed and then mixed with a robust chile-coconut paste, then seasoned with cumin, garlic, and turmeric. Get the recipe for Papaya Thoran (Keralan-Style Fried Green Papaya) »
This tart Goan curry has roots in vinh d'alho, a stew brought to the region by Portuguese colonists. Now a restaurant staple, vindaloo comes in countless variations—some fiery, some mild—from the subcontinent to the British Isles. Get the recipe for Chicken Vindaloo »
This creamy yogurt-based chutney is made with cilantro, lime, and fresh green chiles. Get the recipe for Cilantro Yogurt Chutney »
Cookbook author Madhur Jaffrey describes sambar as "a split-pea stew which is varied daily with the addition of, say, caramelized shallots or tomatoes or okra or aubergine (eggplant) poached in tamarind juice." Get the recipe for South Indian Vegetable Stew (Sambar) »
Smita Chandra's Daikon Curry
Daikon—a type of large white radish with a peppery, earthy flavor—has long been a staple of Indian cooking. In this simple vegetarian curry dish from cookbook author Smita Chandra, the root is enhanced with an aromatic blend of coriander, cumin, turmeric, and other spices. Get the recipe for Smita Chandra's Daikon Curry »
Dill adds a fresh flavor to this Maharashtrian-style dal. Get the recipe for Spiced Dal with Peanuts and Dill »
Cardamom gives this Indian drink a bright, piney sweetness tempered by a creamy base of evaporated milk and black tea. Get the recipe for Spiced Tea (Masala Chai) »
No Bengali meal is complete without maacher jhol, fish simmered in a tomato-based curry scented with mustard oil and the region's distinctive mix of five spices: toasted fenugreek, nigella, cumin, black mustard, and fennel seeds. Get the recipe for Bengali-Style Fish Stew (Maacher Jhol) »
Indian Fish and Potato Tikkis
A simple Indian croquette with fish, bold hits of cumin and green chile, and a refreshing mint chutney. Get the recipe for Indian Fish and Potato Tikkis »
The paratha's signature layers are made by rolling and folding the dough in a triangle. Get the recipe for Indian Layered Flatbread (Paratha) »
This vibrant Indian curry comes from the Meghwal tribe of Gujarat's Thar Desert. Get the recipe for Spicy Cabbage-and-Potato Curry (Bund Gobhi Aur Aloo Ki Subzi) »
There are countless varieties of this ubiquitous Indian snack mix, made with varying combinations of nuts, fruit, spices, and other ingredients. Cookbook author Smita Chandra's version of the satisfying nibble is the best we've had, with four kinds of nuts (cashew, peanut, almond, pistachio), plus sweet raisins, nutty coconut, and poha, dried flattened rice flakes. Get the recipe for Hot Mix (Indian Spiced Snack Mix) »
This five-ingredient Indian condiment from home cook Yamini Joshi is a snap to make, thanks to flavor-packed tamarind paste and the spice blend sambar masala. Get the recipe for Red Chutney »
In the Indian city of Hyderabad, this dish is traditionally made using goat, but lamb makes an excellent substitute. Get the recipe for Hyderabadi-Style Lamb with Potatoes (Aloo aur Gosht ka Kaliya) »
In this zesty side dish, fried chana dal adds an earthy crunch to long-grained rice, which is delicious alongside rich vegetable curries. Get the recipe for Indian Lime Rice »
A seasoned coconut chicken curry is tempered with yogurt. Get the recipe for Rajasthani White Chicken Curry »
Hard-cooked eggs get a golden sheen from bright mustard oil in this rich and spicy tomato dish. Get the recipe for Fried Hard-Boiled Eggs with Oven-Dried Tomatoes (Zoomru Tool and Ruwangan Hach) »
Madhur Jaffrey experienced a version of this tarka—a combination of fried spices and aromatics stirred into a soupy dal—while visiting the South Indian city of Hyderabad. Get the recipe for Hyderabadi-Style Lentil Stew (Khatti Dal) »
This richly spiced chicken dish is adapted from a recipe in Madhur Jaffrey's classic cookbook, Flavors of India. "What gives this a very special southern flavor is the use of fennel seeds, curry leaves, and, of course, the pulse (legume) urad dal," she explains. "This is definitely a dish you will want to make very frequently." Get the recipe for Chettinad Pepper Chicken (Koli Milagu Masala) »
Khoya, a rich curd made by reducing milk for several hours, forms the base for these syrup-soaked confections. Get the recipe for Gulab Jamun (Cardamom Syrup-Soaked Donuts) »
This spiced potato patty atop a fluffy bun is one of India's best-loved street foods. Get the recipe for Indian Vada Pav is the Ultimate Veggie Burger »
The simplest paratha method is a series of simple folds. Get the recipe for Madhur Jaffrey's Secrets to Perfect, Paper-Thin Parathas »
A generous helping of pureed ginger, garlic, and fresh turmeric, along with a sprinkling of toasted whole Indian 5-spice (panch phoron) adds color and fragrance to quick braised chicken legs. Get the recipe for Romy's Special Chicken with Whole Spices and Turmeric-Ginger-Garlic Sauce »
Sweetened whole milk flavored with crushed cardamom, saffron, and pistachio is frozen in molds to create these impressive, sculptural desserts. Get the recipe for Pistachio Ice Cream »
Try your hand at this classic Indian flatbread. Get the recipe for Roti (Indian Whole Wheat Flatbread) »
The late Floyd Cardoz's riff on a traditional stuffed flatbread. Get the recipe for Cheddar Cheese-Stuffed Kulcha »
A dozen cloves of garlic and a touch of crushed red-pepper flakes give this succulent pork stew just the right amount of heat. Get the recipe for Pork Vindaloo »
Biryani is a classic combination of rice, meat and spices. Writer Sarah Khan, whose family hails from the south Indian city of Hyderabad, describes it as "a gossamer cloud of rice that, depending on the corner of the subcontinent you're on, might be layered with mutton, shrimp, eggplant, cardamom, saffron, potatoes, or even pineapple." For this recipe, marinated chicken is layered with partially cooked rice and then steamed; whole spices penetrate the chicken as it cooks. Get the recipe for Kachi Yakhni Biryani (Hyderabadi-Style Steamed Chicken and Rice) »